The deep freeze New Orleanians lived in during the holiday season and into the New Year took a toll on a lot of our plants. The temperature dropped into the teens in a lot of areas for an extended period and yes, the landscape took a beating.
TRUE PERENNIALS: Plants like coleus, impatiens, wax begonias and vincas that are true tender perennials sometimes live through our mild winters, but 20-degree temps wiped them out. Remove what's left and plan for something new.
HERBACEOUS PERENNIALS: Damaged tissue on large herbaceous perennials such as crinums, agapanthus, elephant ears, philodendrons and gingers should be removed. This will make your garden look neater and it's healthier for your plants. With banana trees, you should remove the damaged foliage and then check the trunk. If it's brown and soft when punctured, then the trunk is likely dead as well and can be cut. The underground rhizome will resprout a new plant in the spring if it was provided a good protective covering of mulch.
TRUE TROPICALS: If you have true tropicals (hibiscus, tibouchina, mandevilla, etc.) that look dead, view them with an optimistic eye. A lot of them may have been killed to the ground, but the roots will send up sprouts in the spring, especially if you gave them a good insulating layer of mulch prior to winter. Cut away what you are sure is dead and they may just surprise you come April.
WOODY PERENNIALS: With woody perennials use restraint. Leaves and tender growth may look brown and dead – you can pick this off by hand to give your plants a cleaner healthier look, but don't be too quick to break out the pruners. If a fingernail scrape to the bark reveals dead tissue, then you can prune it away; if it's green there's life. The best approach is to remove the dead leaves and leave the plant till the buds begin opening in the spring when it is easy to see what is alive and what is dead.
CITRUS: With citrus, it depends on the type and how much protection they had. Older trees will likely have been damaged but probably survived. Younger, newly planted trees may have been killed.
Lemons and limes are the least hardy and temperatures below the upper 20's will severely damage or kill them. Oranges and grapefruits are a little hardier, but temperatures below the mid 20's will cause severe damage. Kumquats and satsumas are the most tolerant and will have weathered the cold best. Use the thumbnail test to see what is alive. If you have a fruit tree that was killed to the ground, replace it. If it does sprout from the ground in the spring it will be the rootstock and not the top you started with since fruit trees are grafted. Even citrus that apparently survived the winter freeze may show damage later. It is not uncommon for a damaged citrus tree to leaf out in the spring and then have branches and leaves collapse and die.
PALMS: Remove cold damaged fronds on your palms. If the spear is green, then it survived. The pygmy date palm is the most sensitive and most likely to have been killed. Other varieties will have suffered some degree of damage but most likely survived.
This winter is a reminder that we are not a tropical environment. Our choice of landscape plants sometimes pushes the envelope, and our plantings suffer when a real winter comes around. On the bright side, insects and disease organisms were also killed by the cold. If your landscape suffered severely, use it as an opportunity to do a makeover.
You can get a free subscription to the electronic version of the GNOGardening Newsletter by sending a request to GNOGardening@AgCenter.LSU.edu.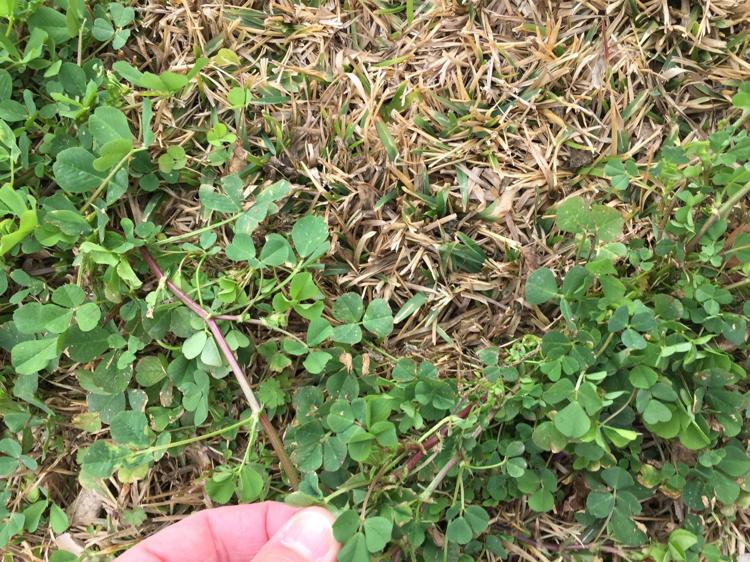 Q: My lawn looks like it is being taken over by clover. What should I do? 
A: This time of year what you're seeing is large hop clover (Trifolium campestre), a winter annual weed. It spreads rapidly and seeds prolifically. You can pull up the growing plants. This will keep them from flowering and spreading seeds. Typical herbicide mixes to use are a three-way plus simazine or atrazine or metsulfuron plus simazine or atrazine. This will give post-emergence and pre-emergence control.
Joe Willis and Anna Timmerman are LSU AgCenter agents. Questions? Email them at agcenter@theadvocate.com.