Give a man a power washer, and he'll show you true Tiger love.
At least Austin Doiron will.
The 20-year-old community college student etched the eye of the tiger onto the family's Lake Charles driveway with a power washer. No stencils, no outline — just a guy and his power washer.
He had undertaken the chore when he noticed the neighbors had hung an Alabama flag out front.
A quick Google for an image, and Doiron proceeded to freehand — make that free power wash — the image onto the driveway.
"I was going pretty carefully because there's no erasing," said Doiron, adding he hasn't taken an art class since the fifth grade.
While he's been to all of LSU's home games this year, he doesn't have tickets for Saturday's matchup. But he can look outside and know he's done his best to support the Tigers.
"It came out pretty good," Doiron said of his first power-washing masterpiece. "I couldn't believe it."
Baby elephant
Charlie Dirks, of Baton Rouge, shows his disdain for Alabama by cooking up a "baby elephant."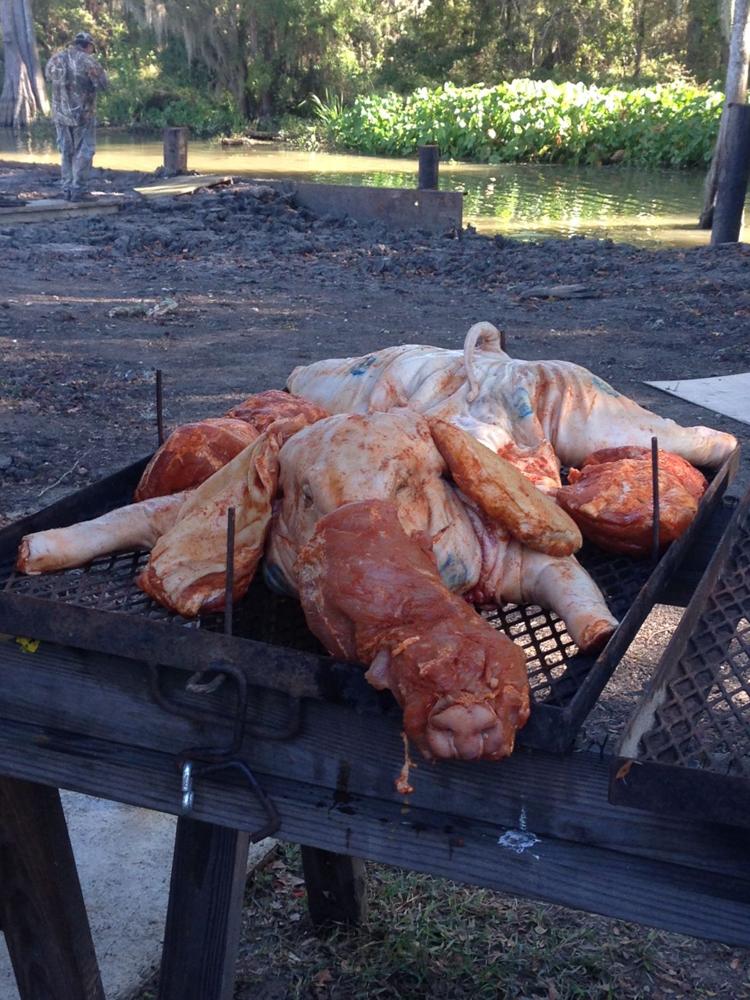 OK, so it's not really an elephant, but it sure looks like one. It's actually a 50- to 60-pound pig with ponce (pig's stomach stuffed with dressing) fashioned into ears and a pork loin made to look like a trunk.
"We have a butcher in Ville Platte custom make it for us, and it's beautiful every year," said Dirks, 43, who started the tradition in 2012 at his usual tailgating spot near the Indian Mounds.
He cooks the "elephant" in a Cajun microwave and serves it up to more than a hundred tailgaters, including between 20 and 40 Bama fans.
"We usually get a few raised eyebrows," Dirks said, laughing. "But it comes out really good."
In addition to "elephant," Saturday's menu will include 7 gallons of gumbo, a sack of grilled oysters, sandwich trays, boudin trays and more, said Dirks, who has two degrees from LSU.
"But the baby elephant is the crescendo of the evening," he said.
Enemies unite
"The enemy of my enemy is my friend" is an ancient proverb that could have been on the minds of Kathie and Steve Wylie, of Baton Rouge, when they created their Halloween/Big Game front-yard display.
"We have two skeletons wearing LSU and Auburn T-shirts high-fiving each other as they watch the third skeleton wearing a BAMA T-shirt roasting over a fire," said Kathie, 62. "After a lot of searching, I was able to find the Bama football T-shirt at Here Today, Gone Tomorrow for 95 cents (which we think is about the right price for a Bama T)."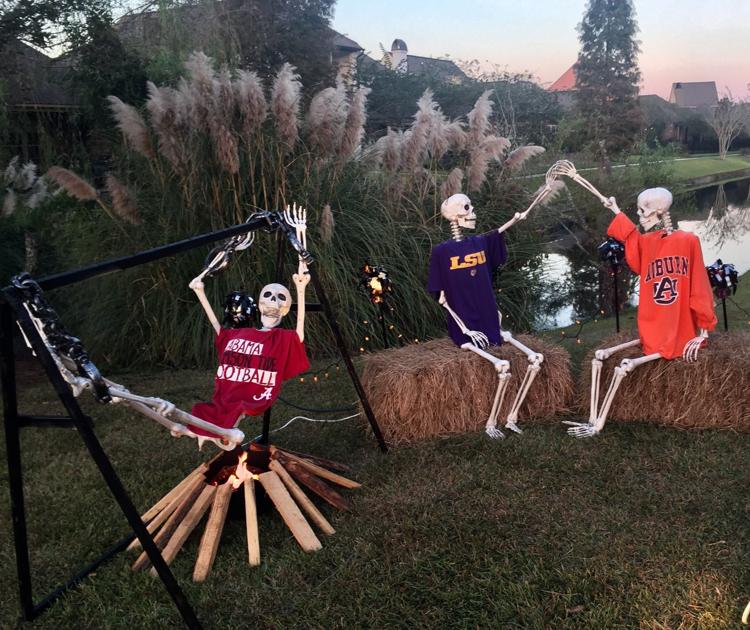 Finding the Auburn shirt took a little more doing.
"None of our Auburn friends trusted me enough to use their shirt in my Halloween decoration without making fun of them," she said.
But at Party City she met a nice guy wearing an Auburn T and convinced him to give her the shirt off his back.
"The deal is next year he will get to use the decorations at his house in Prairieville," Kathie said. Like we said, the enemy of my enemy …
And now for those Bama fans
Ricky Rex Keith was raised in Mobile, Alabama, and has been a Tide fan since the days of Bear Bryant.
"In 1972, my stepdad and I would listen to the Tide on the radio," he said.
But now that he lives in Baton Rouge, you might think he would have a little love (and sympathy) for the Tigers. Not so.
Keith, 56, is the general merchandise manager at the Albertson's on College Drive, and, come Saturday, he will be selling LSU merchandise out front — in his crimson No. 3 jersey. That was running back Trent Richardson's number.
How do LSU fans react?
"Oh, they're really good about it," Keith, 56, said with a laugh. "I mean, I pull for LSU everyday, except when they're playing Alabama."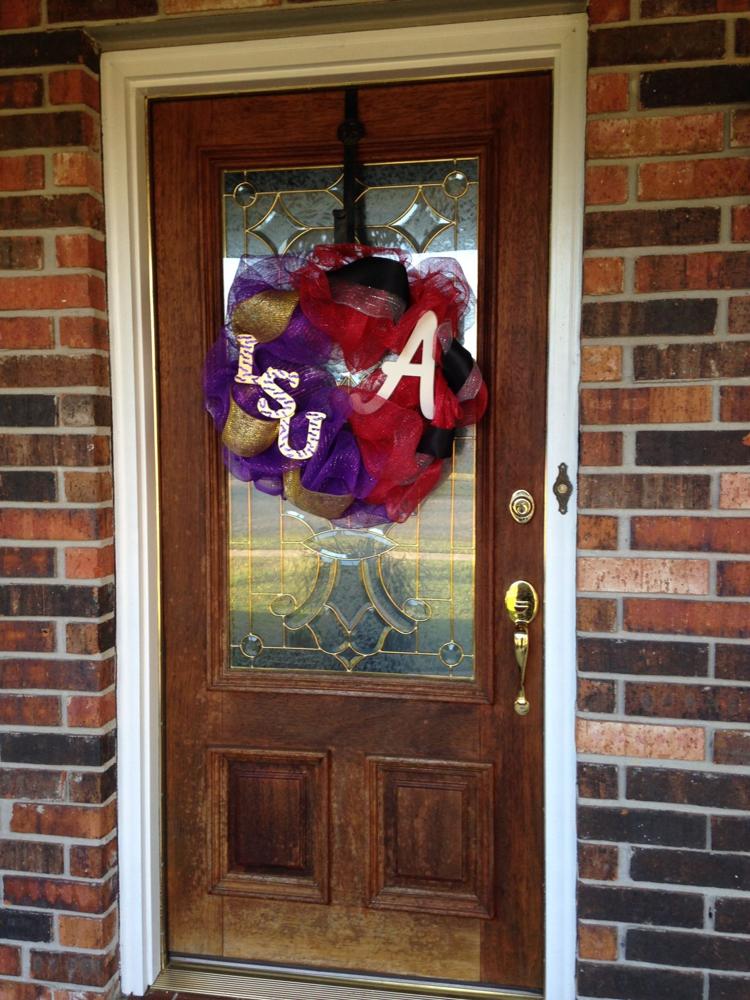 For Beverly Gremillion, her love of Alabama started as an act of defiance.
"My husband and I have been married for 31 years," she said. "Before we were married, his brother, Joey, told me that Randy would always love football more than me.
"Well, not one that likes football to begin with, I decided to start pulling for whatever team he liked the least. Also, I liked the little old man with the cool hat (Bear Bryant). Thus started my 'Roll Tide' future."
Some people go crazy over her allegiance to LSU's worst enemy, but Gremillion said it's been heaven since the Tide got coach Nick Saban.
"I really get a kick out of watching the game here with all my LSU friends," she said. "They do not like me."
At least she gives LSU half of the wreath that hangs on the front door.