Sweet & Spicy Sunset
Recipe by Sandra Ruffino
1 jigger Jose Cuervo Tequila Gold
2 jiggers orange juice
2 jiggers pineapple juice
½ jigger triple sec
½ jigger grenadine syrup
Dash of Louisiana hot sauce
Garnish: orange, pineapple and cherry, and sugar for rim of glass
In a shaker, mix the tequila, orange juice, pineapple juice, hot sauce and triple sec. Shake and then pour into a tall glass (12 oz.) filled with ice and rimmed with sugar. Add the grenadine and let it float to bottom without stirring. Garnish with skewer of orange, pineapple and cherry.
---
Salty Chihuahua
Recipe by Jack Summerell
1 ounce of tequila
1 ounce of Roses Lime Juice
Mix tequila and lime juice. Shake with ice. Salt the rim of a cocktail glass and fill it with ice. Pour cocktail into glass then add a pinch of sea salt. Stir and enjoy.
---
Screwball
Recipe by Susanne Duplantis
3 Tablespoons vanilla vodka
1 Tablespoon triple sec
1 Tablespoon lemon juice
2 Tablespoons cranberry juice
5 Tablespoons Sprite
1 candy coated gumball
Put the gumball in the bottom of a martini glass. In a cocktail mixer, add the vodka, triple sec, lemon juice and cranberry juice with a scoop of ice. Shake and strain into martini glass. Top with Sprite.
---
Plauche's Satsuma Rye Ole Fashioned
Recipe by Jeff Plauche, who says the rye whiskey balances the sweetness of the satsuma. "I find the George Dickel Rye to be a wonderful rye that is not overly expensive. The drink should not be overly cold, as you want to taste the bitters, sweetness and whiskey playing off of each other."
1 Louisiana satsuma
3 maraschino cherries
3 ounces George Dickel Rye Whiskey
1 ounce water
1 ounce simple syrup
2 dashes Peychauds bitters
2 dashes Angostura bitters
2 dashes Bittermans orange bitters
Muddle 2 maraschino cherries and one quarter of satsuma in an Old Fashioned glass. Combine whiskey, water, simple syrup and bitters. Add one ice ball gently, or enough ice to chill. Pour into glass and garnish with a satsuma slice and cherry.
---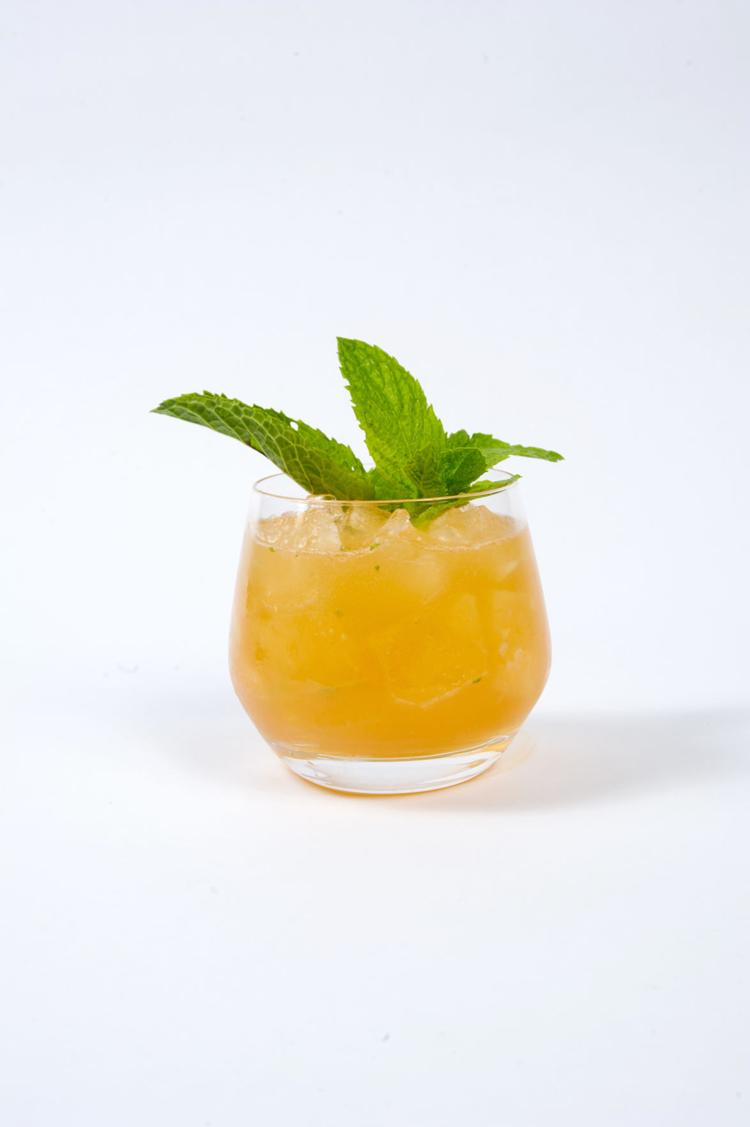 Old Yankee Cocktail
Recipe by Brian Harrell
6-8 mint leaves
1½ tablespoons simple syrup
1 tablespoon lemon juice
4 tablespoons Michter's American Whiskey (or Buffalo Trace Bourbon)
7-8 drops Angostura bitters
Lightly muddle mint leaves and simple syrup in cocktail tin. Add lemon juice and whiskey and shake with ice. Double strain (so as to eliminate small mint bits) into an Old Fashioned glass filled with crushed ice. Top off with ice, float bitters over top of cocktail and garnish with mint leaves. The bitters should create a thin red layer on top of cocktail which slowly distributes throughout the drink.
---
Polluted Sunset
Recipe by Chris Everett
2 ounces Grey Goose Le Citron vodka
3 ounces fresh lemonade
1 ounce soda water
2 ounces Pilsner Urquell (or other pilsner beer)
Sprig of basil
Sprig of mint
Lemon slice
Mix first three ingredients and pour over ice. Top with beer. (Do not mix in, this gives the drink its "polluted" effect). Add basil and mint sprigs, preferably with the stem on, to be the "trees." Top the rim of the glass with a thin lemon slice for the "setting sun." Drink the pollution.
Necessity, as they say, is the mother of invention. And Sandra Ruffino was ready to invent.