In Louisiana, even inland areas such as Baton Rouge are vulnerable to coastal flooding from storm surges.
Researchers modeled hundreds of thousands of storms and found that the risk for flooding around Baton Rouge shoots up precipitously from the worst-case Category 2 storm and the most destructive Category 3 storm. Storm surges are caused when a storm system pushes water from the sea onto land and are measured based on peak conditions.
The latest maps show that coastal flooding from a Category 3 hurricane nearing the coastline could push water over much of Baton Rouge that lies between Highland Road and the Mississippi River, depending on the storm's track and conditions at the time.
It could also cause Ward Creek to overrun and the Amite River to overflow, especially south of Interstate 12. Even hurricanes of a lower category could inundate large parts of the River Parishes and southern Livingston and Tangipahoa parishes, the documents reveal.  
"These maps make it clear that storm surge is not just a beachfront problem, with the risk of storm surge extending many miles inland from the immediate coastline in some areas," states the disclaimer on the National Storm Surge Hazard Maps.
The data were culled from modeling hundreds of thousands of simulated storms and represent the worst case scenario for each level hurricane, noted storm surge specialist Jamie Rhome.
Factors such as a storm's speed, size and direction all factor into its destructive potential. The maps don't distinguish between areas that are expected to flood in many of the simulations and those that would flood only under the most dire scenarios, but Rhome said the data are still useful, particularly at a community level.
They can show, for example, which evacuation routes or shelter locations may be susceptible to washing out, he said. The data will also be used as the state redraws its evacuation zones, an ongoing process, said meteorologist Frank Revitte of the National Weather Service's Slidell office.
This year's maps include new topographical information that may improve forecasting a bit, but in Louisiana they're largely unchanged, he said.
Puerto Rico and Florida saw the biggest updates, and all the data were put into a new, downloadable format so they can be more easily shared.
Storm surges are created when wind from a storm pushes water up onto the coast. It's distinct from river flooding or flash flooding caused by rain.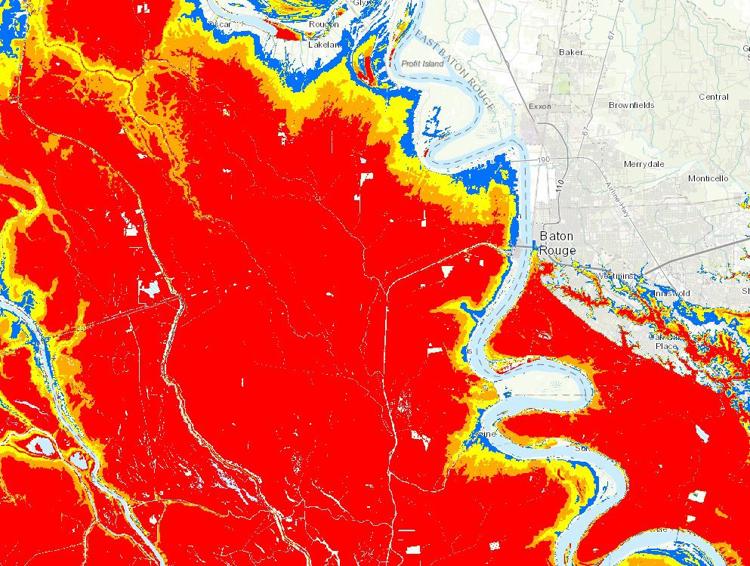 Huge swaths of the River Parishes as well as southern Livingston and Tangipahoa parishes can expect flooding of 3 to 6 feet during even a bad Category 1 storm, according to the maps. In a Category 2, the water could be expected to rise 9 feet above the ground, and folks around Gardere would start getting wet from flooding.
Once a worst-case storm reaches Category 3, Ward Creek would overrun and much of the city between Highland Road and the Mississippi River would see flooding. The Amite River would also have water spilling over its banks, especially south of I-12.
Higher category storms would mostly exacerbate problems in those areas and worsen conditions around waterways like Claycut Bayou and Jones Creek.
"If you discover via these maps that you live in an area vulnerable to storm surge, find out today if you live in a hurricane storm surge evacuation zone as prescribed by your local emergency management agency," the National Hurricane Center warned.
The warning continued, "If you do live in such an evacuation zone, decide today where you will go and how you will get there, if and when you're instructed by your emergency manager to evacuate."