The Florida man who police say fired the shots that killed two Southern University female students last April was arrested Wednesday in St. Tammany Parish after deputies said they found him with a baby bottle filled with a drug known as "purple drank."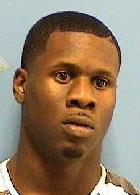 Ernest Felton, 23, was arrested during a traffic stop on Interstate 12 after deputies found about five ounces of the purple-colored liquid, suspected to be promethazine codeine, a popular recreational street drug, in his vehicle, according to the St. Tammany Sheriff's Office. 
The drug is a prescription-strength cough syrup, said Sheriff's Office spokesman Capt. Daniel Seuzeneau. 
Felton was booked into the St. Tammany Parish Jail on counts of possession of schedule V drugs and driving left of center. 
In September, Felton walked free after a grand jury declined to indict him on two counts of second-degree murder, two counts of illegal use of a weapon, one count of attempted second-degree murder and a count of obstruction of justice. The counts all followed an deadly exchange of gunfire at an apartment complex near LSU in April, killing two Southern University students.
Police described the two students, freshman Annette January and sophomore Lashuntae Benton, as innocent bystanders caught in the crossfire. According to police ballistics tests, bullets fired from Felton's handgun killed the two young women.