Deelee Morris said she woke up and saw on her phone it was snowing, but didn't quite believe it until she looked outside.
"Get up!" Morris, 41, said she yelled early Friday morning to her family. "This doesn't happen very often."
Morris and her 4-year-old daughter Violet built a princess snowman in their front yard on Ferndale Avenue.
"I told her, 'Let's go get stuff for the face, (and Violet said): 'Well let's get a crown,'" Morris said, laughing.
It's Violet's first time seeing snow, Morris said.
"It's incredible," Violet squealed, then looked up and the small flakes still falling, sticking he tongue out. "The snow dropped on my head!"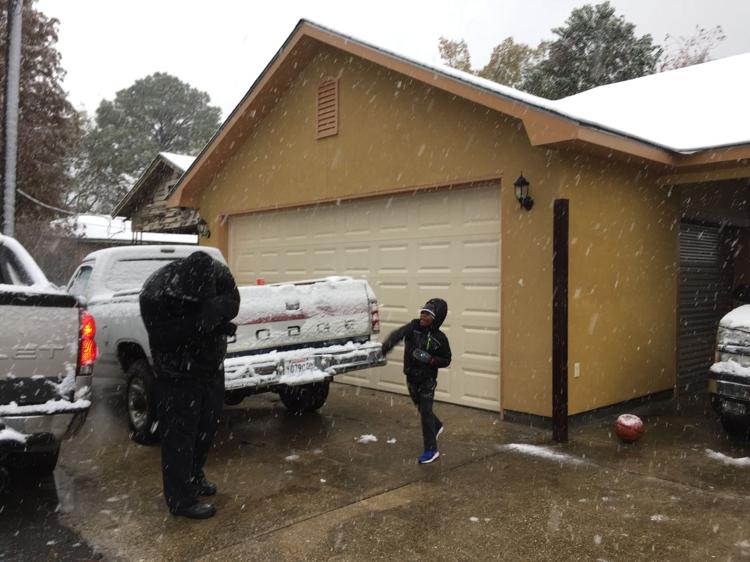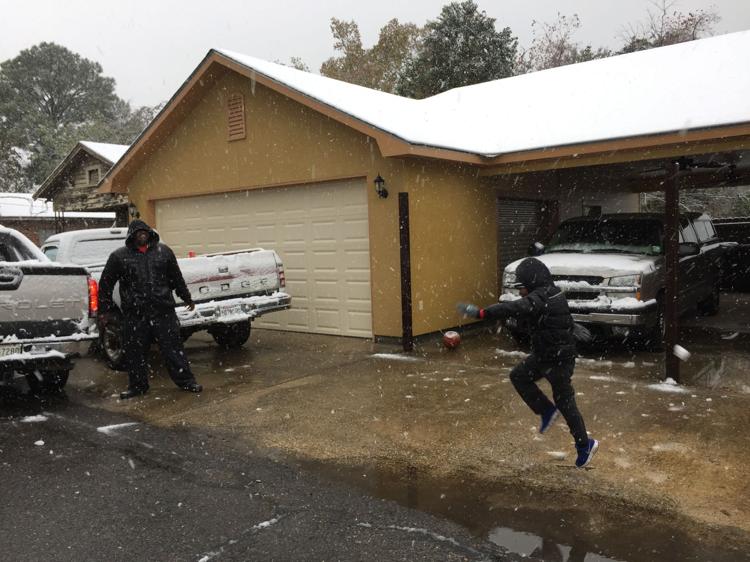 Joshua "JJ" Taylor Jr., 7, threw snowballs, or just mounds of snow, at his dad Friday morning in front of their house on Virginia Street. JJ picked up snow that had accumulated on the bed of pickup truck, before hurling it in the direction of his dad.
"Come at me, man!" JJ yelled, in what his dad said was the boy's first real snow.
---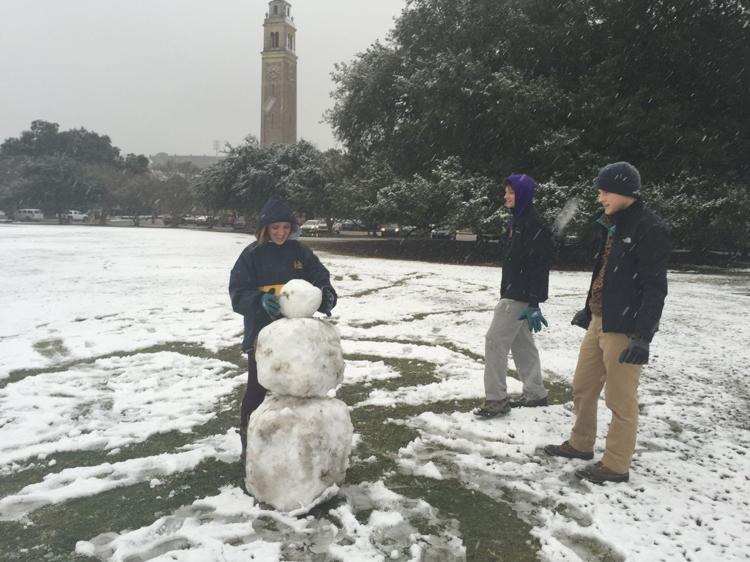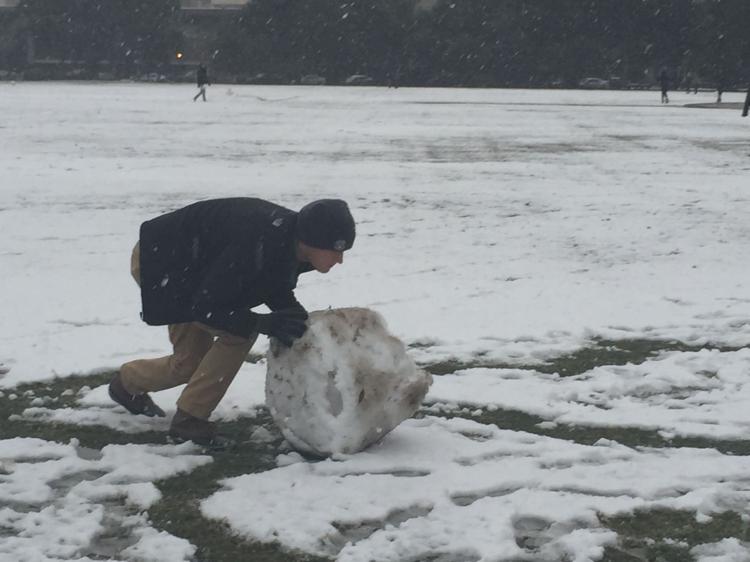 LSU sophomore Rachel Green of Arkansas puts the finishing touches on her snowman. 
She's joined by Gavin Rapa of New Jersey (center) and Michael Manchese of New Orleans. 
---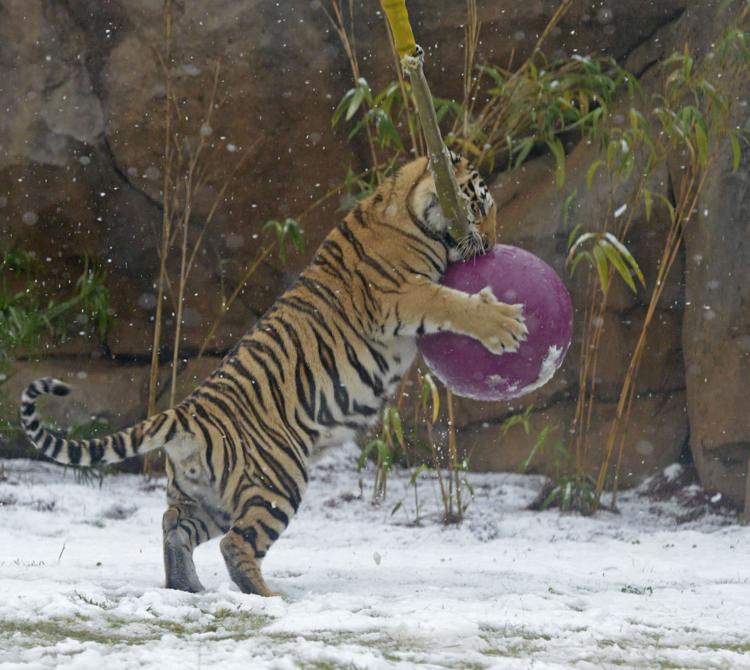 Mike the Tiger joined in the fun this morning, strolling around his enclosure and taking in his first snow in Baton Rouge. 
Can't see video below? Click here. 
---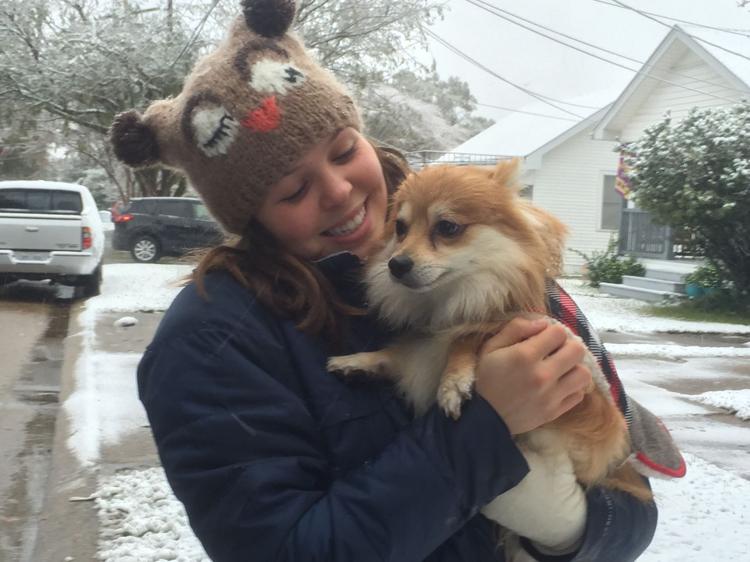 University High student Cathryn Coulter introduces her dog, Ollie to snow in the Hundred Oaks area. 
"It's his first snow," she said. "I think he likes it!"
---
Alex Bordelon, Wesley Shortess and Vincent Palermo build a snowman in their Hundred Oaks neighborhood. 
"It's a lot harder than it looks," Alex said. 
---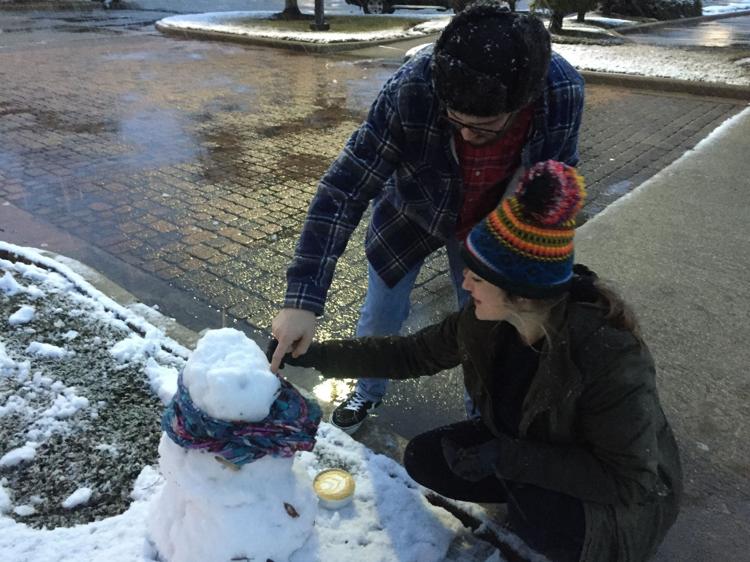 District Donuts employees Jacob Jordan, left, and Marcelle Moskou, right, put finishing touches on Richard, the snowman they and co-workers built in front of the Corporate Boulevard store.
---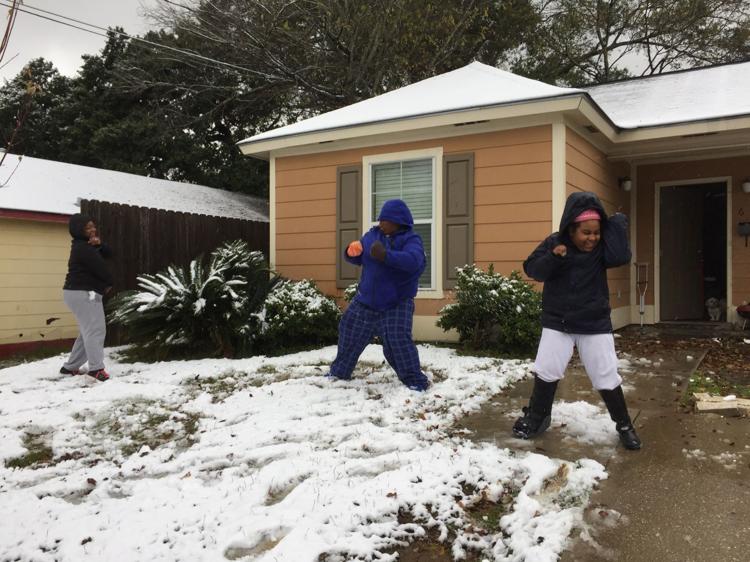 Christopher Honore, 14, threw snowballs at his sister Tayelor Honore, 11, and their aunt Kalisha James, 26. He said he woke up early to check if it had snowed.
"It was worth it," Christopher Honore said, a McKinley High student. "Have a snowball fight, then hot chocolate, then maybe another snowball fight... that's a good snow day right there."
His sister was out, even in her ankle boot for her fractured ankle.
"It's still fun," Tayelor said, grinning. "This is one of the first (snows) in my memory. ... I freaked out this morning!"
---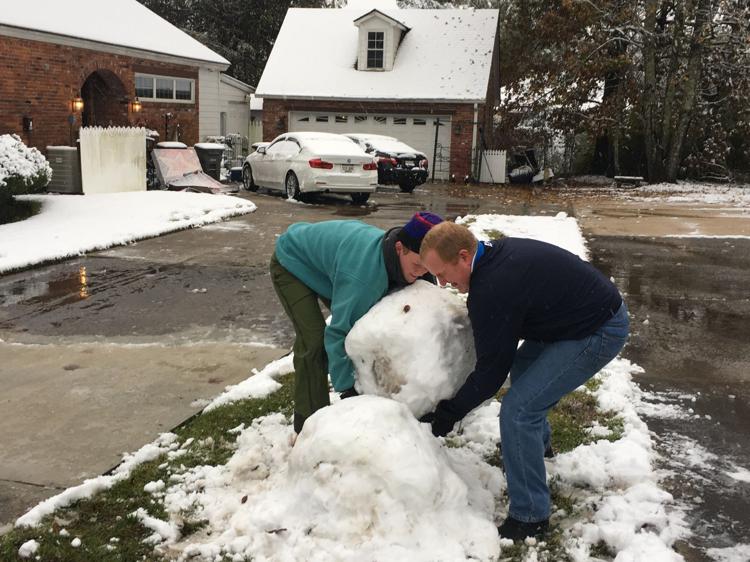 When Mike Doerr, a Michigan area native, was a kid, he literally walked through the snow nearly a mile every day to go to school. Sometimes, he even walked backwards to keep the stiff wind out of his face.
"My mom said, 'Y'all go ahead and walk. Y'all will make it,'" he recalled Friday morning in his snowy front yard.
Even in those harsh Michigan winters, he remembers only one snow day during his young school career before he moved to Baton Rouge at age 10.
So, Friday's unusual Louisiana snow day was no big deal for the former Midwesterner. Doerr, 47, was showing his teen-age son, Harper, how the snowman thing is done.
Rolling the snow is the trick, Doerr said. They had a sizeable snowman up and built in 20 minutes and were working on another about 8 a.m. Friday on Woodland Ridge Boulevard. The banker said he decided to go into work a little late Friday and take advantage of the morning snow.
"I figure how many times do you get a chance to … you know, I'll miss three hours of work. I'll get that back, but I'll never get this back," he said.
Friday's snow brought out residents who would typically be off to work to walk around and mingle with their neighbors on unusually quiet streets, framed in white. Normally, heavy carpool traffic from Episcopal High School would keep these roads busy, not still with the occasional passing of a car, as they were Friday.
Carl Ravey, 50, was putting a hat and a Saints flag on a large snowman in his front yard while his adult children looked on.
"We have a little one back there," Ravey said, referring a snowman to his back yard, "and then he decided let's go bigger."
"Yeah," Ravey's 21-year-old son, Kendall Ravey, added, "you know, go big or go home, right?"
A few minutes earlier and around the corner from the Doerrs, James Thom, 11, a deer and squirrel hunter, was in his camouflage gear and waterproof boots riding around on his bike.
Snow in the swamp, indeed.
Thom, a sixth-grader at Episcopal School, said he figured riding on his bike in the snow would be cool – and, in fact, he said, "It's really cool."
Thom's dog, Nellie, was checking the snow out as much as Thom Friday morning. Thom figured it was Nellie's first snow. Technically, Friday wasn't Thom's first snowfall, but Thom said he doesn't really remember the big snow day in Baton Rouge in 2008.
When asked which was better, the snow or the day off school, Thom paused and then cracked a smile, barely showing the braces on his teeth.
"I don't know. Both," he said.
One downside is that, even with his day off, Thom has been assigned some extra homework from his teachers, via the internet.
Nearby, Brent Yoes, 35, was trying to finish up a snowman with his son, Davis, 4. Yoes' oldest son had already gone inside because he got cold and Davis was losing steam.
A brief snowball fight broke out while they spoke with a reporter before Davis ended up calling it a morning, a beautiful one indeed.
The LSU parade ground, blanketed with snow, boasted several snowmen on Friday. 
Sophomores Rachel Green, Gavin Rapa and Michael Manchese worked together to build one of them, a good-sized snowman standing about 4 feet tall.
Green, from Arkansas, and Rapa, from New Jersey, had some snow-building experience. 
"We're the veterans," Rapa said, with a laugh.
"He was manual labor," Green joked, pointing to her friend Manchese, who's from New Orleans.  
Rolling the snow into larger and larger snowballs is the trick to getting a good-sized snowman, the students said.
"And always have fun," Rapa added. 
Can't see video below? Click here.
---