What happened during the attack: A step-by-step account of the movements of shooter and positions of law enforcement, according to local, state and federal authorities.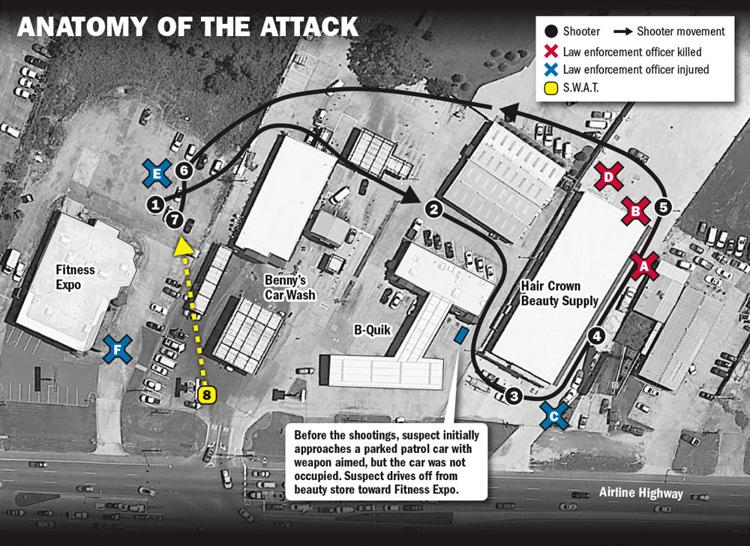 1. Shooter parks vehicle behind Fitness Expo.
2. Shooter moves on foot behind Benny's Car Wash and B-Quik.
3. Shooter tracks officers, who are searching for him, down a driveway of Hair Crown Beauty Supply.
4. Shooter opens fire, killing an officer: A … and injuring a second: B … then turns and wounds a third officer: C
5. Shooter goes to rear of building, shoots deputy, killing him: D … then fatally shoots injured officer: B
6. Shooter heads back toward vehicle where he shoots a deputy in the head and stomach: E (deputy in critical condition)
7. Shooter opens fire on another deputy, injuring him: F
8. S.W.A.T. officer fires on shooter from over 100 yards away, killing him. The attacker was identified as Gavin Long from Kansas City, Missouri.
In all, 3 law enforcement officers were killed, including Montrell Jackson, Matthew Gerald, Brad Garafola. 3 others were injured, including one East Baton Rouge Parish Sheriff's deputy Nicholas Tullier, who is still listed in critical condition.