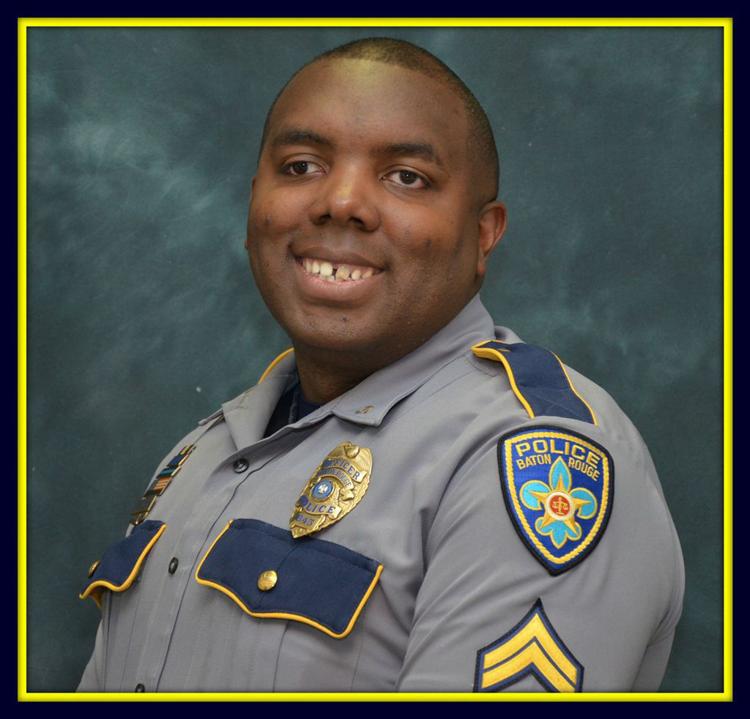 Montrell Jackson, 32, died on July 17, 2016, from multiple gunshot wounds, shot by a lone gunman from Missouri who officials say specifically targeted law enforcement. He was a 10-year-veteran for the Baton Rouge Police Department who had just recently become a father to son Mason. 
As Baton Rouge mourned Jackson and fellow law officers killed that day, remembrances of his life and personality emerged and captured the public's hearts. Here are some of those special memories:
---
At the age of 22, Montrell Jackson shocked his family when he informed them that he was dropping out of college to become a Baton Rouge police officer, said Charles Cavalier, Jackson's uncle through marriage. Jackson told family he understood the risks inherent in policing, and asked only for their blessing. 
"I really don't know what made him want to do it," Cavalier said. "I often wondered why he didn't finish school, because he was so smart." 
---
Jackson has been described by family and longtime friends as a leader. ("He was the rock of the family," Cavalier said.) He also has been called a "special man" who took pride in his community and had an endearing compassion for people.
---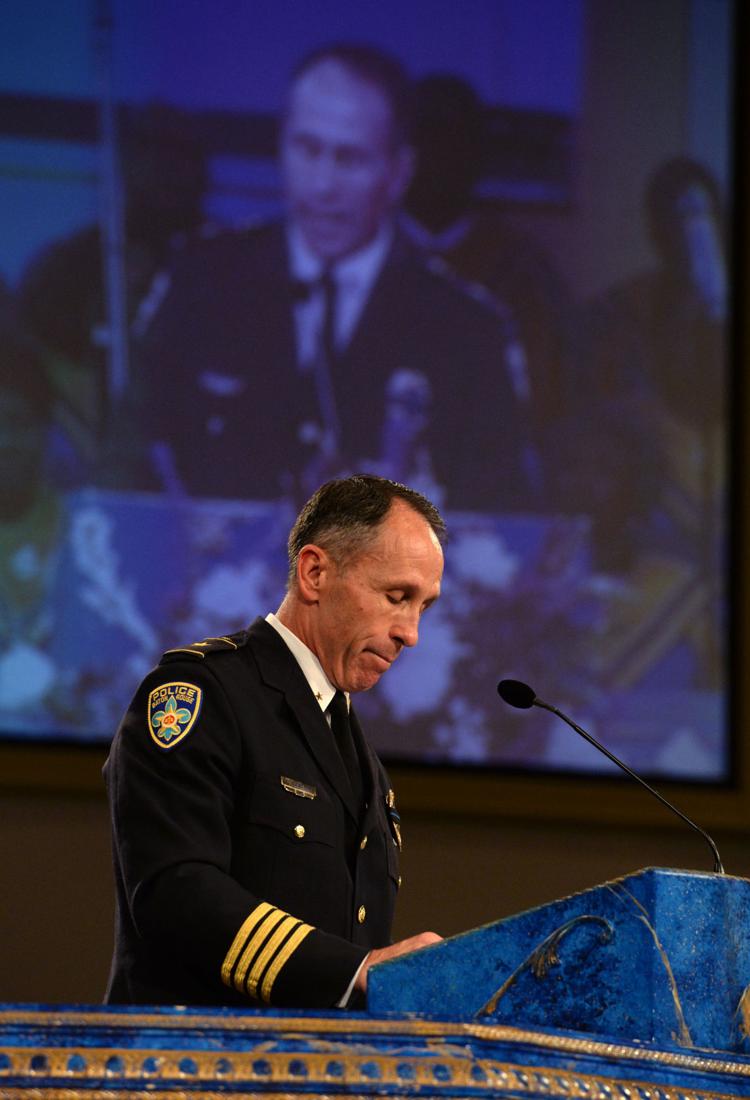 Baton Rouge Police Chief Carl Dabadie said Jackson served as an inspiration to him several days before Jackson was killed, as the department dealt with the aftermath of the Alton Sterling shooting.
"He ended up giving me a pep talk as I was trying to lift the spirits of my guys ...," Dabadie said. "That was the last time I spoke with him. I'll never forget it." 
---
Terrica Williams, a friend who attend Istrouma High with Jackson, said Jackson was upset about Sterling's death.  
Jackson, who was black, wrote a Facebook post on July 8 in which he offered his prayers to anyone directly affected by Sterling's death. Jackson, in his post, also touched on the dueling obligations he felt to his law enforcement brethren and the community outraged by Sterling's death. 
"I'm tired physically and emotionally," he wrote. "I swear to God I love this city but I wonder if this city loves me. In uniform I get nasty hateful looks and out of uniform some consider me a threat.
"Please don't let hate infect your heart," the post read. "This city MUST and WILL get better." 
---
Dabadie said he was Jackson's training director at the police academy, and that Jackson towered over him but was always full of kindness.
Dabadie said he was heartbroken to hear that Jackson did not know if Baton Rouge loved him, and that he hoped Jackson could feel the love and support from heaven.
"Corporal Jackson came to the department as a 22-year-old with wide eyes and his entire life before him," Dabadie said. "He could have been whatever he wanted, and he chose to be a policeman. He chose to serve others and he had in his heart to protect."
---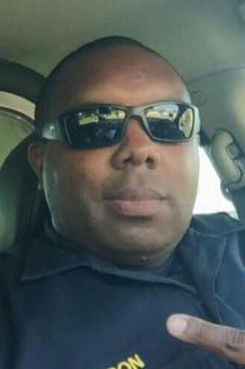 Said Darnell Murdock, one of Jackson's friends: "He loved his job."
"It motivated him to go out and change people's lives. He was on (the force) to help people, to make you have a better day," Murdock said. "He was humble, kind and sweet. … He wasn't on there to write tickets. I don't understand how this could happen to someone like him."
---
In 2007, Jackson was injured trying to save a toddler from a burning apartment building. A group of officers were called to an apartment complex where a mother said she was able to save one of her children, but a young boy was still trapped inside.
Jackson and other officers tried to reach the toddler using fire extinguishers, but there wasn't enough time. The police were driven back by flames, and when medics arrived they had to treat the officers, including Jackson, for smoke inhalation.
---
"His whole thing was: He wanted to create change," said Terrica Williams, whose family lived down the street from Jackson's grandmother in the Fairfields community, not far from where Sterling was killed.
"He was a black male so he knew how it was on both sides," Williams said. "He was never a I'm-A-Cop-You-Better-Obey-What-I-Say type of person. He tried to reach out to the community and get their side on things too."
---
Jackson's wife, Trenisha, released a statement soon after his death describing her husband as her "everything." 
"I know, without a shadow of a doubt, he loved his job and he loved his city," the statement said. "Knowing this is what gives me a little peace and comfort. I know he made the ultimate sacrifice and paid the ultimate price in doing what he loved: protecting and serving a city he loved."  
---
Five touching quotes, anecdotes from Baton Rouge officer Montrell Jackson's funeral
Baton Rouge Police officer Montrell Jackson was one of three law enforcement officers killed July 17 by a lone gunman. Friends and fellow officers at Jackson's funeral Monday remembered him as the embodiment of the word hero. Here are five of the most memorable quotes from Jackson's funeral.
---
At his funeral, Jackson was remembered as a man who kept his police car immaculately clean, read comic books in his spare time, enjoyed rooting for the Dallas Cowboys and was consumed with love for his wife and 4-month-old son.
---
Jackson's brother, Kedrick Pitts, delivered an emotional eulogy at Jackson's funeral.
"Everything you've done, I've bragged about it, even if no one cared," Pitts said during the service at Living Faith Christian Center. "All I wanted to do was be like you and do what you did. Now I can brag about you being an angel."
Can't see the video? Click here. 
---
Jackson's wife, in an unexpected moment just after Jackson was buried, addressed the protests that erupted after the Sterling shooting:
"I know that there is fear and unrest among those who feel like all police are bad," Trenisha Jackson said. "But please know and understand that not all police are bad. If you have been wronged by an officer, call them out by saying that particular officer's name.
"Until we come together and unite as one, there will be more killing. That's not what I want to see," she said.
---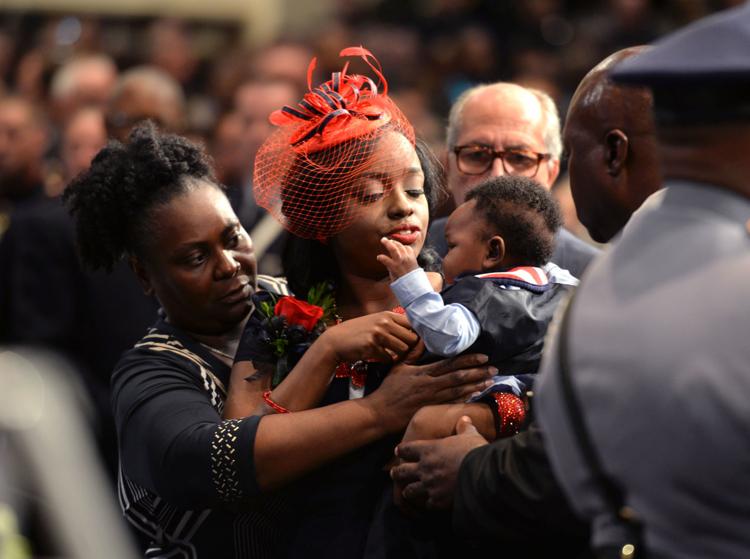 Trenisha Jackson also spoke of the pride Montrell took in his job as an officer, as well as in being a husband and father to Mason.
"I married a man that sometimes worked seven days a week, rarely complaining, to provide for his family," she said. "I married a man who took care of all the financial responsibilities in our household. I married a man that always took out the trash and checked the mail. Until now, I didn't even know the name of the mortgage company."
---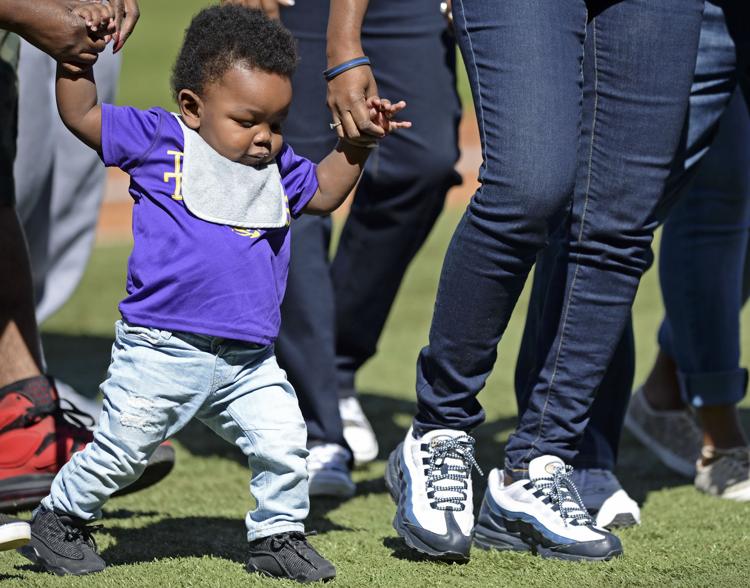 Mason Jackson, the officer's son, was also frequently mentioned during the funeral, described at one point as his father's "love letter to the world."
"I pray that we will all work together to make Baton Rouge and Louisiana and our nation a better place for all of us, but especially for Mason," Gov. John Bel Edwards said. "So that as he grows up in our community, and he sees peaceful and loving people every day of his life, he too will remember his father, who played a big role in that."
---