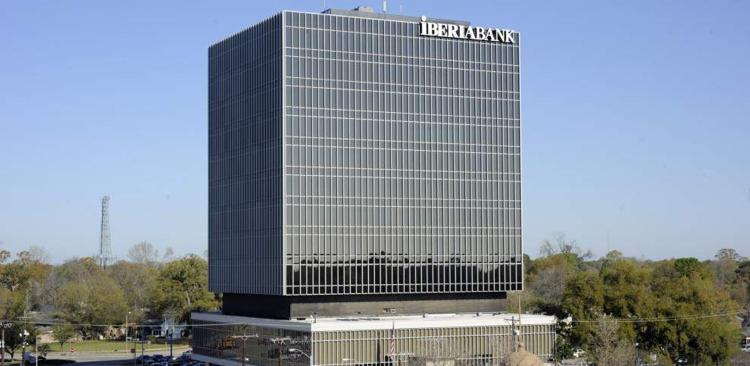 IberiaBank Corp. in Lafayette will acquire Miami-based Gibraltar Private Bank & Trust Co. in a stock-for-stock deal valued at $223 million.
Gibraltar has eight offices: five in the Miami area, one in Ocean Reef and Naples, Florida, and one in New York City. As of June 30, Gibraltar had $1.6 billion in total assets, $1.4 billion in loans and $1.1 billion in deposits. Gibraltar had net income of $1.7 million for the first half of 2017 and 278 employees.
The acquisition is expected to close in the first quarter of 2018.
IberiaBank President and Chief Executive Officer Daryl G. Byrd said Gibraltar's locations give IberiaBank more leverage in the Florida markets. The deal also is consistent with the bank's acquisition strategy, which focused on Florida and Miami and was discussed at an investors day presentation in September. IberiaBank devoted a third of its slide presentation to Florida-related information.
Miami is the eighth-largest metro area in the country and also one of the fastest-growing. Miami's population is projected to grow by 6.7 percent from 2017 to 2022. Its economy is diverse and rapidly expanding. IberiaBank completed a $1 billion cash-and-stock deal for Miami-based Sabadell United Bank, which had 28 locations in south Florida.
IberiaBank has quintupled in size over the past decade, adding six banks since 2014. Gibraltar's acquisition will lift IberiaBank to $29.1 billion in assets.
"We believe Gibraltar will complement our recent activities in southeast Florida, enhancing our capabilities to serve clients in private banking, residential lending and wealth management," Byrd said in a prepared statement.
Under the deal, IberiaBank will exchange roughly two shares of its stock, valued at $158.29, for each share of Gibraltar. IberiaBank expects to issue about 2.79 million shares of stock to pay for Gibraltar.
Acquisition and conversion-related costs, which include lease termination expenses, will be about $34.2 million before taxes. IberiaBank expects the deal will increase earnings per share by 2 percent to 3 percent in 2019 and 2020.
IberiaBank held a conference call Friday with stock analysts and investors to discuss the third-quarter earnings report and the acquisition.
Both Sabadell and Gibraltar were attractive at the price, less than two times book value, Byrd said during the call. Both banks had solid loan portfolios.
"Both of these situations, they're pretty low-risk. The Sabadell portfolio has held pretty steady. It hadn't grown a lot but that's not unexpected given the integration process," Byrd said. "But now their pipelines are beginning to build so I think moving forward we'll do pretty well. The same thing with Gibraltar. Again, a pretty low risk kind of portfolio so you don't have to tear anything down before you can rebuild it."