Baton Rouge General plans to build a $30 million, 10-bed neighborhood hospital in Prairieville and a $40 million, 65,000-square-foot expansion of the critical care tower at its Bluebonnet campus in Baton Rouge.
The Bluebonnet hospital will add four floors, a helipad, new operating room space, decontamination facilities and amenities for families and visitors staying overnight.
BRG Ascension will have 60,000 square feet of space and include a lab and a 14-bed emergency room, physician practices and office space to serve the thousands of Ascension Parish residents who make the drive each year to the health system's Baton Rouge facilities.
Baton Rouge General expects to open the neighborhood hospital in 2019. Plans began last year with the separate $3.5 million purchase of the land between La. 73 and Interstate 10 north of La. 621.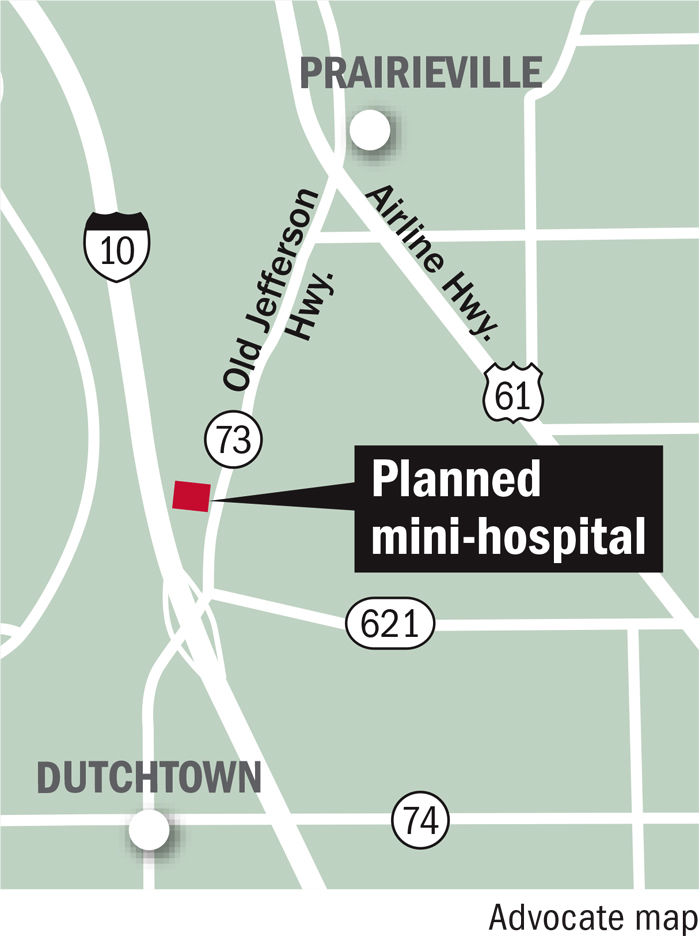 "We've been talking about this for about 2½, three years. We did a study of the market to see where we were needed most, and that popped up as an option," said BRG President and Chief Executive Officer Edgardo Tenreiro. More than 22,000 Ascension patients sought treatment at the General's facilities in Baton Rouge, and that figure did not include clinic visits.
When Baton Rouge General began considering an expansion, the health system looked primarily at adding to its clinics, possibly through urgent care facilities or emergency rooms. The concept of a neighborhood hospital just emerged in the last six to 12 months. 
"In order to minimize transfers over here, we needed an inpatient component, so we thought well, let's just put it all together," Tenreiro said.
The project is now in the design phase, with groundbreaking expected in early 2018. BRG plans to finance the hospital through some type of bond issue. Tenreiro said Ascension Parish's growth will make the ER sustainable.
"In a sense, we're just taking what we offer them here (at Bluebonnet) already and placing it closer to their homes, in a convenient package that's easier to navigate," Tenreiro said.
The Ascension property gives BRG the ability to design a nontraditional building and offices. The ER and inpatient services will be "highly, highly integrated." There won't be interruptions in the transitions from one care setting to another.
"On the outpatient piece, we're going to build primary care practices and offices without waiting rooms," Tenreiro said.
The whole point of building in Ascension is to make it convenient for patients, he said. But BRG wants to take that a step further, offering something the health system doesn't anywhere else, something very few U.S. hospitals do. BRG plans to apply the efficiency techniques it's learned in the last eight years and used in its hospitals, without the limitations of a building with a conventional layout. 
The design will allow patients to self register and immediately go to an exam room. That means fewer front-desk people but more importantly, no more waiting in line for patients.
"It's not a walk-in. Basically you have an appointment. If you're running a practice the way you're supposed to be running it, why do you have to go to the waiting room? The only reason is that because traditionally the offices are centered around the efficiency of the physician," Tenreiro said. "What we are doing here is centering around what's efficient for the patient without hurting the productivity of the physician."
The Prairieville hospital is BRG's first neighborhood hospital, but it may not be the last, Tenreiro said. The area may be able to support another, but BRG will assess the reception in Ascension before tackling a second neighborhood hospital.
BRG Ascension will be competing with St. Elizabeth Hospital in Gonzales, a 78-bed hospital that's part of the Franciscan Missionaries of Our Lady Health System. St. Elizabeth has a 17-bed emergency room, with 37,000 ER visits in 2016, and handled 180,000 physician office visits, 55,233 urgent care visits and over 130,000 hospital encounters, according to the health system.
BRG's Ascension hospital is just one of a handful of major projects on its menu. Baton Rouge General's Bluebonnet campus serves as the critical care hub for General Health System's two hospital campuses and 20 clinics. The Mid City campus has shifted its focus to post-acute care, offering behavioral health services, skilled nursing and rehab.
Tenreiro said the critical care tower expansion at the Bluebonnet campus is at least 30 months away. It's needed "because we're a regional burn center, and right now the space that we use for the burn center we're borrowing from Peter to pay Paul. We want the burn center to have its own state-of-the-art facility, operating rooms, inpatient, outpatient — full-blown service."
BRG plans to raise funds to pay for the project, he said.
BRG also has plans to expand its cancer center, although the details are still being worked out. However, the idea is to put all of the cancer center's services — medical oncology, infusion and radiation — into one place, Tenreiro said. Construction on that project is a year or so away.
BRG also plans to rededicate the medical office building on the Bluebonnet campus now occupied by Ochsner Health System. Ochsner's lease expires in 2019, and its clinic already has announced plans to move from the Summa Avenue location to The Grove development on the other side of Bluebonnet Boulevard.