ALEXANDRIA, Va. — Wednesday began in familiar tranquility in this Washington, D.C., suburb, as young commuters walked their dogs through the eclectic and leafy neighborhood of Del Ray and joggers headed out on their morning treks. 
At the Eugene Simpson Stadium Park, a popular attraction with tennis courts and walking trails, several dozen Republican lawmakers convened their final practice on the eve of an annual charity baseball game, honing their hitting and catching skills on a practice field here that abuts the YMCA Alexandria.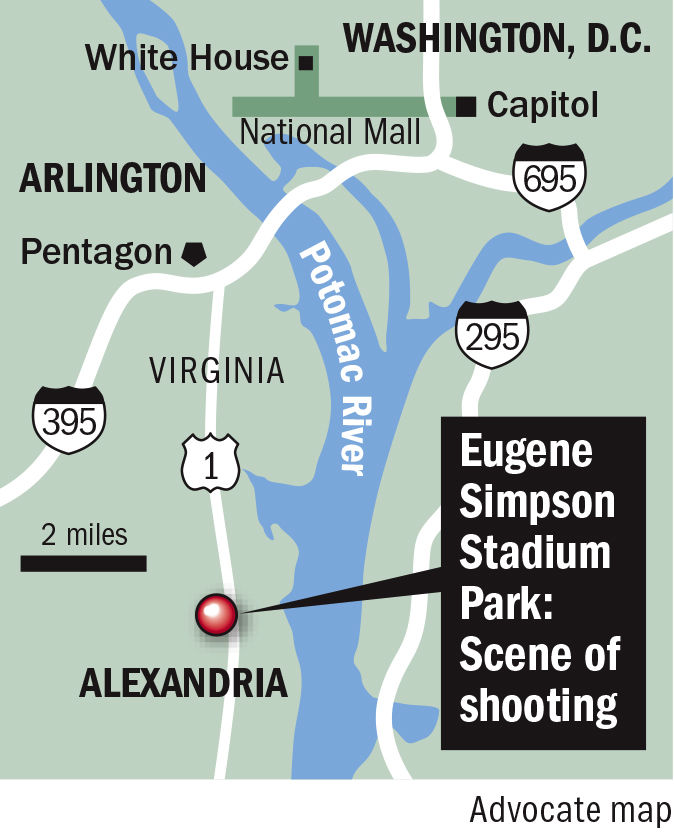 But then, without warning, high-caliber gunfire ripped through the air, wounding four people, including U.S. Rep. Steve Scalise, R-Metairie, who had been playing second base when a lone gunman sprayed the field with bullets. Four other people were injured in the attack, including two Capitol police officers assigned to protect Scalise whose quick-footed response was widely credited with averting a massacre. 
"I never thought I would go to practice for charity and have to dodge bullets," U.S. Rep. Rodney Davis, R-Illinois, said in an interview with Fox News. "We are now going to be bound together by this senseless shooting for the rest of our lives."
The assault stunned the nation — and its capital — and turned the park into a surreal crime scene that federal authorities were still processing late Wednesday. The normally peaceful streets of Del Ray gave way to a phalanx of law enforcement vehicles and more satellite trucks than could be counted as international media flocked to the site of the shooting. 
Neighbors shook their head in confusion and dismay in describing their reaction to the violence, some attributing it in part the rancorous discourse that has come to dominate national politics. The gunman, James T. Hodgkinson, 66, of Belleville, Illinois, who was fatally shot by the police, had expressed fiercely critical views of President Donald Trump and other Republicans on social media. 
"This is uncalled for," said Elfa Halloway, the administrator of the St. Andrew and St. Margaret of Scotland Anglican Catholic Church, which sits just down Monroe Avenue from the baseball field. "People walk their dogs there. Schoolchildren have games there." 
Reba Winstead, a real estate agent who lives near the YMCA, said she called 911 from her porch but hurried back inside after a bullet whizzed past her home on East Mason Avenue. A police dispatcher informed her that she had to hang up because law enforcement was being inundated with emergency calls. 
"This isn't something that ever really happens in our community," Winstead said in an interview with The Advocate, adding she first mistook the fracas for a domestic dispute before a few gunshots turned into a few dozen. "It shouldn't happen in any community." 
U.S. Rep. Jeff Duncan, R-South Carolina, told reporters the gunman approached him in the parking lot of the field and asked whether Democrats or Republicans were practicing there. "I said it's the Republican team," Duncan said, according to The Associated Press. "He said, 'OK, thanks,' and turned around." 
The shooting broke out about 7:09 a.m. local time, about a half-hour into an early morning baseball practice that included dozens of Republican lawmakers and their staffers. Hodgkinson, the lone gunman, said nothing as he approached the field and opened fire through a fence, witnesses reported, apparently targeting the field's only exit and firing at — but missing — U.S. Rep. Trent Kelly, R-Mississippi, who had been playing third base.
U.S. Rep. Brad Wenstrup, R-Ohio, described the gunman as "very crafty," beginning his assault behind a fence along the third-base line and firing a long gun toward third base and second base as he strafed from the outfield side of the dugout toward the infield side.  
"He kept mobile," Wenstrup, who had been in the batting cage when the gunfire broke out, said in an interview with ABC News, referring to the gunman. "Everyone hit the deck and started scurrying for cover." 
The rampage lasted several minutes. Dramatic video, captured by a local resident and published by The New York Post, depicts a portion of the chaos, including the piercing sound of gunshots followed by sirens. "Do we know where he's at?" the resident, Noah Nathan, can be heard saying in the footage. "I assume people have been calling 911 already." 
Winstead, the real estate agent, said she heard someone shout "Get the hell out of here!" Jon "Scott" Mosel, who manages Swing's coffee shop across from the field, said the players ran from the baseball diamond across a basketball court, some jumping a fence into a nearby dog park.
"It was absolutely frantic," Mosel told The Associated Press. "We didn't know if they were being chased." 
The hail of gunfire struck Scalise, who had been standing near second base, sending the congressman to the ground and seeking cover by heading toward the outfield in what witnesses described as an "Army crawl." Then he lay motionless. 
"We couldn't get to him until the shooting had stopped," U.S. Rep. Jeff Flake, R-Arizona, told CNN. 
Can't see video below? Click here.
The gunman, armed with an M4 rifle, eventually made his way around a building behind home plate and, at some point, re-emerged from the structure, Wenstrup said, at which point he was taken down by Scalise's two-member security detail, which had exchanged gunfire with Hodgkinson. An Army Reserve officer and doctor, Wenstrup said he then darted onto the field, along with Flake, to tend to Scalise, who was in noticeable pain and thirsty but conscious the entire time. 
"I did what I did in Iraq," Wenstrup added, describing his assessment of his colleague's wounds. "He was losing a lot of blood." 
Scalise, 51, was shot in the hip and rushed from the field in a stretcher by emergency personnel before being airlifted to MedStar Washington Hospital Center. He quickly underwent surgery but remained in critical condition late Wednesday. 
The shooting also wounded a legislative aide, a lobbyist and a Capitol police officer; a second Capitol officer was wounded, but not by gunfire, officials said. Several Congressmen credited the Capitol police with saving dozens of lives. The security detail would not have been there but for Scalise's leadership position as majority whip in the U.S. House of Representatives, the No. 3 position in the body. 
U.S. House Majority Whip Steve Scalise, the most powerful Louisianian in Congress in decades, was badly wounded early Wednesday at a Republica…
"I think without them, everybody would have been killed," U.S. Sen. Rand Paul, R-Kentucky, told ABC News. "It's sad that he was shot, but he actually saved everybody's life by being there." 
Paul recalled hearing at least 50 or 60 shots, some of which were "skipping off of the warning track," the area abutting the outfield fence. "My instinct was that he was moving," he said of the gunman, "and he could move around the whole field and just hit anybody." 
Michael Brown, the Alexandria police chief, told reporters that his officers were on the scene within three minutes. "The officers received fire from a suspect and they returned fire, and that part of the investigation is ongoing as we speak," he said."Because this case involves an assault on a federal officer, the Federal Bureau of Investigation will be taking over the investigation." 
A host of local churches announced prayer services Wednesday night for the victims of the shooting
"We don't hear gunshots here," said Winstead, the real estate agent. "But this was unmistakable." 
Photos: Rep. Steve Scalise shot at baseball practice in Virginia; see photos from scene
U.S. Majority Whip Steve Scalise, R-Jefferson, was shot by a rifle-wielding gunman Wednesday at a GOP congressional baseball team practice just outside of Washington. According to an update from his office, Scalise is currently undergoing surgery at MedStar Washington Hospital Center and is in stable condition.