Halfway through hurricane season, the outlook has gotten darker.
As the remnants of Harvey still drift across the south, a new hurricane, Irma, has formed out in the Atlantic Ocean. Should it strengthen to a Category 4 or 5 storm, as predicted, it would be the second major hurricane of the 2017 season. Major storms are Category 3 and stronger.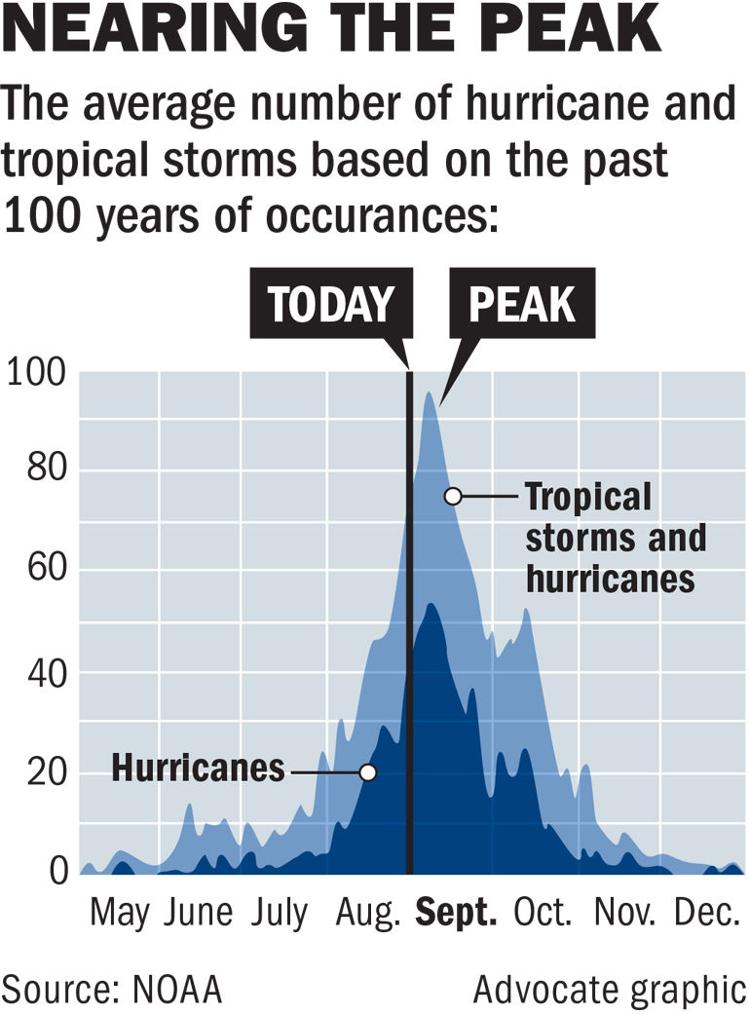 The National Weather Service and a long-time forecasting team at Colorado State University have both upped their predictions for this year's season and anticipate as many as five major storms.
The hurricane season begins June 1 and runs through November, but the worst storms, historically, strike between Aug. 20 and Oct. 15.
"In general, that's where most of your big stuff happens," said Colorado State meteorologist Phil Klotzbach.
In fact, after Aug. 10, the Atlantic generates 90 percent of all accumulated cyclone energy, a scientific measurement that takes into account wind speed and storm duration, Klotzbach continued.
His team now expects 16 named storms — there have been nine already — and three major storms this year. They had originally predicted a below-average season, but circumstances have changed since the spring.
The Weather Service has also updated its predictions and now anticipates 14 to 19 named storms, which would include five to nine hurricanes and two to five major hurricanes.
Both groups cited two major factors. First, the Atlantic, which had been cooler earlier in the year, has warmed much faster than usual, creating storm-conducive conditions. Second, El Niño won't be coming to the rescue. The weather system sends shearing winds across the Atlantic during the hurricane season that shred storm systems, but it appears unlikely to occur in 2017.
It's been 12 years since a major hurricane made landfall in the U.S., but the streak may com…
While the National Weather Service had predicted a 45 percent chance of an above-average season in May, they've revised that forecast. Now, experts there expect a 60 percent chance of an above-average season, a 30 percent chance of a normal year and a just ten percent chance of a below-average season.
The Weather Service forecast was prepared in early August before Harvey hit the Texas coast as a Category 4 hurricane, but spokeswoman Maureen O'Leary said the storm is "in line with what we have (predicted)" and that the outlook would not be revised.
Tropical storms rarely affect one another unless they get very close. The formation of Harvey, for example, won't impact Irma or other storms this season, Klotzbach said.
Local weather experts are keeping watch on Irma, but it's too early to tell whether it poses a threat to the Gulf Coast, said meteorologist Michael Koziara of the Weather Service's Slidell office.
They're also monitoring a low-pressure system near the Bay of Campeche near Mexico.
"Development, if any, of this system is expected to be slow to occur as the low moves slowly northward. If this system does develop, it could bring additional rainfall to portions of the Texas and Louisiana coasts," the Weather Service wrote in a Thursday advisory.
However, "it's too early to speculate ... the jury's still out," Koziara said.
With Harvey finally lifting from the area, south Louisiana should expect a warm, humid weekend, possibly with some seasonal afternoon showers or storms, he said.