Louisiana residents overwhelmingly agree that more work needs to be done to enhance women's equality in the workforce, a new poll shows.
Nine in 10 Louisiana residents would support a law requiring private employers to pay men and women the same amount of money for the same work, the 2017 Louisiana Survey found, indicating a strong desire for Louisiana to shake its reputation of having the worst-in-the-nation gender pay gap.
"This support is broadly shared across a number of demographic and political characteristics," the LSU Public Policy Research Lab researchers note within the report.
Additionally, 71 percent of respondents think that the country needs to make changes to give men and women equal footing in the workforce, and 58 percent agreed that significant obstacles remain that make it harder for women to get ahead.
Gov. John Bel Edwards described Louisiana's worst-in-the-nation pay gap as an embarrassment,…
Researchers began last week releasing the findings of the latest Louisiana Survey, an annual poll on residents' views on various topics. Thursday's release, which focuses on equal pay and related considerations, is the fourth of six reports anticipated.
The Louisiana Survey is based off responses from 1,012 residents in live interviews by cellphone or landline from Feb. 23 to March 23. The margin of error is 3.1 percentage points.
The latest version asked respondents: "Do you support or oppose the state requiring employers in Louisiana to pay men and women the same amount for the same job?" Researchers noted that the phrasing was deliberate to make respondents consider the government's role in how employers determine compensation, rather than focusing solely on what employers should do voluntarily.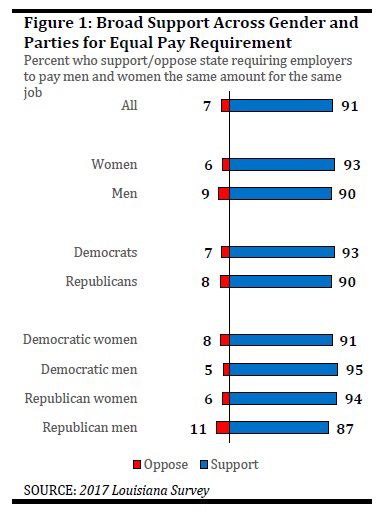 The poll found across-the-board support (91 percent) with no significant differences between the responses from women and men or from Democrats and Republicans.
The Louisiana Legislature has rejected 28 equal pay bills in the past decade, after facing opposition from some business groups and others who argue that it could encourage frivolous lawsuits. Critics also say statistics on the gender pay gap often don't reflect the differences in skill and job type that often separate men and women in various employment fields that are reflected in pay, making arguments about discriminatory wages moot.
Louisiana conservatives last week gleefully traded an online posting that claimed Democratic…
An equal pay proposal was shot down in a House committee just last year, after winning the Senate's approval and the backing of Gov. John Bel Edwards, a Democrat who campaigned on the issue. 
Political pundits predict efforts this year will have similarly slim chances of making it into law. But that hasn't stopped legislators from filing bills for the session that begins Monday to revive the debate over pay disparity.
Democrats and the Edwards administration are taking yet another swing at establishing a stat…
Senate Bill 2, sponsored by state Sen. J.P. Morrell, D-New Orleans, would require private businesses in Louisiana to pay men and women with the same jobs the same wages, expanding on the existing equal pay law that governs state workers. It would only apply to full-time employees at businesses that employ 50 workers or more, and it would establish a process for employees who feel they are victims of wage discrimination to file complaints and possibly bring legal action.
House Bill 222, sponsored by Rep. Helena Moreno, D-New Orleans, is meant to discourage "pay secrecy." It would prohibit employers from taking actions against employees who inquire about, discuss or disclose their wages or those of their coworkers.
"Learning how to successfully negotiate is critical, whether it's for that next job or a current job," Moreno said in a statement on the legislation, which Edwards has included on his legislative agenda this year. "One way to help women and men know whether they are being compensated equally is pay transparency."
More broadly on the topic of gender equality, the Louisiana Survey found that 32 percent of respondents think that there is "a lot" of discrimination against women in society today, while 32 percent agreed that there is "some" discrimination against women. Women were more likely than men to say that they suffer a lot of or some discrimination (63 percent women to 53 percent men).
The divide was more sharply pronounced along political lines.
Legislation that aims to combat Louisiana's growing opioid usage and linked overdose deaths …
Democrats overwhelmingly agree (86 percent) that women suffer a lot of or some discrimination in society, and while 42 percent of Republicans agreed with either of those two distinctions, the rest (56 percent) said women face "only a little" or "no" discrimination in society.
To find out about views on workplace discrimination, the survey asked respondents which statement they agreed with most: "This country has made the changes needed to give men and women equality in the workplace," or "This country needs to continue making changes to give men and women equality in the workplace."
It found that 71 percent of respondents think the country needs to continue making changes. But while a majority of women and men overall agreed that more changes are needed, the attitudes among gender and party affiliation can be broken down virtual stair steps: 91 percent of Democratic women said the country needs to continue making changes; 80 percent Democratic men agreed; 65 percent of Republican women agreed; and 44 percent of Republican men agreed – the only group in which a majority (54 percent) said that no more changes are needed.
Asked whether women continue to face obstacles to get ahead in the workforce, majorities of Republican women (54 percent) and Republican men (63 percent) said that they think the obstacles that once made it harder for women to get ahead are largely gone. Meanwhile, Democratic women and Democratic men firmly agreed on the opposite view of their GOP counterparts – believing that significant obstacles remain – at 80 percent and 70 percent, respectively.