WASHINGTON — U.S. Rep. Steve Scalise faced an "imminent risk of death" after a high-velocity rifle shot struck his left hip, his doctor said Friday, leaving him "as critical as you can be" when he arrived at the hospital this week. 
But Scalise's condition has improved and his vital signs have stabilized over the past three days, the doctor said, adding he expects the Louisiana congressman to be able to walk and even "hopefully run" upon his release. 
"He will certainly be in the hospital for a considerable period of time, presumably weeks," said Dr. Jack Sava, the director of trauma at MedStar Washington Hospital Center. "I feel a lot more confident and a lot more optimistic than I did two or three days ago."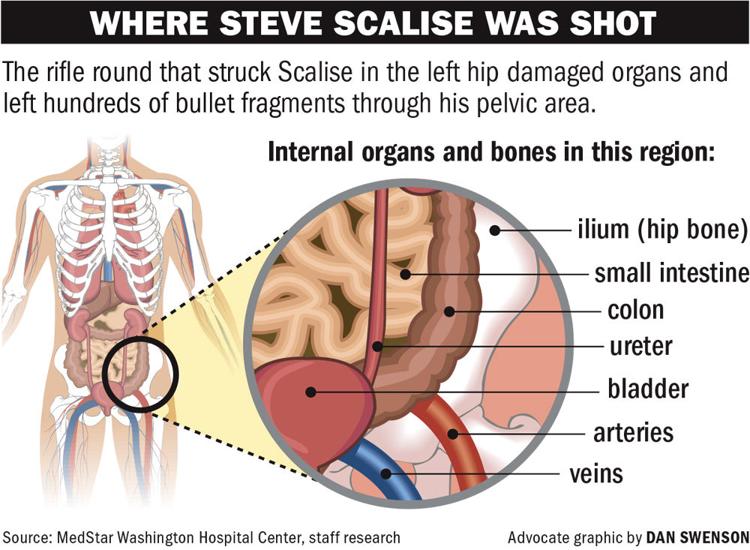 Sava added that Scalise's "risk of death right now is substantially lower" than it was early Wednesday, when he was shot on a baseball field in Alexandria, Va., as he practiced with other Republican lawmakers. "I think that an excellent recovery is a good possibility," the doctor said. 
Sava, who addressed reporters at a news conference here, offered a detailed account of Scalise's medical care, even describing the trajectory the rifle round took before it fragmented and caused "significant damage to bones, internal organs and blood vessels." The doctor's remarks, his first since the shooting, came after President Donald Trump said Friday that Scalise, 51, was "having a hard time — far worse than anyone thought." 
Can't see the video below? Click here.
Scalise, 51, was among four people shot Wednesday when a lone gunman opened fire at the Eugene Simpson Stadium Park, wounding four people. Witnesses said he had been playing second base and "Army crawled" his way into the outfield. The gunman, James Hodgkinson, was fatally shot by police. 
Scalise was airlifted to the hospital and quickly underwent surgery in the operating room, where he received "many units of transfused blood," Sava said. He ultimately was transferred to the intensive care unit, where doctors began to control his bleeding. On Thursday, Scalise, the House majority whip, had another operation to repair a bone in his leg. 
The congressman had been awake initially but, due to severe bleeding, had gone into shock by the time he arrived at the hospital. He's been sedated since then, Sava said, "but we've been able to turn that sedation down enough for him to respond to his family members, and he clearly knows that they're there and appreciates their presence."
Sava did not put a timeline on Scalise's release from the hospital, saying there were "too many forks in the road" to tell at this point. Additional operations will be needed in the coming days to manage Scalise's abdominal injuries and other broken bones, Sava said, adding he hoped that hemorrhaging "is not going to be our biggest enemy any longer." 
"Other things to worry about include infections and other complications that come about from intensive care," the doctor added. 
Scalise's medical condition has been the subject of intense speculation since the shooting, and, before Friday, the hospital had provided scant details on his prognosis. Sava attributed Scalise's "major initial risk to life" to "the hemorrhage that results when that bullet travels through blood vessels." 
Sava said doctors will not attempt to remove what are likely to be hundreds of bullet fragments from Scalise's body, saying the risk of such a procedure typically outweighs the potential benefits. 
Scalise's wife, Jennifer, released a statement Friday thanking agents Crystal Griner and David Bailey, of the Capitol Police, who she said "saved the lives of everyone at the baseball field that morning, including Steve's. Crystal and David have been family to us for years, and we ask that you continue to pray for their full recovery."
"We are especially appreciative of the strong outpouring of love and support from our neighbors, friends, from Louisiana and across the country," she added, "as well as from President Trump, Vice President Pence, and all of Steve's colleagues who have reached out to us during this most challenging time."
The president, who visited the hospital hours after the shooting, said in Miami on Friday that Scalise "took a bullet for all of us." 
"Because of him and the tremendous pain and suffering he's now enduring ... our country will perhaps become closer and more unified," Trump said. "We all owe Steve a big, big thank you."
Trump: Steve Scalise "took a bullet for all of us." Because of Scalise, Trump says, "our country will perhaps become closer, more unified." pic.twitter.com/NOAaMsDqdR

— BuzzFeed News (@BuzzFeedNews) June 16, 2017
U.S. Rep. Clay Higgins, R-Port Barre, said in an interview Friday that he is confident Scalise "is going to pull through and recover completely." 
"He's a powerful man with a deep and strong spirit. He's the recipient of prayers from millions of American and people around the world, and I know that prayer works," Higgins said. "He has the best doctors, and I have a high degree of confidence in them."
Advocate staff writer Bryn Stole contributed to this report.