LATEST
Majority Whip Steve Scalise, R-Jefferson, others shot during Congressional baseball game practice
Scalise shot in hip, dragged himself from 2nd base to outfield 
Suspected shooter identified as James T. Hodgkinson; he has died

Scalise 'in good spirits,' out of surgery but listed in critical condition by hospital
Donald Trump: 'True friend' Steve Scalise was 'badly injured ... will fully recover'
---
U.S. Majority Whip Steve Scalise, R-Jefferson, was shot in the hip by a rifle-wielding gunman Wednesday at a GOP congressional baseball team practice just outside of Washington.
Several other people were also believed to have been hit, according to a lawmaker who witnessed the shooting.
As of 1:30 p.m., MedStar Washington Hospital Center reported Scalise was critically injured and remains in critical condition. The update came from the hospital's official Twitter account. The American Medical Association describes "critical" as vital signs being unstable, not within normal limits and indicators are unfavorable.
MedStar, located near Howard University in Washington, said it is treating two of the patients who were shot, Scalise and another person. The other patient is in good condition.
A government official said the suspect in the shooting has been identified as an Illinois man named James T. Hodgkinson. The 66-year-old suspect, who died from his wounds.
According to an update from his office, Scalise went into surgery at about 7:30 a.m. Eastern at MedStar Washington Hospital Center. Surgery lasted about two hours.
"Prior to entering surgery, the Whip was in good spirits and spoke to his wife by phone. He is grateful for the brave actions of U.S. Capitol Police, first responders, and colleagues," the Majority Whip's office said in the statement.
"We ask that you keep the Whip and others harmed in this incident in your thoughts and prayers."
Capitol Police said officers who were part of Scalise's security detail returned fire and wounded the shooter, who was taken into custody.
Can't see video below? Click here. 
Gov. John Bel Edwards in a statement called the shooting "an outrageous, cowardly attack on one of our own."
"Steve Scalise is a friend, colleague and fighter for the people of Louisiana," Edwards said. "Donna and I are praying for Congressman Scalise, his wife Jennifer, their two children, Madison and Harrison, and all those who were injured. I would ask the people of Louisiana to join their prayers to mine for a quick recovery for Congressman Scalise."
President Donald Trump, with whom Scalise has become a close ally since his election, said he was "deeply saddened by this tragedy" and was monitoring developments.
The shooting occurred at a baseball field in Alexandria, Virginia, where lawmakers and others were gathered for a morning practice. "Many lives would have been lost if not for the heroic actions of the two Capitol Police officers who took down the gunman despite sustaining gunshot wounds during a very, very brutal assault," Trump said.
U.S. House Majority Whip Steve Scalise and three others have reportedly been injured in a sh…
The shooting occurred at Eugene Simpson Stadium Park, which is in a residential neighborhood north of the Alexandria's historical district. It's where the Republicans have practiced for weeks for the charity baseball game Thursday night in Nationals Park, the city's major league baseball stadium, between Democratic and Republican members of Congress. 
House members gave a standing ovation when leadership announced the game would go on as planned. The Republicans will wear purple and gold gear being shipped to them by LSU, in honor of Scalise, an alumnus.
"We are grateful to Congress for thinking of Rep. Steve Scalise during this difficult time and recognizing him by wearing LSU gear in support of his recovery," said LSU President F. King Alexander in an emailed statement.
"We were doing batting practice," said Sen. Jeff Flake, R-Ariz. "All of a sudden we heard a very loud shot. The gunman was over by the third base dugout with a clear view of the field." He said the gunman had "a rifle of some sort ... a lot of ammo."
Rep. Mike Bishop, R-Mich., said Scalise was at second base when he was shot.
"I was looking right at him," Bishop told Detroit radio station WWJ. "He was a sitting duck."
Rep. Mo Brooks, an Alabama Republican, said two law enforcement officers were believed to be among the others shot.
Brooks said that Scalise, 51, was down on the ground with what Brooks described as "a hip wound." The Alabama lawmaker said he colleague "crawled into the outfield, leaving a trail of blood."
"We started giving him the liquids, I put pressure on his wound in his hip," Brooks said.
Cant't see video below? Click here.
Law enforcement arrested James T. Hodgkinson, 66, of Belleville, Ill., and identified him as the shooter.
President Donald Trump announced that Hodgkinson has died from his injuries sustained by the returned fire of law enforcement.
Trump called Scalise a friend and told reporters in the White House that he had phoned the majority whip's wife, Jennifer, to offer "full and absolute support." He called Scalise a friend, patriot and fighter.
Trump also praised the Capitol police officers who were at the ballfield to protect Scalise and were injured in the shooting.  
"Many lives would have been lost if not for the heroic actions of the two Capitol Police officers who took down the gunman despite sustaining gunshot wounds during a very, very brutal assault," Trump said. "Their sacrifice makes democracy possible." 
The president added, "We may have our differences, but we do well in times like these to remember that everyone who serves in our nation's capital is here because, above all, they love our country."
New Orleans Mayor Mitch Landrieu said attacks on elected officials and first responders are "attacks on democracy" in response to the Virginia shooting that wounded House Majority Whip Steve Scalise and four others Wednesday morning.
"We have to all be clear as we stand in unity together, an attack on any public official, first responder ... is an attack on Democracy," Landrieu said. "This senseless violence in America cannot go unchecked."
Scalise was first elected to Congress in 2008 after serving in the Louisiana Legislature.
In June 2014, he was picked to serve as the GOP-controlled U.S. House whip, a role in which he's responsible for counting and corralling votes for the leadership's priorities. In recent months, that has had him at the forefront of debate over efforts to repeal and replace the Affordable Care Act.
He has also played a key role in securing federal aid for Louisiana's recovery from catastrophic floods in 2016.
Hodgkinson owns a home inspection business, but his home inspection license expired in November 2016 and was not renewed, according to media reports. He had been charged in April 2006 with battery and aiding damage to a motor vehicle in St. Clair County, Ill. Those charges were dismissed. 
Hodgkinson had apparently driven to the Washington D.C. area in March and had been living out of his car since. On Wednesday in Alexandria, Virginia, he opened gunfire at those participating in a practice for the annual Congressional baseball game.
He wounded the Jefferson Parish-based Scalise, a Capitol police officer, a Congressional staffer and a lobbyist before Hodgkinson was killed by law enforcement. A second Capitol police officer as well as another Congressman had minor, unspecified injuries during Hodgkinson's attack that were not caused by gunfire.
Hodgkinson had a long history of angry rhetoric targeting Republicans, in general, and Trump in particular, on social media and in letters to the editor of his local newspaper.
Hodgkinson had apparently driven to the Washington D.C. area in March and had been living out of his car since, according to the FBI.
He also apparently had worked on the campaign Democratic presidential candidate Bernie Sanders, a photo of whom was on Hodgkinson's Facebook page. "Trump is a Traitor. Trump Has Destroyed Our Democracy. It's Time to Destroy Trump & Co.," he posted.
Democratic Sen. Bernie Sanders, of Vermont, said in a statement: "I am sickened by this despicable act." He added that "violence of any kind is unacceptable in our society and I condemn this action in the strongest possible terms."
In letters to the editor of the Belleville News-Democrat, which the newspaper posted Wednesday, Hodgkinson wrote in July 2012, "Let's vote all Republicans out of Congress, and get this country back on track." He criticized GOP policies as helping the wealthy at the expense of the middle class.
Belleville is near St. Louis, Mo.
An online comment attributed to Hodgkinson was attached to a cartoon that showed Scalise speaking to a group wearing Ku Klux Klan hoods. It stated "Here's a Republican that should Lose His Job, but they Gave Him a Raise."
About six months after he was elected whip, Scalise was criticized for giving a speech as a state legislator a decade earlier to a white supremacist group begun by former Ku Klux Klan leader David Duke. Scalise apologized, saying he was unaware of the group's racist rhetoric.
Republican U.S. Rep. Ralph Abraham, of Alto, also is physician. He has no knowledge of Scalise's wounds other than what has been reported in the media.
But when asked, Abraham said that a gunshot wound to the hip region can be very serious.
"The hip area is a very busy place with nerves, blood vessels and those types of structures that are vital to life," Abraham said. "Did the projectile break the hip bone going in? Did it sever a blood vessel? Did it take a nerve out? Those are the things his doctors, and he is being treated by some of the best in the world, are looking for."
Abraham said it could take weeks for Scalise to recover. "He may not be at a full speed for a while, but as you well know, full speed for the rest of us is three quarters speed for Steve," Abraham said.
U.S. Rep. Clay Higgins, R-Port Barre, said he was at the gym this morning when he learned about the attack. His immediate reaction, he said, was gratitude for the security detail that shot down the attacker.
"My gratitude is for my brothers in the thin blue line," he said.
He said he was already preparing for the "instant cry across the country from the anti-second amendment people."
He added: "Let us not have this knee jerk reaction in blaming guns. (The shooter's) violence was overtaken by superior violence. Thank God there were men there with guns to take him down, because he wasn't taken down with hugs."
Higgins, who took office in January, said Scalise has become a trusted mentor to him since he joined Congress.
"He has been so kind to me and very, very helpful and supportive in the months that I've been here," he said. "He helped me get on the committees, and he's given me counsel."
U.S. Rep. Cedric Richmond, of New Orleans and a friend of Scalise's since both were in the Louisiana Legislature, was practicing with his Democratic colleagues on the other side of Washington, D.C. at the time. They were preparing for the annual charity baseball game that pits Democratic congressmen versus Republicans. The game is scheduled for Thursday evening.
U.S. Sen. Bill Cassidy, a Republican from Baton Rouge and a physician, said he was about to speak at a weekly Senate prayer breakfast in the U.S. Capitol attended by Democrats and Republicans in Washington D.C. as news broke about the shooting.
"Your first reaction is, of course, about those shot, and also to what degree the current political environment contributes to that," Cassidy said. He said elected leaders and all Americans should reflect on their political discourse.
"We can meet as friends who are strongly disagreeing about policy, but there is nothing close to something that should rise to the level of violence," he said.
Cassidy said he has worked closely with Scalise since they both served in the state Legislature together. Cassidy was elected Senator around the time, Scalise was tapped to be majority whip.
He said the two have worked closely together in recent months on securing flood recovery money for Louisiana.
Cassidy said he hopes to visit Scalise later this evening, when he's out of surgery.
Like Cassidy, U.S. Rep. Garret Graves, R-Baton Rouge, pondered the impact of divisive political rhetoric. He called the attack was a "sobering and frustrating."
"The attack is frustrating because I expect that this will ultimately demonstrate that words and rhetoric have consequences," Graves said in a statement. "Over the last several months, verbal attacks, divisiveness, and polarization have reached inappropriate and unhealthy levels in our government. Many thoughtlessly lob verbal grenades without considering the consequences."
Graves placed the blame on both those in politics and the media.
"Sadly, it seems, politics in many cases has devolved into a dehumanized blood sport. Contributing to the problem, many in the media and bloggers have evolved from reporters to editorialists and provokers spreading misinformation and sensationalism," he said. "I apologize for any contribution I may have caused."
U.S. Sen. John N. Kennedy, R-Madisonville, noted that if Scalise hadn't been there, the situation could have been far more deadly. As the No. 3 House Republican, Scalise is entitled to security detail.
"If they hadn't been there it would have been a turkey shoot," he said.
Kennedy said if the cause of the shooting was over political disagreements, "then this is a new low for America."
"Every report we're getting it sure appears to be a political hate crime. The tenor and the tone of American political discourse is changing," Kennedy said. "I hope we haven't come to the point where disagreeing with someone is an obligation to hate them."
He added, "I don't know that any good can come out of this, but if there is, maybe it'll cause everyone to stop and think and realize it's Ok to disagree."
U.S. Rep. Mike Johnson said in a statement that he is praying for his friend Scalise and also other staff members and members of the U.S. Capitol Police detail who were shot.
"We live in a dangerous world, at a time when evil runs rampant and leaders are targeted. We must be vigilant at all times, but we can never operate in a spirit of fear," Johnson said. "Steve is one of the finest men and most dedicated public servants I have ever known, and I expect his faith and strength of character will carry him through this ordeal,"
Washington all but shut down Wednesday as the focus was on the shooting. But in Baton Rouge, the Louisiana Legislature is in special session and the state House had to get a budget approved by the end of the day so that it could clear the process before the body adjourns Monday. Louisiana House Appropriations Committee Chairman Cameron Henry, who would make the presentation, is a former aide to Scalise and his brother works on the congressman's staff. Henry's vice chair, Rep. Franklin Foil, R-Baton Rouge, handled the presentation of the bill.
But here too legislators spent the day talked about their former colleague. Scalise served for 12 years in the Legislature before moving to Congress. Lawmakers said they are especially alarmed that Scalise's shooter may have been targeting Republicans.
"It is sad that anybody could walk into a ballpark and open fire on what they knew was a whole bunch of congressmen," said state Rep. John Schroder, R-Covington.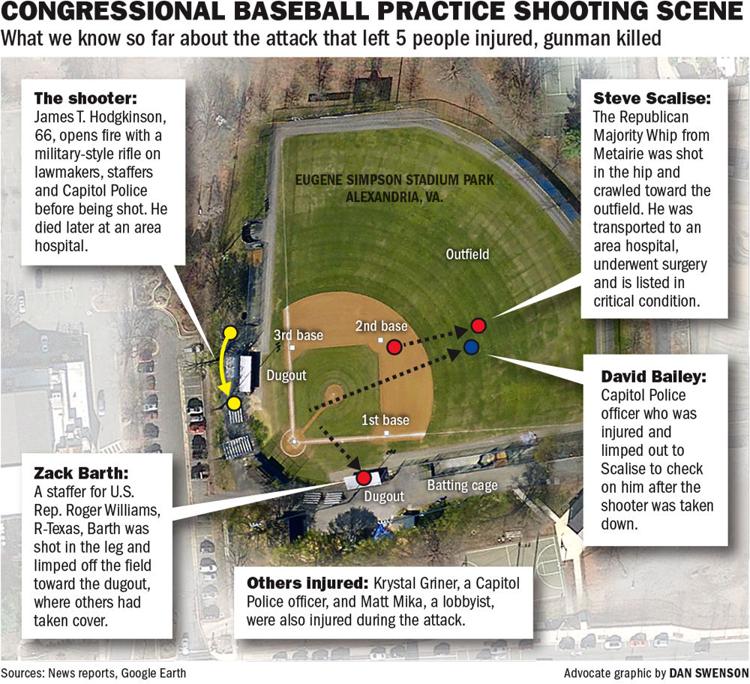 "It worries me where society is today," Schroder said. "We can't even have a discussion anymore without someone getting mad, and there is no law that is going to stop that kind of stuff," he said.
"I always give everybody the benefit of the doubt," Schroder said. "But clearly it looks political. The political divide is growing. We don't want to sit down and have a cordial conversation with each other. It's sad. It really is."
State Rep. J. Rogers Pope, R-Denham Springs, made a similar point. "I think it is the rhetoric we hear on the state level, nationwide, that we are getting such a division in this country we better get back to the middle and come back in some kind of way," he said.
Rep. Sam Jones, D-Franklin, worked with Scalise when he was in the House and Jones worked for then Gov. Kathleen Blanco.
"Just disgust," Jones said of his reaction when hearing the news that Scalise had been shot. "I don't know what to think other than to be disgusted."
"The upcoming congressional ballgame that he and others were practicing for is one of few occasions that bring Democrats and Republicans together," Louisiana Democratic Party Chairwoman Karen Carter Peterson, who also represents New Orleans in the state Senate and had worked with Scalise in state House. "I know personally that Steve and I share a core philosophy of standing up and fighting hard for what you believe in. He's strong and I look forward to his full recovery."
In a statement, the Legislative Black Caucus said it was offering its prayers to the shooting victims and their families. "Today, it is another sad day in the American landscape where tragedy strikes and a gun is involved and innocent people are hurt and injured as a result of it," said state Rep. Joseph Bouie, D-New Orleans and chairman of the caucus.
U.S. Rep. Jeff Duncan, R-S.C., told reporters in Washington that he was at the practice in Alexandria and spoke to the shooter a few minutes before.  
Duncan, of South Carolina, says he gave a description of the man to Alexandria police that "fits the picture that's being shown on TV."
Duncan told CBS News that he was preparing to leave the baseball practice when the man approached him and asked: "Excuse me, sir, who's practicing today? Democrats or Republicans?'"
Duncan said he replied it was the Republican team, and the man thanked him and turned around. Nothing about the man "struck me as being out of the ordinary."
U.S. House Speaker Paul Ryan's office said Scalise's wounds were not believed to be life-threatening. Ryan, R-Wisc., also told the U.S. House that Capitol Police officers David Bailey and Crystal Griner were among those shot. One was being treated and the other was to go into surgery.
The Washington Post identified the other shooting victims as Zach Barth, a staffer for Rep. Roger Williams, R-Texas, and Matt Mika, a lobbyist for Tysons Foods.
Katie Filous was walking her two dogs near the field when she heard "a lot of shots, probably more than 20." She said the shooting "went on for quite a while."
Filous said she saw the shooter hit a uniformed law enforcement officer, who she said was later evacuated by helicopter. She said the officer had gotten out of a parked car, drawn a handgun and shouted something to the gunman, who then fired.
The annual Congressional baseball game is scheduled to take place on Thursday.
Our hearts are heavy. Please pray for @SteveScalise and the others involved in this morning's shooting.

— L A G O P (@lagop) June 14, 2017
Check back with The Advocate for updates.
Jeff Adelson, Rebekah Allen, Mark Ballard, Elizabeth Crisp, Will Sentell and Ramon Vargas of The Advocate contributed to this report.