As the fast-moving Tropical Storm Nate continued to approach the Gulf of Mexico on Friday, the New Orleans area remained poised for a direct hit from the system. 
The storm is expected to strengthen into a Category 1 hurricane before making landfall along the Louisiana coast as early as Saturday night. The speed of the storm, however, will likely prevent it from stalling and dropping massive amounts of rain on southern Louisiana, according to forecasts.
Hurricane and storm surge warnings were in effect for coastal Louisiana as of Thursday evening.  
Anywhere from 3 to 6 inches of rain is expected in portions of Louisiana, with much of the New Orleans area slated for between 2 and 4 inches. These forecasts are subject to change, however. 
Can't see the video below? Click here. 
There are larger swaths of rain expected along the Gulf Coast. The Southeastern tip of Louisiana falls in an area expected to see up to 6 inches of rain, as does southeastern Mississippi and southwestern Alabama. There is a small area expected to see up to 10 inches, but that is expected to fall over the Gulf. 
Rain associated with the storm was expected to begin as early as 10 a.m. Saturday, and continue through Sunday night. Tropical storm force winds were expected to begin impacting southern Louisiana by mid-day Saturday. 
The New Orleans metropolitan area is under a hurricane watch as Tropical Storm Nate moves ac…
Louisiana officials had declared a state of emergency, including Gov. John Bel Edwards and New Orleans Mayor Mitch Landrieu, who both urged residents not to underestimate the storm. Edwards also mobilized 1,300 National Guard troops, with 15 headed to New Orleans to monitor the fragile pumping system.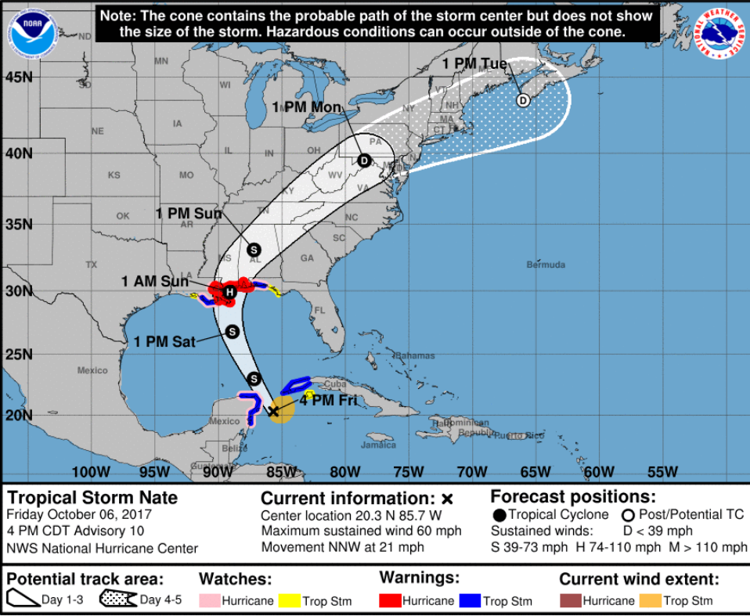 Nate roared toward Mexico's Yucatan Peninsula Friday morning after drenching Central America in rain that was blamed for at least 22 deaths. 
The U.S. National Hurricane Center said Nate could cause dangerous flooding by dumping as much as 15 to 20 inches (38 to 50 centimeters) of rain as it moved over Honduras, with higher accumulations in a few places.
It had maximum sustained winds of 45 mph (75 kph) by Friday morning and was likely to strengthen over the northwestern Caribbean Sea on Friday before a possible strike on the Cancun region at the tip of Mexico's Yucatan Peninsula at near-hurricane strength.
Gov. John Bel Edwards is urging Louisiana residents to brace for Tropical Storm Nate, which …
New Orleans area residents should prepare for likely flooding and perhaps up to a week witho…