The National Weather Service issued a winter weather advisory for the Baton Rouge area beginning Thursday night, with the possibility of snow Friday morning.
The winter weather advisory goes into effect at 9 p.m. Thursday and will last until noon Friday.
According to the National Weather Service, a mix of rain and sleet could begin late Thursday night and become snow Friday morning. Any wintry mix would reduce visibility and impact the Friday morning commute. Snow showers, if they occur, should end before noon.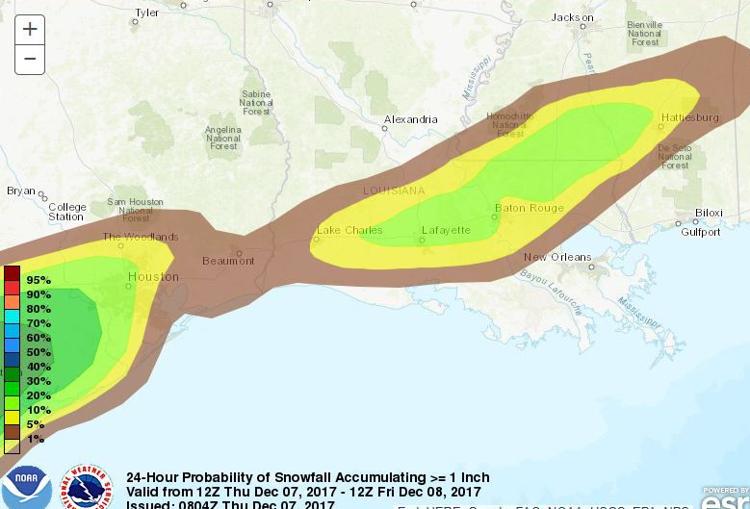 Most areas will only see flurries with little, if any, accumulation, but a few spots – especially along the northern Louisiana-Mississippi state line – could see less than an inch of accumulation on grassy surfaces, rooftops and elevated surfaces, the National Weather Service said.
The winter weather advisory includes Pointe Coupee, West Feliciana, East Feliciana, St. Helena, St. Tammany, Iberville, West Baton Rouge, East Baton Rouge, Ascension, Livingston and Tangipahoa parishes.
A winter weather advisory for snow means that periods of snow with accumulations of less than 2 inches within 12 hours will cause travel difficulties, the National Weather Service said.
Here is a list of events canceled or postponed due to inclement weather expected in Baton Rouge for the rest of the week. 
High temperatures on Thursday will be in the mid to upper 40s, with a low of 34 degrees on Thursday night in Baton Rouge.
An even stronger cold front is expected to move through the area Friday evening bringing freezing temperatures to the region Friday and Saturday nights, along with wind chill temperatures in the low to mid 20s for some areas, according to forecasters.
Baton Rouge Mayor-President Sharon Weston Broome's office said Wednesday that officials are constantly monitoring the weather conditions, and the mayor "will make any cancellations and decisions to keep our citizens safe" when the time comes. Officials also stressed that residents should check on neighbors and family members who may need assistance during winter weather, and take care of their pets accordingly. Those who use heaters and fireplaces should also be careful.
Rodney Mallett, a spokesman for the state Department of Transportation and Development, said the agency is also monitoring the weather and "has staff, equipment and deicing materials ready in an effort to keep state routes open should the need arise."
Update, 6:30 a.m. Thursday
Southeast Louisiana hasn't experienced snow accumulation since Feb. 10, 2012, when about 1 inch fell in the Baton Rouge area. New Orleans last received measurable snowfall almost 10 years ago on Dec. 11, 2008. In 2004 the city received half an inch on Christmas Day.
The most snow ever recorded in Baton Rouge was 12.5 inches in February 1895, according to state Climatologist Barry Keim.
Advocate reporter Lea Skene contributed to this report
In 2008, the entire state of Louisiana experienced a wintry mix of precipitation -- including some snow, but mostly rain, sleet and freezing rain.