I remember the first time a political speech moved me. It was August 1988. I was 28 years old, living in a small apartment in Pensacola, Florida. There I sat, all alone, with my TV sitting on top of the box it came in, watching the Gipper say his final goodbye. Then-President Ronald Reagan, speaking in the New Orleans Superdome, was addressing the Republican National Convention. I am not embarrassed to say warm and salty tears rolled down my face as I listened to a man I had come to respect and love talk about the exceptionalism of our country. Some say Reagan was nothing more than a gifted actor. I don't buy it. Nobody's that gifted. When Reagan spoke of America, he was transparent, authentic, and authoritative. His love and belief in America was in his blood and bones.
"The dream we shared was to reclaim our government, to transform it from one that was consuming our prosperity into one that would get out of the way of those who created prosperity. It was a dream of again making our nation strong enough to preserve world peace and freedom and to recapture our national destiny. We made a determination that our dream would not be built on a foundation of sand — something called "Trust Me Government" — but we would trust, instead, the American spirit," Reagan told Republican conventioneers.
Reagan's view of America has been waning in recent years. President Donald J. Trump resurrected that sense of American exceptionalism Tuesday night unlike any president since Reagan. During his State of the Union speech, Trump reminded us of the unlimited potential we all enjoy as a result of living in such a great nation. His speech was positive, uniting, and full of hope.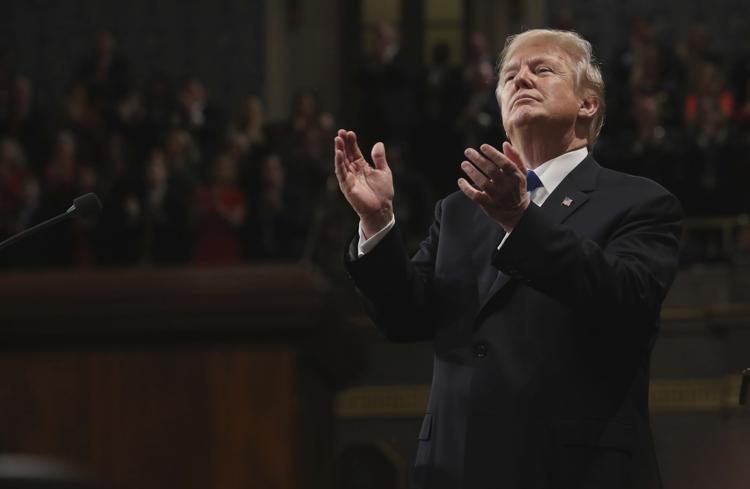 U.S. Rep. Cedric Richmond, of New Orleans, has a different take on the president's speech. He said it was full of racist rhetoric. Richmond has said in the past he believes Trump is a racist who doesn't care about black people. I understand Richmond and other Democrats are often conditioned to see a racist under every bush. But I wish Richmond would have been specific about what Trump said in his speech he considered racist. I attempted to contact Richmond for clarification but received no response.
A defining moment in the speech came when Republicans sprang to their feet and shouted to the tops of their lungs after the president declared African-American unemployment at its lowest rate in history. The camera cut to Democrats, including members of the Congressional Black Caucus, sitting there, pouting and stone-faced, refusing to clap, looking like 5-year-olds denied ice cream.
"The Congressional Black Caucus can now answer the question he posed to the African-American community in 2016 with 100 percent certainty: African-Americans have a lot to lose under the Trump Administration, and we have lost a lot already, especially when it comes to his justice, voting rights, education, housing, and health care policies," said Richmond, who chairs the CBC.
What Richmond said is simply not true. Trump hasn't cut back on funding for education, health care or housing. He hasn't restricted voting rights for African Americans — or anyone else, for that matter. He certainly has not brought about policies denying anyone justice.
Trump was my last choice for president during the primary. Like many other Americans, I was disgusted by some of the things he's said in the past, especially about his behavior toward women. But Trump has far exceeded my expectations as president. His fearlessness and willingness to stand up to the media is exactly what our country needed. For too long, Republicans would cower in the fetal position, dreading the possibility that someone with a political bent like Richmond would label them racist, and then the media would run with it.
But Trump has taught us you can't get much done if you're afraid. The courageous bring about change. That's where change begins. Hopefully, Trump's willingness to stand up to politicos like Richmond will usher in a season where we focus more on policy instead of assigning hatred to each other's hearts.
Email Dan Fagan at faganshow@gmail.com.