Louisiana-born Donna Brazile was 9 years old when she first volunteered on a campaign. Since then, the now 57-year old Kenner native has been in the thick of some of the most consequential political races of our time. Brazile has worked for presidential candidates Jesse Jackson, Michael Dukakis, Walter Mondale and Al Gore. The LSU grad has been a long-time political talking head on cable news and is one of the most prominent Democrats around. She's dedicated her life to advancing her party. This week, that all changed.
Brazile's new book, "Hacks," is a tell-all shocker exposing Hillary Clinton's secret deal with the Democratic National Committee. "The system was rigged. From the opening salvos of the Democratic presidential primary, the DNC was quite literally in Hillary's pocket," Brazile writes.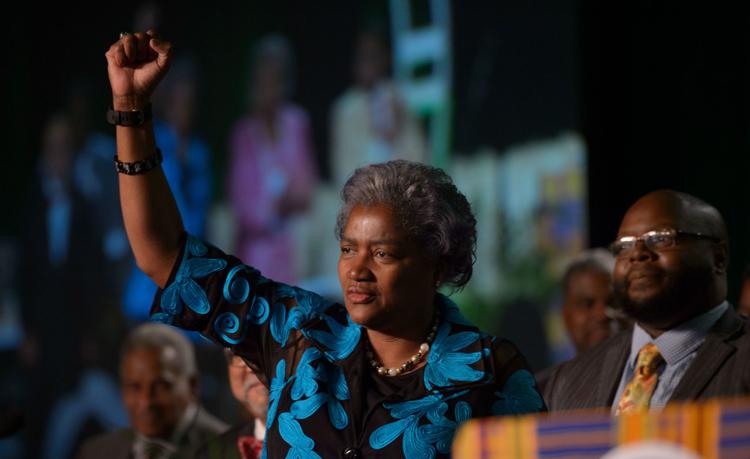 Brazile took over as DNC chair during the primary after hacked emails revealed her predecessor, Debbie Wasserman Schultz, conspired to sabotage Bernie Sanders' campaign. Brazile says once on the job, she began to feel like a slave. "Hillary would control the party's finances, strategy, and all the money raised. The DNC also was required to consult with the campaign about all other staffing, budgeting, data, analytics, and mailings," Brazile writes.
Brazile's book exposes Clinton's secret DNC deal giving Hillary a sizable fundraising advantage over Sanders. By law, donors could give Clinton's campaign a maximum of only $2,700 directly. But they could each legally write an additional check for up to $320,000 to the party's victory fund — a fund the DNC secretly agreed to allow Clinton to control. Brazile says she was shocked to learn of the arrangement. "'Wait,' I said. "'That victory fund was supposed to be for whoever was the nominee, and the state party races. You're telling me that Hillary has been controlling it since before she got the nomination?'" Brazile writes in her book.
"We all said the Clintons thought they lived above the rules, but this takes the cake. For them to basically be running the DNC in a primary, to see such a deck stacked is really pretty jaw-dropping to me," GOP House Speaker Paul Ryan said. Ryan questioned whether the Clinton-DNC secret arrangement broke campaign finance laws. Of course it did. But Republicans rarely have the courage to legally pursue such matters.
Brazile's revelation is sure to end the Clinton political dynasty. The Clintons have weathered too many scandals to count. But rigging the Democratic primary might be too scandalous even for this dastardly duo to survive. Our long national nightmare has finally ended. Hillary can't blame her final scandal on a vast right-wing conspiracy. This accusation comes from a bona fide member of her own party's establishment.
As you might expect, the rest of the party's establishment has attacked the feisty Brazile for telling her story. "For those telling me to shut up, you know what I would tell them? Go to hell," Brazile told ABC's George Stephanopoulos.
Brazile is far from innocent in all of this. She fed Clinton CNN debate questions in advance as a commentator for the network. Brazile denied it initially when confronted by Megan Kelly on Fox News. "As a Christian woman, I understand persecution," Brazile told Kelly. "Your information is false." Brazile eventually admitted to leaking the debate questions after hacked emails removed all doubt. CNN president Jeff Zucker called Brazile's actions disgusting. Then he fired her.
It's odd the DNC felt the need to rig the primary, considering President Barack Obama declared Hillary the "most qualified presidential candidate in history." Many of us understood that while Clinton may have been qualified, she was also the most unlikeable, dishonest, and corrupt presidential candidate in recent history. Clinton secretly rigging the primary should not surprise anyone. "Crooked Hillary"? Yes indeed.
Brazile's book could not come at a worse time for Democrats. Since the election of Obama to the White House, they've lost more than 1,000 congressional, state legislative seats, and governorships. And Democrats lost the presidency to a man caught on tape bragging about groping women. A party on life support now has to deal with a devastating tell-all book from one of its most previously loyal establishment types. Once again, Louisiana's own Donna Brazile finds herself right in the thick of it.
Dan Fagan, a former TV and radio broadcaster who lives in Metairie, writes a column that appears Wednesdays and Sundays. Email him at faganshow@gmail.com.