Welcome to Film Room, our weekly analysis of LSU's last football game. Have a seat. No talking. No tweeting. No texting. Pay attention.
How They Happened (big-play analysis)
TE wheel route: On first-and-10, Danny Etling sent TE DeSean Smith in motion, before the snap, from right to his left and then found him for a 46 yard touchdown.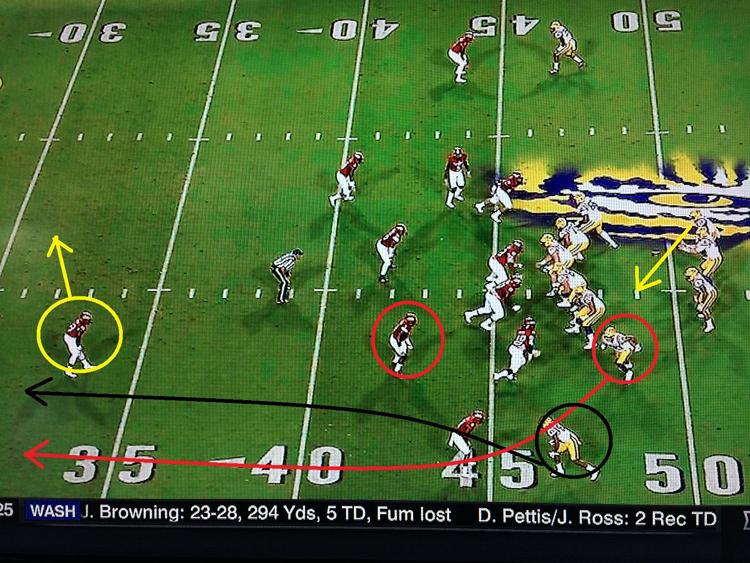 Smith is matched up on a linebacker (red circles), a clear mismatch. The tight end blows by LB Joel McCandless on a wheel route down the sideline after QB Danny Etling fakes a run to Darrel Williams in the backfield.
Very important note on this play: On his route, Travin Dural (black circle) impedes McCandless' coverage of Smith, nearly carrying out the ole receiver pick play. He doesn't set a pick, but he comes awfully close. It's more than enough to have Smith slip by McCandless. 
This play doesn't come without a Jacksonville State blunder. Safety Marion Bridges (yellow circle) leaks to the middle of the field for some reason. No LSU receiver is in the middle of the field and just one wideout is on the top portion of the field, while two are on the lower portion. 
DeSean Smith TD in motion. #LSU pic.twitter.com/nQzSh2JcUj

— Ross Dellenger (@RossDellenger) September 11, 2016
Zone read: On first-and-10, Jacksonville State QB Eli Jenkins runs for 35 yards on a zone-read play in which he keeps the ball and squirts through the right side of LSU's line.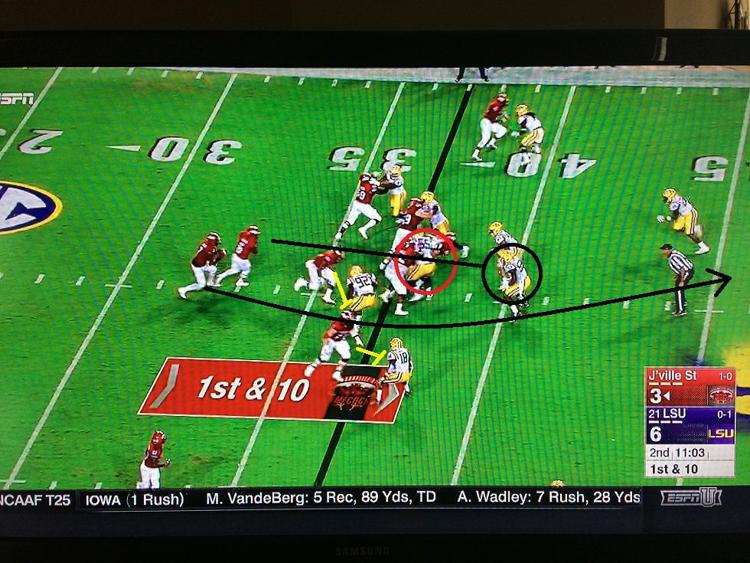 This is a play the Tigers will see a ton this season. In fact, they'll see heavy doses of it the next two weeks. The zone-read play is essential to the offenses of Mississippi State and Auburn. What's the zone-read play? A QB has two options on the zone-read: keep it or hand it to the running back. That's determined by the defense. The QB eyes a defender, normally the defensive end, to make such a decision.
On this particular zone-read play, Jenkins keeps the ball, as he did for most of the night. He ran for 82 yards on 18 carries. It works so well here because LB Kendell Beckwith (black circle) is eyeing the running back. He takes two steps to his right, enough for Jenkins to slip through a well-blocked hole.
Tre'Davious White, bottom of screen, and DE Lewis Neal, next to him, get blocked out of the play. Travonte Valentine (red circle) is shoved back via a double team. JSU runs this play well, but you know who runs it even better? Mississippi State and Auburn.
Smash mouth: On second-and-7, Guice ripped off a 44-yard run on a counter play that probably had coach Les Miles smiling.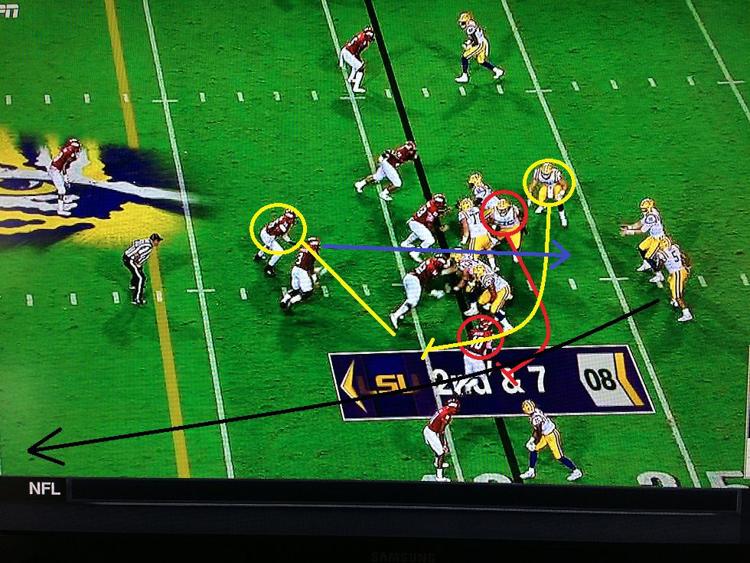 This is old school, smash mouth football here. Three key things must happen for it to work like it did, netting 44 yards. First off, that blue arrow is JSU LB Joel McCandless. He thinks Guice is taking the carry up the middle because Guice fakes that way at first. That clears him, an important defender, out of the play.
RG Maea Teuhema, 315 pounds, is matched up against 180-pound CB DeQuan Smith (red circles). You can guess who wins that battle. Teuhema takes care of Smith for the key kickout block on the play.
TE Colin Jeter (yellow circle) wheels around the left end to seal off JSU LB Quan Stoudemire. Jeter barely gets to Stoudemire, flinging a hand out in what some might have considered a brief hold. Guice does the rest, of course, beating two third-level players with his speed.
Maea Teuhema and Colin Jeter clear the path for Guice's 44-yard run. #LSU pic.twitter.com/PYHXJ32hVf

— Ross Dellenger (@RossDellenger) September 11, 2016
POSITION ANALYSIS (reviews only based on first three quarters, before LSU took a 24-point lead)
Big Ugly Blips and Booms (O-line analysis)
This group struggled more than any other in the season-opening loss to Wisconsin. That wasn't the case Saturday against Jacksonville State. The line did not have its best game, but it was significantly better than last week. 
Maea Teuhema filled in for the suspended Josh Boutte at right guard and had one Blip and one Boom. A Blip is a missed block resulting in a negative play. A Boom is a key block on a successful play. 
In just one week, K.J. Malone looked more comfortable and improved from the opener. You could chalk that up to the competition (Wisconsin vs. Jacksonville State), but, either way, Malone looked much better, recording no Blips and getting a Boom. The issues were on the other side Saturday.
Sophomore right tackle Toby Weathersby recorded three Blips, the only lineman to have multiple miscues. He had two in pass protection and another in run blocking. TE Colin Jeter also recorded a pass pro Blip.
Center Ethan Pocic had, at least, two Booms. He played as well as anyone on the offensive line.
Monday Morning Quarterback (QB analysis)
Let's start with Brandon Harris, a forgettable game for the junior. He misfired on 3 of his 4 attempts before being yanked after the second series. He threw high to an open D.J. Chark, threw wide of Malachi Dupre and threw well off the mark of an open Colin Jeter. What are behind the struggles? Footwork, says color analyst Dusty Dvoracek.
Here's Harris' three incompletions. First two bc of poor footwork, says color analyst Dusty Dvoracek. #LSU pic.twitter.com/zEhJsHcjVP

— Ross Dellenger (@RossDellenger) September 11, 2016
After the second series, Harris and coach Les Miles chat briefly on the sideline. Harris waves with his arm, says something to Miles and the coach responds, tapping him on the helmet. Harris does not seem to enjoy Miles' response.
After Harris' final series. #LSU pic.twitter.com/7aicvMxTMg

— Ross Dellenger (@RossDellenger) September 11, 2016
Now, let's get to Danny Etling. What jumps off the film is his poise in the pocket. He stands in there, steps up and only escapes when he's completely flushed. That's a change of pace from Harris, who, often times, escaped a pocket that wasn't in bad shape. 
Second thing on Etling: He thinks through his progressions in a timely manner and, at least, twice checked down to his safety valve (both times to Darrel Williams). Because of this, Etling gets everyone involved. He completed his six passes to five different position groups: 2 RBs, 1 TE, 2 WRs. 
And, finally, No. 3: Etling's touch, timing and accuracy on the short and intermediate passes were several steps better than Harris'. That was obvious fro the start. He hit RB Darrel Williams on a check-down pass, a screen pass and then found Derrius Guice on another screen pass.
LSU used timeouts late in the second quarter in an attempt to get one more possession before the half. Said Dvoracek: "I think that right there speaks to the confidence they have in (Etling). Brandon Harris in the game, they're not calling timeouts right here, trying to give him the ball back, give him another opportunity. They're taking it to half with the lead."
There was an exchange in the second quarter between play-by-play man Clay Matvlick and Dvoracek about the QB starting job:
Matvlick: "The way things are going with Danny Etling right now, it would appear he's going to be the starting quarterback for the game against Mississippi State and the foreseeable future."
Dvoracek: "I don't see how it can be anything but."
Etling, though, was far from perfect, and he said so after the game during interviews. We charted each of his 14 attempts, recording three Misfires.
Danny Etling has been the other guy.
| | | | |
| --- | --- | --- | --- |
| Target | Target position | Pass was… | Result |
| Colin Jeter | TE | Right on the money, but Jeter was well covered. It hit his hands. | Incomplete |
| Darrel Williams | RB | On the mark. It was a check-down. | 7-yard gain and a first down |
| Malachi Dupre | WR | Slightly behind Dupre, but he was wide open. The ball went through both hands. | Drop |
| Darrel Williams | RB | A touch high, but only because he needed to throw over a cornerback blitzing. This is a screen. | 12-yard gain and a first down |
| DeSean Smith | TE | This could not have been thrown in a better spot. Smith didn't have to slow down or speed up. | 46-yard gain for a touchdown |
| Travin Dural | WR | A perfect dart on a simple stop/out route. | A 5-yard gain |
| Derrius Guice | RB | A beautifully executed screen pass and a well-placed ball. | An 18-yard gain and a first down |
| D.J. Chark | WR | A perfect ball on a simple out route toward the sideline. | A 12-yard gain |
| Malachi Dupre | WR | An underthrown ball on a deep route in the end zone. | Interception |
| Derrius Guice | RB | This ball is ever-so-slightly overthrown to a wide open Guice. Guice pats his chest afterward as if he should have caught it. | Drop (arguable) |
| Malachi Dupre | WR | This is an intermediate route, and, though Dupre is well covered in one-on-one with a CB, the ball hit his hands. | Drop |
| J.D. Moore | FB | This is probably Etling's worst pass. It sails well high of an open Moore. | Incomplete |
| Darrel Williams | RB | Etling's pass sails into a defender's chest at close range, likely a throw-away pass against the rush. | Incomplete |
| Malachi Dupre | WR | This is a long route, and Etling just misses him. The ball is well overthrown. | Incomplete |
Let's have a look at that interception. Could Dupre have made a move on the ball, turning into a defensive back? Maybe. We'll get back to Dupre later in the receivers section.
Etling and Miles both said this was the QB's biggest mistake. #LSU pic.twitter.com/x7z2ztNFgh

— Ross Dellenger (@RossDellenger) September 11, 2016
So, here's a great example of Etling recognizing a blitz before the snap and quickly making a decision. Here, he sees that JSU will bring a cornerback blitz to the side of the field in which the Tigers plan to have the option for a screen. He takes the option.
Etling sees corner blitz, throws that way. #LSU put Guice in motion. 2nd time he and DW in backfield together. pic.twitter.com/sqrKydYJsR

— Ross Dellenger (@RossDellenger) September 11, 2016
Backing It Up (RB/FB analysis)
At least three different times, LSU put Darrel Williams and Derrius Guice in the backfield at the same time. We saw this some last season with Williams and Leonard Fournette and Fournette and Guice. 
The Tigers used four running backs (Guice, Williams, Nick Brossette and Lanard Fournette) and a fullback (Bry'Kiethon Mouton) in the game. They combined for 238 yards on 33 carries. That's a 7.21-yard average.
Remember how LSU used to use FB J.C. Copeland and Jacob Hester as short-yardage backs? Mouton appears to be turning into that guy for this year's team. He carried 4 times for 15 yards.
Five-yard Out (WR analysis)
Malachi Dupre is having one of the worst slumps, probably, of his football career. He has more drops than catches. Even coach Les Miles on Saturday night couldn't explain exactly why Dupre is struggling so much. Let's take a look at his first two games:
Targets: 15
Receptions: 3
Drops: 4
Etling throws a jump ball to Dupre. #LSU pic.twitter.com/KZLc8HdGQy

— Ross Dellenger (@RossDellenger) September 11, 2016
Dupre's drop. #LSU pic.twitter.com/O3sf8rndNC

— Ross Dellenger (@RossDellenger) September 11, 2016
Front Seven (D-line/LB analysis)
DC Dave Aranda and D-line coach Ed Orgeron rotated their line much more Saturday than they did in the season opener. That's for two reasons, coach Les Miles said afterward: the heat and Frank Herron's return (he was suspended last week). 
For instance, Travonte Valentine, through the first three quarters, only saw about 15 snaps. He had 34 last week. LSU played three nose tackles in the game, including freshman Ed Alexander, who got about 8 snaps in the first three quarters. They played just two last week.
Herron received about 17 snaps through the first three quarters of action. That's a good chunk for him. Jacksonville State ran 49 plays in the first three quarters so that's about one out of every three for Herron. 
Through the first three quarters, Arden Key recorded four QB pressures and turned one of those into a sack. In his move to the Buck outside linebacker position this season, Key rarely begins a play with his hand on the ground. But he did it at least three times through two and a half quarters on Saturday. He got a QB pressure each of those times, including a sack. Here's one of those instances:
Arden Key doesn't often put his hand down anymore. He did here. Got a QB pressure. #LSU pic.twitter.com/WV7XQXKxl9

— Ross Dellenger (@RossDellenger) September 11, 2016
LSU, at least in the first three quarters, did not play with an F-linebacker. The Tigers stayed in their nickel package against JSU's shotgun-based spread offense. Michael Divinity rarely saw playing time, as opposed to the 30 snaps he got in the season opener against Wisconsin's run-heavy, pro-style attack. Let's take a look at that nickel package: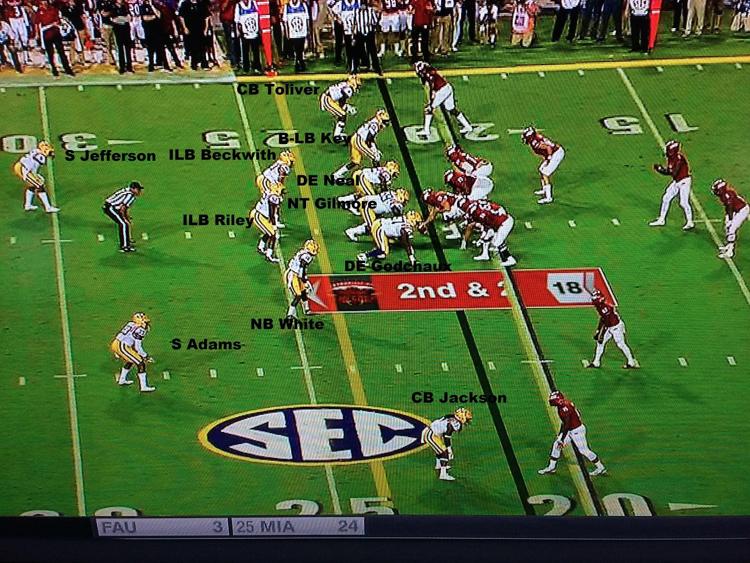 Coaches inserted Donnie Alexander for a series in the first half, pulling Kendell Beckwith. Why? Beckwith has been caught in traffic on running plays during the first two games, but that's probably not the reason. Alexander is fast, and Aranda stunted him in two plays during that series:
Alexander replaced Beckwith on 3rd series. A reason: his speed on stunts. Aranda sent him twice in 3 plays. #LSU pic.twitter.com/iw2JzkuLED

— Ross Dellenger (@RossDellenger) September 11, 2016
Aranda flashed something different on his pass-rushing downs Saturday, walking up Duke Riley to the line of scrimmage. He and Key (black arrows) are next to each other in this shot: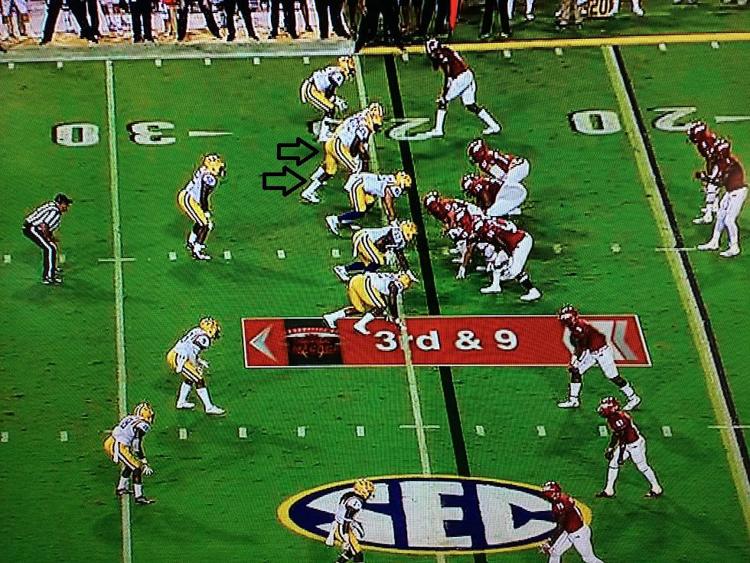 Break It Up (DB analysis)
There were three busted coverages. Or, at least, we're calling them busted coverages. Maybe they were just bad coverages. Anyway, they belonged to Duke Riley, Donte Jackson/Jamal Adams and Kendell Beckwith. Two of those four are linebackers, of course, so we'll focus on the one DB bust. Here it is:
Here's JSU's 77-yard TD catch. Adams/Jackson on coverage on top. #LSU pic.twitter.com/efzsAkNm0V

— Ross Dellenger (@RossDellenger) September 11, 2016
Freshman Saivion Smith saw time on LSU's punt return team and so did Xavier Lewis. Lewis had a crushing block, one of the best of the entire night for the Tigers:
Lewis made up for holding call on KO with this block on White's punt return.

And then, of course, the return. #LSU pic.twitter.com/t306EdpfBQ

— Ross Dellenger (@RossDellenger) September 11, 2016
Tre'Davious White spent the most time at the nickel position, covering the inside receiver, but Dwayne Thomas also worked there on at least one first-half series. Thomas and John Battle saw some early playing time at safety, while the staff rested Jamal Adams and Rickey Jefferson.