LSU fans know JaCoby Stevens as a safety — a dang good safety, too.
In fact, they know him as the No. 1-ranked safety in the 2017 recruiting class, a hotly sought-after Tennessee boy with Louisiana roots who chose LSU over Alabama.
They know him as a kid who enrolled in January, participated in spring practice and vied, already, for a starting gig at the safety position.
They know him as the high school standout who intercepted nine passes his senior year and rolled up 61 tackles, while, on average, only playing in the first half of games because of his team's large leads.
They know him as the next great defensive back to emerge from a program that touts itself as "DBU" because of its lineage at the position.
They don't know about 13-year-old JaCoby, when his first love in this crazy game came at wide receiver.
His dad knows.
"He fell in love then with catching touchdown passes," Jeremy Stevens said Thursday. "He still loves having the ball in his hands and making plays and scoring touchdowns."
LSU's first four days of preseason camp have produced a handful of stories: Edge rusher Arden Key is participating in some noncontact drills; projected starting right guard Maea Tuehema left the team, a blow to an O-line already low on depth; and several freshmen (Grant Delpit, Todd Harris, Kary Vincent) are emerging in the Tigers secondary.
There is another: Coaches moving Stevens to receiver.
Ed Orgeron's first LSU football team will begin the season in the top 15.
The move was complete after Stevens practiced at both receiver and safety on the opening day of camp Monday. Coach Ed Orgeron delivered the news to reporters that night and to his team the next morning: the highest-ranked player, at his position, in LSU's signing class was moving from that position.
"He did it in high school," LSU safety John Battle said. "I don't see any problem with him doing it now. He's going to excel wherever he is on the field, safety or receiver."
No, this is nothing new for Stevens.
At a young age, Stevens watched videotapes of Jerry Rice that his father used to show his son the right way to play the game.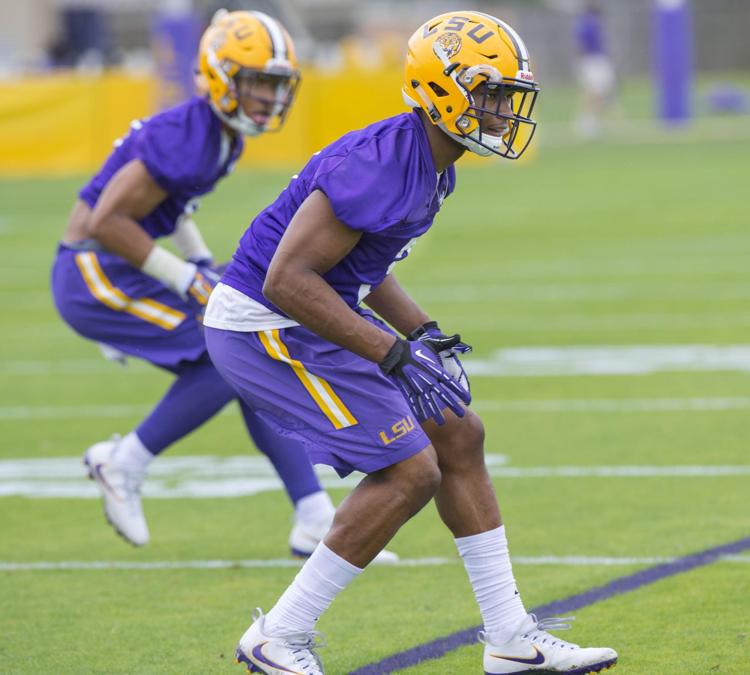 His future football position, safety, wasn't solidified until he began training at the National Playmakers Academy in Nashville, Tennessee, after middle school. Before that, he caught passes — he didn't intercept them.
He never gave it up completely, either.
As a senior at Oakland High School last season, the 6-foot-2, 215-pounder caught 34 passes for 689 yards and 12 touchdowns. In fact, during his recruitment, he made it known that he'd like to be a two-way player, if possible.
Some saw this coming.
"He can do a little bit of everything. He's got the ability to return kicks and play receiver," Austin Thomas, Stevens' primary recruiter and LSU's general manager, said in March. "Some of the things that make him great are his blend of size and speed. He's got great instincts, the awareness he has and his ability to see things on the field really make him a special football player."
The Stevens family knew about JaCoby's potential move to offense all summer. Orgeron and Thomas informed them of the possibility in May, Jeremy said.
It was made for two reasons, he said: LSU's thin depth at receiver (eight eligible scholarship players); and its deep rotation at safety.
"They wanted to give (offensive coordinator) Matt Canada some extra options , if you will, extra firepower," Jeremy Stevens said. "They have so many upperclassmen (at safety) and have a lot of depth. They're telling him this is a quicker way for him to get on the field."
This is not a permanent career move.
"He's not committing to giving up being a DB and safety," Jeremy Stevens said.
He is, however, committing to learning Canada's offense, a scheme he described to his father as sophisticated, shifty and fast.
JaCoby Stevens has started off mostly playing in the slot, said senior D.J. Chark. Naturally, he's low on the pecking order, for now, potentially behind everyone: Chark, Russell Gage, Drake Davis, Derrick Dillon, Stephen Sullivan, Dee Anderson, Racey McMath and Mannie Netherly.
Some expect that to change quickly.
"Right now, he's still a little rusty," Chark said. "He hasn't been in the receiver position in a while, but you can see the flashes of athleticism. He's a quick learner. It's a tough offense to learn, and his mistakes have been very minimal. I think he's going to have a bright future here."
The receivers and defensive backs are competitive groups that gnaw at one another in practice. JaCoby is now in a special situation, running routes against his former position buddies.
Battle said JaCoby has an advantage on the defensive backs. He knows their tricks. And, now, he feels their licks.
"If he catches the ball," a smiling Battle said, "we're definitely going to tackle him harder than we do anybody else."
Lloyd Cushenberry, LSU's 315-pound, redshirt freshman offensive lineman, is eager to play an…
---
ON THE MOVE
Players switching positions is nothing new. Here are some notable LSU players to move positions during their careers in Baton Rouge.
| | | | |
| --- | --- | --- | --- |
|  Year signed  |  Player |  Started at… |  Moved to… |
|  2014 |  Russell Gage |  DB |  WR |
|  2013 |  Melvin Jones |  LB |  FB |
|  2010 |  Jarrett Fobbs |  DB |  WR |
|  2009 |  Russell Shepard |  QB |  WR |
|  2009 |  Mo Claiborne |  WR |  CB |
|  2008 |  Chase Clement |  DE |  TE |
|  2007 |  Joe Barksdale |  DT |  OT |
|  2006 |  Lyle Hitt |  DT |  OG |
|  2003 |  Carnell Stewart |  DT |  OT |