In 2012, Danny Etling made a decision that brought Matt Canada into his life, at least briefly.
Etling, then a four-star quarterback prospect, had been committed to Purdue for several months, but the firing of coach Danny Hope on Nov. 25, 2012, made him rethink that. He reopened his recruitment, fielding offers and taking phone calls from other schools as the Boilermakers searched for a new coach.
"He was the first person to call me," Etling said of Canada, then Wisconsin's offensive coordinator. "I was doing a workout, and he happened to walk by in the snow. They had already offered me, and they came and watched me throw."
Last week, Etling, now LSU's starting quarterback, harkened back to that snowy meeting with Canada in his hometown of Terre Haute, Indiana, four years ago. It all seems so ironic now, a few days after coach Ed Orgeron tabbed Canada as his new offensive coordinator and quarterbacks coach.
"Funny how things work out now that he's coaching me," Etling said. "If I had gone to Wisconsin, I probably wouldn't be coached by him."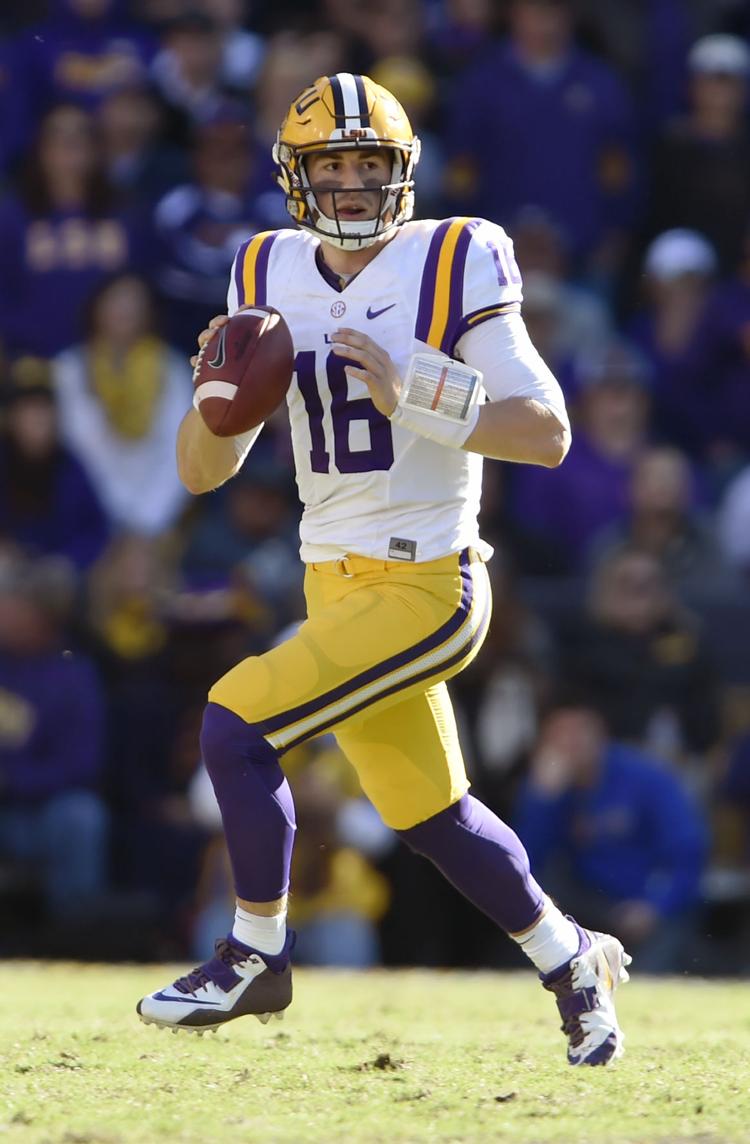 Etling and the No. 19 Tigers (7-4) arrive in Orlando, Florida, on Tuesday evening for a five-day stay while preparing for the Citrus Bowl on 10 a.m. Saturday against No. 15 Louisville (9-3). It's the final act for interim offensive coordinator Steve Ensminger's scheme.
Canada could be in Camping World Stadium watching, but he won't be coaching. That transition begins New Year's Day.
So it's an odd time to be an LSU offensive player, right? Here they are preparing for a bowl game — under Ensminger and with a similar offensive system that they've used the past three-plus years — while knowing that, in a matter of days, there will be a significant overhaul.
"It's different, but we can't focus on what the offense will be like in two weeks," guard Will Clapp said. "We've got to focus on what it is now. We've got to win the Louisville game, and that's a big thing. We'll worry about learning a new offense once this is over."
They're not completely ignoring the impending revamp of an offense that former coach Les Miles and ex-coordinator Cam Cameron had run since 2013. Ensminger and Orgeron have added tweaks, sure, but the foundation of this system is in for its most significant change since Jimbo Fisher left the Tigers after the 2006 season.
It's tough to ignore completely. Receiver D.J. Chark, for instance, has watched on YouTube a few highlights of Canada's offense at Pittsburgh this season.
"I've seen some of his games," he said. "I heard he's brilliant."
Can't see video below? Click here.
Part of his offense is built on a play that Chark knows well: the jet sweep. The speedy junior served this season as LSU's go-to guy on the jet sweep. He has run for 122 yards on 12 attempts, a 10.2-yard average. He has two touchdowns on the play — three if you count his 79-yard scoring run last year in the Texas Bowl.
Canada met with offensive players a couple of weeks ago, said tight end Colin Jeter, delivering a team-first and "come-together" message. LSU players can watch Canada's offense Wednesday: He'll coach his last game as Pitt's offensive coordinator when the Panthers meet Northwestern in the Pinstripe Bowl in New York.
Chark has seen enough of Canada's system to know it encompasses the run-first, physical philosophy that LSU has run for decades. Canada does it out of spread formations, at times using misdirection and trick plays.
"It's very interesting," Chark said. "Different style of play, but similar in some ways."
A draft-eligible junior, Chark met with Canada last week as the coach continued his re-recruitment of NFL draft-eligible underclassmen. He met with receiver Malachi Dupre, too.
The night was pitch black.
The offensive linemen are on board. Clapp, a redshirt sophomore, told The Advocate last week that he has no interest in leaving this year for the NFL.
And he might just score a touchdown next season. Canada uses his linemen in unique ways, sometimes moving them around before the snap and placing them in the backfield. One Pitt tackle this year scored two touchdowns, both on cross-field, throw-back passes.
"We'll all be campaigning for some touchdowns next year," Clapp laughed. "It's exciting. It gets the O-line pumped up."
And then there's Etling, whose chances of retaining the starting quarterback job seem improved given his connection to Canada.
"I really liked coach Canada," Etling said of his first meeting with the coach. "My first impression was how smart he was and how much he could teach me. I was pretty excited about the fact of getting coached by him."
LSU will visit the Magic Kingdom on Wednesday and will practice at Celebration High School. 
In Etling and Brandon Harris, the Tigers are set to return two seniors who have started a combined 25 games at LSU. (Harris wrote on Twitter last week that he plans to return.) The Tigers also have third-year sophomore Justin McMillan and Lindsey Scott, a freshman who redshirted this year.
Two more are expected to join as part of the 2017 signing class, and each is ranked in the top 10 nationally. St. James' Lowell Narcisse, the class' No. 9 dual-threat quarterback, will enroll in January and participate in spring practice. Myles Brennan, of St. Stanislaus in Mississippi, is set to join in the summer as the No. 6 pro-style QB.
That adds up to six scholarship quarterbacks, just a year after the Tigers had three.
Canada's history with QBs — he has used pro-style and dual-threat players — adds fluidity to the situation.
Etling knows Canada better than any of the rest. Canada and then-Wisconsin head coach Bret Bielema targeted him as their top quarterback for the 2013 signing class.
"He said basically, 'You're the quarterback we're going to take in this class,' " Etling said Canada told him in late November 2012. "I was talking to Bielema and him, and we were setting up a visit — and then two days later, Bielema was gone."
Bielema left for Arkansas on Dec. 5, 2012.
"I was talking to Canada: 'What happened?' He was like, 'I don't know. I've got to find a job,' " Etling recalled.
Purdue's coaching search ended on the same day that Bielema announced his surprising departure for Fayetteville. The Boilermakers hired Darrell Hazell, and Etling reaffirmed his commitment, enrolling that January.
Canada ended up at N.C. State. It has not been reported why he didn't follow Bielema to Arkansas, but perhaps that answer can be found in a Wisconsin State Journal story published Dec. 29, 2012. Using anonymous sources, the story painted a picture of an offensive power struggle between Bielema and Canada that unfolded over Wisconsin's 2012 season.
Etling said he knew nothing about that, but he does know his new coordinator. He nearly signed with him four years ago.
"They might have had me," Etling said. "But Bielema ended up leaving, and coach Canada went to N.C. State."