They call John Battle "Pawpaw."
He's not graying or losing his hair. He doesn't need a cane, and he doesn't use one of those Rascal scooters to get across campus.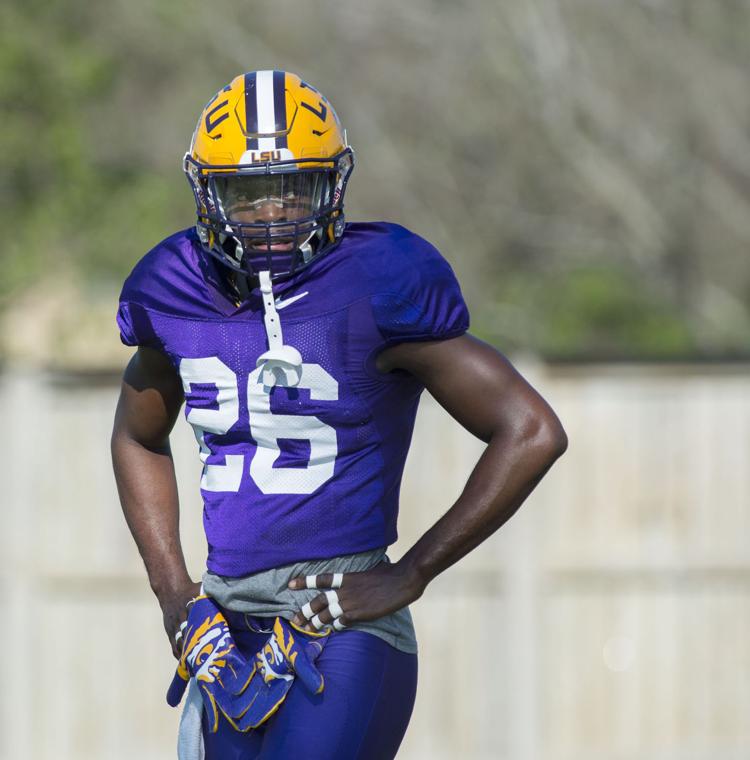 But to a youthful room of LSU defensive backs, he's the old man. So is Ed Paris, a fourth-year safety like Battle.
To this young group, even juniors like Donte Jackson and Kevin Toliver are old and experienced. They're grizzled veterans ... who haven't started their third year of college yet.
"We've got to keep the young guys focused and make sure they're ready to play," Toliver said Thursday before participating in LSU's 10th day of preseason camp.
---
Not seeing the video below? Click here.
---
"We don't see each other as ages or grades like seniors or juniors," Paris said. "It's just guys competing because, at the end of the day, (age) just doesn't matter."
Nearly two weeks into camp, a theme is beginning to emerge in the Tigers secondary: youth.
This isn't the redshirting kind of youth, either. These guys are pushing veterans and potentially filling holes left by the departures of three starters.
Coach Ed Orgeron revealed this week that true freshmen Kary Vincent and Grant Delpit are receiving first-string reps. Greedy Williams, a redshirt freshman, is a rotating cornerback, and safety Todd Harris, another first-year player, is challenging as well.
Those four have never played in a college football game. In fact, coach Corey Raymond has more players in his position room who've never played in a college game (seven) than who have (six). Of those six with game experience, just four have started at least once.
They're the old men: Jackson, Toliver, Paris and "Sally May." Battle is known by many nicknames, including that one — more appropriate for a 80-year-old woman. Battle, by the way, turns 22 later this month.
He has embraced more of a leadership role than anyone, the father of this youthful family.
"John has always been loud, but this is his last year, so he's just trying to take it to another level," Toliver said. "I knew John in high school, so I always knew he had it in him. But we had Jamal (Adams), (Jalen Mills) and all those guys here, so they really took the leadership role. He's a senior, and he knows he's got to take the leadership role."
Quarterback Myles Brennan is good enough to start at LSU as a freshman, coach Ed Orgeron sai…
Battle is actually a fourth-year junior, reclassified this summer after the NCAA granted him an extra year of eligibility. He doesn't necessarily plan to use that extra year, he said.
For many in the DBs room, he's a senior. This is it, his final hurrah. The same goes for Paris, a Texas native being challenged by Delpit.
"We say it every year: 'Young guys are expected to play,' " Paris said. "We have DBU at LSU, and we always have the best guys, so you can only expect competition. So if you're one of the guys that are afraid of competition, you see those guys not here anymore or really shy from it."
This year is more critical than others.
The Tigers lost three starters from last season's team: NFL first-round picks Tre'Davious White at cornerback and Jamal Adams at safety, and Dwayne Thomas, the team's nickelback for much of the past couple of seasons.
He continues to be concerned about his thin offensive line a week and a half into preseason …
In all, White, Adams and Thomas combined for 75 starts and 127 games. LSU also lost to transfer Saivion Smith, a sophomore who, by the end of last season, served as the Tigers' third cornerback, rotating into the game often.
This group, though, doesn't seem too affected by any of that. Coaches were confident enough about the depth that they moved JaCoby Stevens, the nation's highest-ranked safety in the 2017 signing class, to receiver.
"It is what it is, at the end of the day. LSU is a team any given year (that is going to) lose great players," Jackson said. "It doesn't really matter what position; everybody loses great players. But it's DBU. … We still have a ton of talent in the room."
That's not in question.
Ten of the 13 DBs were ranked in the top 20 nationally at their position coming out of high school, according to 247Sports.com's composite rankings. Five of them were in the top three at their position: Jackson, Toliver, Kristian Fulton, Paris and Eric Monroe.
One of the lowest-ranked players out of high school? That would be Pawpaw. He's poised to be the starting safety, but he knows about the young'ns in his rear view.
"They're even coming for my spot," Battle said. "It's competition. No one's safe."
Sheldon Mickles and Mike Gegenheimer contributed to this report.
---
SECONDARY DEPTH CHART
Cornerback
 Name

 Year

 Games started/

 Games played

 National pos. rank out of HS

 Donte Jackson

 Junior

 12/24

 3rd*

 Greedy Williams

 RS freshman

 0/0

 20th

 Jontre Kirklin

 Freshman

 0/0

 48th*
Cornerback
 Name

 Year

 Games started/

 Games played

 National pos. rank out of HS

 Kevin Toliver

 Junior

 5/19

 2nd

 Kary Vincent

 Freshman

 0/0

 13th

 Kristian Fulton

 Sophomore

 0/3

 2nd
Nickelback
 Name

 Year

 Games started/

 Games played

 National pos. rank out of HS

 Kary Vincent

 Freshman

 0/0

 13th

 Xavier Lewis

 RS sophomore

 0/11

 22nd
Free safety
 Name

 Year

 Games started/

 Games played

 National pos. rank out of HS

 Ed Paris

 Senior

 2/37

 3rd

 - OR -

 Grant Delpit

 Freshman

 0/0

 9th

 Xavier Lewis 

 RS sophomore

 0/11

 22nd
Strong safety
 Name

 Year

 Games started/

 Games played

 National pos. rank out of HS

 John Battle

 RS junior

 7/25

 31st

 Eric Monroe

 RS freshman

 0/0

 3rd

 - OR - 

 Cam Lewis

 RS freshman

 0/0

 18th

 Todd Harris

 Freshman

 0/0

 11th
Note: This is not an official depth chart. It was compiled through interviews with coach Ed Orgeron and players. Rankings are from 247Sports' composite.
* — Ranked as an "athlete."