LSU coach Ed Orgeron doesn't want to make any guarantees. 
He realizes the offensive coordinator he just hired, Pittsburgh's Matt Canada, is talented and was sough after by several "major universities." There may come a time when a head coaching job becomes available to Canada in the future, Orgeron suggested.
But Canada will be a part of a new staff for the sixth time in seven years starting next season. Even Canada said he, his fiancé and two children plan to be in Baton Rouge for "a long, long time."
Canada's movement throughout his coaching career isn't lost on Orgeron. 
"He's tired of moving around, obviously," Orgeron said, "but the guy is very successful. We all know what that leads to. We feel like we have a great future with him here."
Orgeron spoke to reporters following Canada's introductory press conference Wednesday. The coach answered questions on the offensive coordinator search — including his relationship with Alabama offensive coordinator and recently-hired Florida Atlantic coach Lane Kiffin — the decision to hire Canada, recruiting and more.  
This is a happy day for you…
"Yes. We're excited for Matt. We're excited for the Tiger Family. We're excited for our players. He's a great coach."
You had said in the past that you wanted to do pro style. Then you said you maybe wanted to do some spread. So where do you stand today on what you want to do?
"I think the thing I liked about Matt is that he can adjust his personnel. He's going to do a great job of evaluating our personnel, evaluating our recruiting – the type of quarterbacks that we're recruiting – and do what's best for our program."
You think this will solidify some of the recruiting uncertainty out there?
"I think should help. The guy has done a tremendous job with quarterbacks, a tremendous job with the offenses that he's been with. It should really help us."
It doesn't sound like there's a lot of secrets to (Canada's) success. So what do you see that led him to be successful throughout the years?
"The different shifts and the use of personnel groupings. The way he calls the game. The tempo which his offense runs. He's able to run the ball. He's able to have quarterback runs. He spreads you out. He gives the ball to playmakers in space and lets them make plays."
Will you continue to recruit pro-style and spread quarterbacks?
"We're going to continue to recruit the quarterbacks that we've been recruiting. We like the guys that we have and hopefully we can have them become Tigers."
Does what (Canada) does give you flexibility in that regard?
"Yes. He gives us flexibility to play the best player. He can play with a pro-style quarterback. He can play with a dual-threat quarterback. That's what I liked about him in his interview."
Matt Canada didn't a waste any time contacting one of most important pieces to LSU's 2017 re…
How did (Canada) become one your top candidates?
"Just research. I had my top candidates in order. Through research and development, he's the only guy we brought in for an interview. Didn't take long to offer him the job."
Do you feel you lost any ground in the search process and the length that it took?
"I wasn't worried about that. I just wanted to bring the best coach for LSU – whatever time it took. If I had to wait until after the bowl, I was going to do it. But when Matt showed up — someone gave me his name; I researched him. When the timing was right, we interviewed him. It was time."
You really let the (offensive coordinator search) play out. Was that something that was important to you?
"Yes. I wanted the best for LSU. In the past, I was in a hurry to hire coaches, maybe didn't make the right decision. I wanted to make the right decision. We feel that we're putting the foundation of our program together. We wanted to take our time. We want it to be solid."
You have Aranda on one end and Canada on the other. Two great minds…
"Two great minds. That's what we wanted. I want those guys to be able to coach. I wanted to be able to help the team, motivate the team, be hands-on on defense like I've been with the defensive line, go in there and pat the offense on the back and do some things that we like to do together. I'm looking for a great special teams coordinator, and we think we're going to have an outstanding staff."
During the search for his new offensive coordinator, LSU coach Ed Orgeron ran at least one n…
Do you have your eye on somebody for the (special teams coach) position?
"Yeah. We have our eye on that position, but we got to wait until after the bowl and just see how everything pans out."
Does that still go for all of the other position coaches, waiting until after the bowl to evaluate them?
"Our guys have done a tremendous job. There's a lot of things we have to look at, but I'm very proud of all the guys on are staff. I think those guys have done a tremendous job."
You said you had talked to coaches who had coached against (Canada). What were some takeaways from those conversations?
"I had guys that coached with him, and I had guys call that coached against him. He's tough. He's tough to defend. With all his shifts and motions, it's hard to get your cleats in the grass and play. The guy can adjust during the game. He's always a step ahead. Stuff like that."
What stood out in your face-to-face meeting with (Canada)?
"Team. Team and winning. It was nothing about him. It was all about the team. 'Coach, I'll do whatever it takes to win. I want to come in here and be a team player. I want to adjust to the personnel that we have and run a great offense.' I should have said it (at the podium): he wanted to be at LSU. His phone was ringing for major universities yesterday. Other major universities wanted him to come. He wanted to be here."
How do you see (Canada) fitting in recruiting in the South?
"I think he's going to be great. I think he's going to be great, especially recruiting quarterbacks with what he's done. The guys are going to like his success at running back. He's had some great running backs. It may not be this year on the phone, but it will be when they come to practice. They'll see the style of offense that we're running. They'll see how many points we're going to put up, how many yards we're going to gain. I'm sure he's going to attract all the best recruits in the country.
Can you say originally who put (Canada) on your radar?
"I did some research. I was doing some research – who is the best offensive coordinator, who is the guys that were having the most success. That's how we found him."
Was your relationship with Lane (Kiffin) affected at all through these last few weeks?
"Never. No, no. Never. He wanted a head job. He got one. I'm happy for him."
Have you talked to (Kiffin) since he got the FAU job?
"I talk to him every day."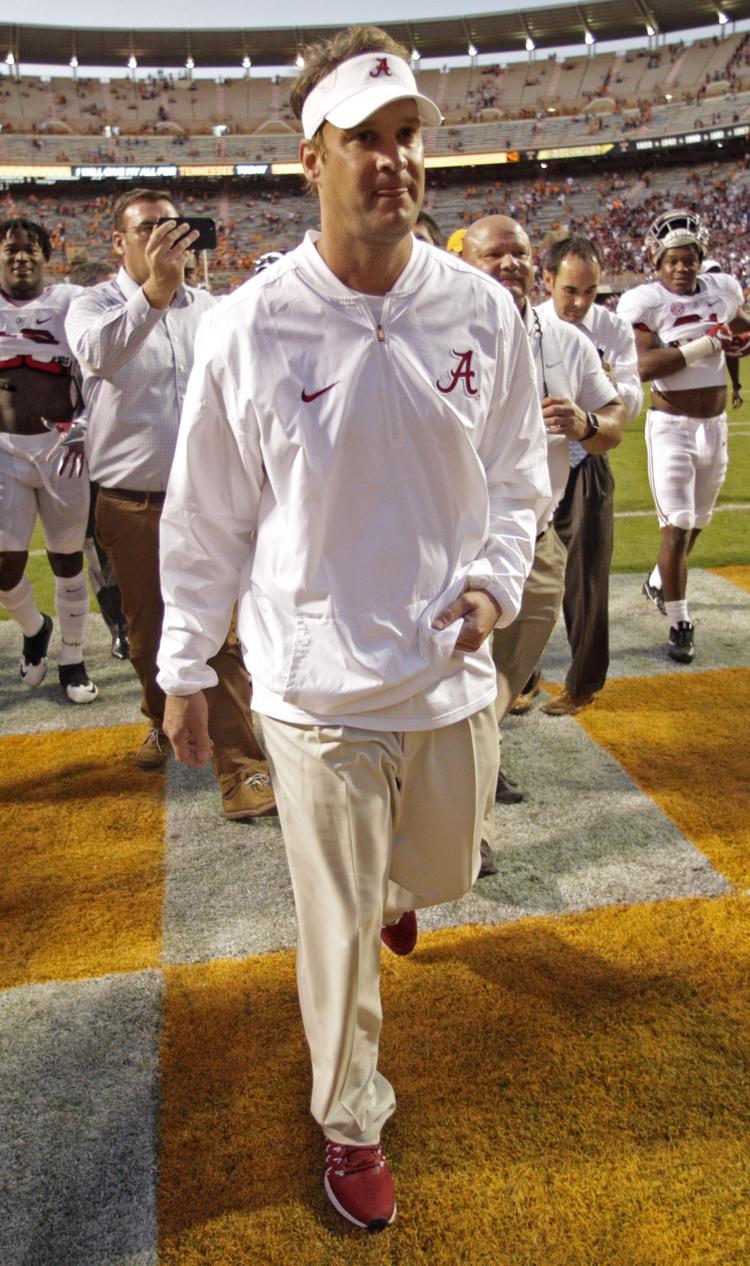 You never felt mislead by (Kiffin)?
"Never."
What was the moment that you said, 'I don't need to talk to any other candidate.'?
"It was great. It was a good feeling. And I waited. I was going to wait. I'm telling you, I was not going to get in a hurry. I was going to bring the best guy that I thought for LSU, and I just thought (Canada) was the best guy out there."
What blew you away in that meeting?
"Team. Team (and) his ability to adjust. I watched his game against Clemson, and he coached every position. He explained every formation – why he did it, what the defense was doing, what's the next call, what went wrong. I think he put up 43 points on a pretty good football team."
Did you feel like you had a lot competition to get (Canada)?
"Yeah. It was coming on strong, very strong. Last night, there were several other major universities that wanted him."
How do you think (Canada will) work with Steve Ensminger?
"Great. That was a conversation we had. Let me say this to you: Steve did a tremendous job. Our offensive staff did a tremendous job. Very proud of those guys. Steve is a good offensive coordinator. I think they're going to work well together."
How much autonomy do you want to give these guys? Will they be involved in evaluation of the coaches? Does (Canada) get to have a say on who you bring in?
"We're going to look at the whole program together. He's a team guy. We're going to look at the whole program, but he's going to call the plays. He's going to form the offense. He's going to look at the players that we have. 'Coach, I think these are the things that I need to do or we need to do,' and I'm going to work with him.
He's going to finish out the season at Pitt. Are you going to send him practice tape from the bowl?
"No, no, no. This staff is going to finish the year together, and he'll come in after the bowl."
We'll he be at the bowl?
"I don't think so."
Matt talked about playing complimentary football. How well do you think him and Dave mirror each other as coordinators?
"I think they're alike a little bit – the success that they've had it other schools. They're both great minds. They're both creative. They both have had success. They both want to be at LSU. I just can't wait for those two guys to butt heads in spring ball. Two of the best coordinators in the country on the same staff."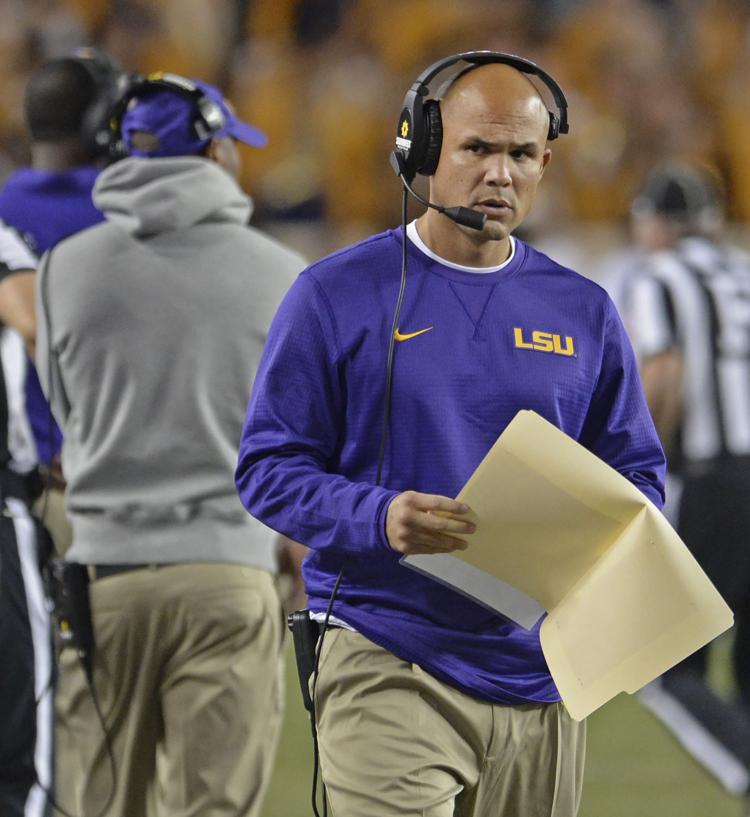 What did you think about those plays he runs with the offensive tackle?
"I think he's very creative. I think our offensive tackle better start working on catching passes."
How important was signing Aranda to a contract extension?
"It was the number one priority in our program. Number one. Dave is a good man, excellent coordinator. He's a good friend of mine. We have a great relationship. When I go into the defensive meeting, I'm the defensive line assistant coach under Pete Jenkins. I love it. We're game planning today. I know my role when I go in there. We have a great system. I love working with him."
What's it been like talking to quarterback recruits without an offensive coordinator for the last month and what's that going to be like now?
"Here's my message: 'I'm going to go out there and find the best (offensive coordinator) for LSU, and I promise you that. And when I do get that guy, I'm going to have him call you, and he's going to talk to you about what we can do with you and the offense and stuff like that.' So that's what we're planning on doing. I've been straight forward with them the whole time. Today's the day where we're going to call the recruits and recruit them to come to LSU."
How did you first hear about him?
"Just researching and development – who's the top offensive coordinators out there. I went through a list. I started calling people, and I saw him. I saw what he's done, and I called some people that worked with him. One of my ex-players (at USC) who is a defensive line coach, Ryan Nielsen, worked with him at North Carolina State. He's the first person I called."
What did Nielsen say about Canada
"Excellent. One of the favorite guys he's ever worked for."
Have you determined what you're going to do with (interim offensive coordinator) Steve (Ensminger)? Does he just drop down to tight ends coach next year?
"Here's what's going to happen: our staff has done a tremendous job. He and I have not talked about anything like that. We're going to come in after that. We're going to look what we got to do, what we have to do. But those decisions are down the road. I love our staff. I love everything that they've done."
Having coordinators like Aranda and Canada, does that free you up to doing a little bit more with recruiting?
"Yes, it does. No question. But I'm still heavily involved in defense like I've been. To be honest with you, I let Steve and those guys handle the offense. When I watch the film, if I see some things that may be unusual, I go in there and say, 'Hey, what's wrong? How are we going to fix it?' And I'll do the same thing with him."
Matt Canada said the past year has been the best and worst of times in his professional career.