Quarterback Myles Brennan is good enough to start at LSU as a freshman, coach Ed Orgeron said Wednesday night.
The Tigers, though, might not need him to do that.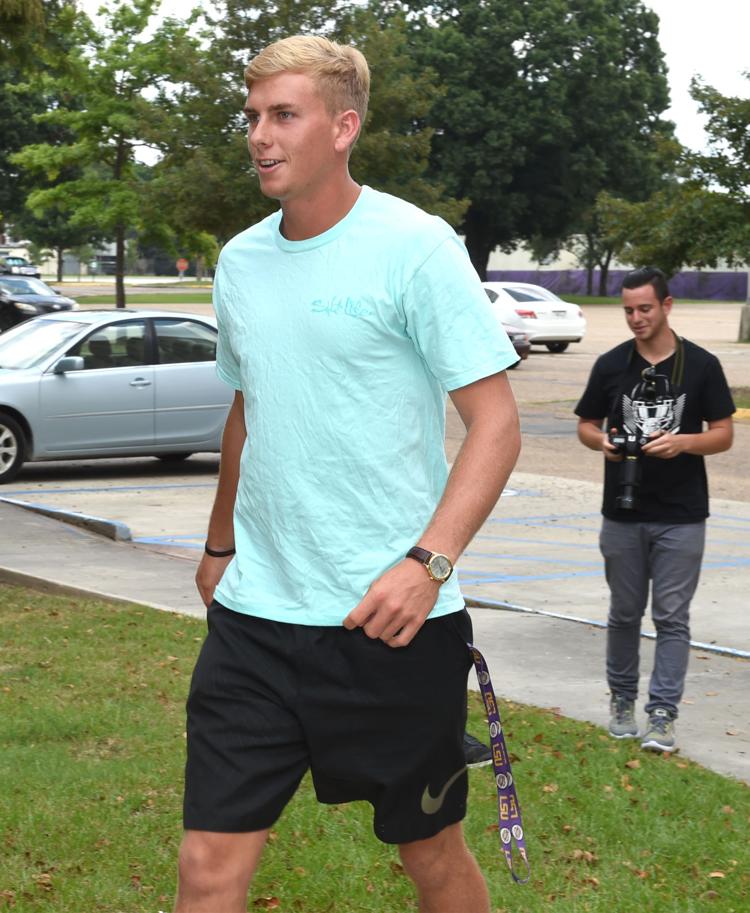 Brennan, the 6-foot-4, 193-pound decorated passer from the Mississippi coast, continues impressing the Tigers' head coach through the halfway point of preseason camp. Coaches have given Brennan some first-string snaps, Orgeron said, but he's still digesting new coordinator Matt Canada's scheme.
"Very few," Orgeron said when asked how many snaps Brennan has taken with the starters. "We don't want to put that on him right now. He doesn't know all the plays. It's a new installation every day — heavy installation. Guy is still in a learning period. I don't want to put him in there and put too much pressure on him.
"Does he have the ability to be a first-string quarterback as a freshman? Yes, he does," Orgeron continued. "Is he ready? Not yet."
Danny Etling, a fifth-year senior, remains LSU's No. 1 quarterback, the coach said, but "the quarterback race is not over yet," he told reporters following Wednesday's practice.
Coaches opened the starting battle during camp, despite Etling having a hefty edge. The Indiana native and Purdue transfer started 10 games for the Tigers last year, bringing stability to a position that endured a shaky past few years.
The backup quarterback competition — an important one that Orgeron wants to solve in camp — is ongoing, the coach said. Brennan, third-year sophomore Justin McMillan, redshirt freshman Lindsey Scott and freshman Lowell Narcisse are "all tied," the coach said.
"All of them bring something to the table," he said. "We're going to have to make a decision there, but we still have time. All those guys are getting reps. We're giving Myles more reps because we saw all those guys in the spring."
Players are seeing the strides Brennan has made despite arriving on campus just two months ago. Receiver D.J. Chark, for instance, called Brennan's accuracy "rare" for such a young player.
"He gets the ball out quick. It comes fast, and it's always a catchable ball," the senior said. "It's never a fast, out-of-control ball. That's something that's rare in a young guy. Usually they get out there and throw the ball and it's too high, too low, randomly by everyone. He has it on a line, gets it where it has to be, makes great reads."
Orgeron said coaches recently added "plays conducive to (Narcisse's) style." Narcisse is a 6-2, 230-pound dual-threat quarterback from St. James. 
Brennan signed with LSU in February out of St. Stanislaus in Bay St. Louis as Mississippi's all-time career passing yards and touchdowns leader. The record-breaking QB was ranked a top-five pro-style quarterback by the major recruiting services.
Asked about the freshman class Wednesday night, Orgeron launched into a spell praising his passer.
"Myles Brennan comes from a passing offense. He is a natural thrower. He still has to learn the offense, still has to be more comfortable with his reads, but his release and his ability to throw the ball is very special," Orgeron said. "I tell you what — it's just fun to see, fun to see the ball come out of his hands, you know?
"We've got to bring him along when he's ready. We're not going to throw him into the fire. That's the worst thing we can do. We need to let him develop, let Lowell Narcisse develop, give them an opportunity to compete, and when they're ready, give them a chance."
LSU's depth problem on the offensive side of the ball has sparked a position move.