Tyrion Davis wasn't supposed to make a college decision this quickly.
In fact, the Southern Lab running back told LSU coach Ed Orgeron and assistant Tommie Robinson that a decision would come at the end of the summer.
He just couldn't resist.
"When I got the offer (three weeks ago), I thought about committing because I grew up around LSU, but I needed a little time," he said. "It's all I could think about all week."
Davis, a member of the 2019 class as he enters his junior season, gave his nonbinding verbal pledge to Orgeron and Robinson inside the head man's office Monday after a campus visit with his parents. 
The coaches were expecting to hear something in late July — not mid-June. 
"They really were shocked," Davis said, describing the meeting. "You should have seen Coach O's face. He jumped up and started thanking God. He said, 'Another Father's Day gift!'"
Davis is LSU's fourth commitment in two days. The Tigers landed two in the 2018 class and two for 2019.
The 6-foot-1, 212-pound Davis tweeted the news Monday afternoon: "100 percent committed," the post on Twitter read, with a photo of him, his parents and Orgeron. 
Davis lives just a four-minute drive from Tiger Stadium, and he's been following LSU football since age 7. He attended three home games last year.
"I usually go with my gut," he said. "Nowhere else better than home. That's where I'm going. That's my team."
100% committed #RBU pic.twitter.com/O0nUJxdhGp

— Tyrion Davis (@3_too_lit) June 19, 2017
A banner sophomore season in 2016 led to an uptick in his recruitment. LSU and Alabama both offered this summer, for instance. 
Davis landed on the All-District 6-1A first-team offense in his first season as a starter in 2016. He finished with 1,200 yards rushing on 72 carries, he said, for a 16-yard average per carry.
He ran for 244 yards on just eight carries in leading Southern Lab to a 36-9 victory over Ascension Episcopal in the Division IV title game last year. That total broke a Division IV/Class 1A record set by White Castle's Tyre Bracken in 2010.
The MVP of that game, Davis had runs of 52, 57 and 85 yards to help the Kittens to a 12-1 record and second straight championship.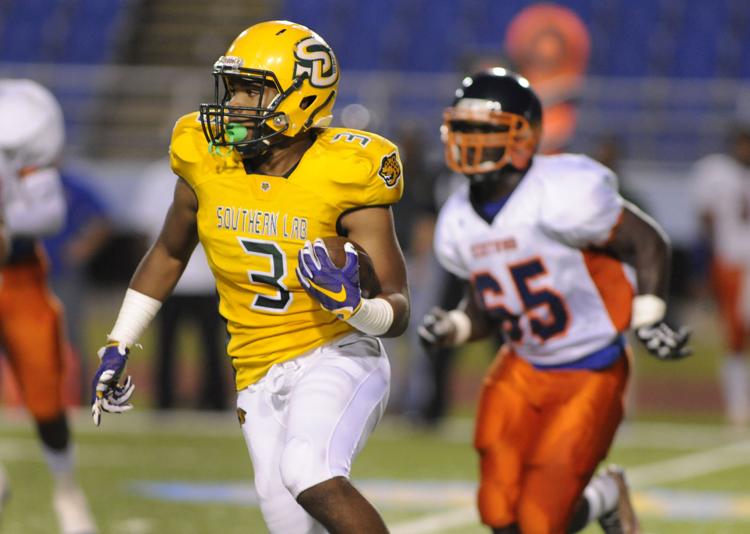 "It was crazy," he said of that game. "My O-line, thank them. They get all the glory and praise. I was happy that I could contribute to the game and to the championship win. They open holes for me. I love them for that."
Davis describes himself as an "explosive" runner.
"I don't see too many catching me when I get loose," he said.
The Baton Rouge area has produced some standout LSU running backs the past few years, including current starter and former Catholic High star Derrius Guice and Cincinnati Bengals starter Jeremy Hill, a Redemptorist graduate.
Yes, Davis knows all about that.
"It makes me look to the future, and I can see that I can be like those guys or even better," he said.
Pamela McMath feared for her son's safety.
Davis joins six others in LSU's 2019 commitment class, including Lafayette offensive tackle Thomas Perry. He committed Saturday during LSU's linemen camp. 
The 2018 Ferriday duo of Dantrieze Scott and Dare Rosenthal also pledged to LSU during that camp Saturday, boosting the Tigers' 2018 class to 18. Orgeron and staff lost a pledge Sunday from Georgia defensive end Jamarcus Chatman, one of three Rome, Georgia, players to commit on the same day in April. 
Rosenthal, a 6-foot-7, 290-pound defensive end, is listed as one of the top 10 players in Louisiana and a top-20 defensive tackle prospect nationally, according to 247Sports. Scott, 6-4, 210, is ranked 60th in Louisiana by 247Sports. He's listed as a tight end but committed to LSU as an athlete.
There's no question where Davis is playing — it's running back, a position of need for the Tigers. LSU coaches are still searching for two running backs for the 2018 class. 
They've got at least one for 2019 now, and this player set his expectations high. His goal for his junior season is to eclipse the 2,000-yard mark — by the first 10 games of the season.
There's something else, too.
"Win another state championship," he said.
Willie Fritz knows the numbers — the ones from last fall and the ones from February. Both of…