At some point this summer, a Chrysler 300 slowly rolled down the alley behind the LSU football operations building.
In the driver's seat, with the door ajar, sat one of the Tigers' 300-pound defensive linemen.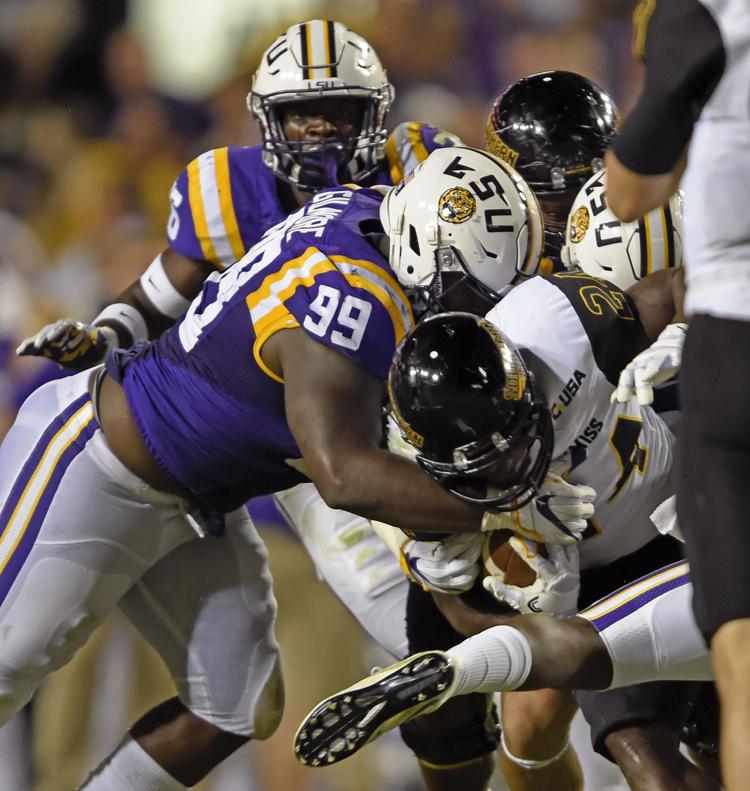 He wasn't driving. That privilege belonged to another 300-pound lineman positioned behind the vehicle.
"I was out there pushing cars," said Greg Gilmore, LSU's starting senior nose tackle.
Summer conditioning for college football players is brutal. All the running, lifting, tire flipping and speed training weren't enough for Gilmore and a few of his buddies on the defensive line.
He added car-pushing to the list, spending part of his summer shoving his vehicle down a side street — away from public view, of course.
"I can't do it in the middle of the road," a smiling Gilmore said. "People would look at me crazy."
A fifth-year senior, Gilmore is LSU's man in the middle for a second straight season. The North Carolina native is set to occupy an important spot in defensive coordinator Dave Aranda's 3-4 scheme. Coach Ed Orgeron calls the middle of the defense the most important — from the nose tackle, to the inside linebackers to, farther down the field, the safeties.
Gilmore is the first line of defense. Days before LSU's season opener Saturday against BYU, he said he expects to take "at least" half the snaps in each game since the Tigers are thin at that spot. Injuries forced Ed Alexander to miss several practices this preseason, and he's not up to top condition, Orgeron said last week.
In addition to that, the NCAA only partially cleared freshman Tyler Shelvin, ruling him ineligible for games but allowing him to practice. Shelvin arrived at 364 pounds, Orgeron said — about 30 pounds heavier than Oregon would like.
He's not the only ineligible nose tackle on the team. Breiden Fehoko transferred from Texas Tech and must sit out this year to adhere to NCAA transfer policy.
"I think we have the two best ineligible nose guards in the country right now," Aranda quipped.
So that's why it's mostly down to Gilmore, who's primarily charged with taking on double teams and preventing offensive linemen from reaching the linebackers. His role this season, though, is different, he said.
Gilmore's job is expanding — just like Aranda's defense, which is moving to a more speedy and pass-rushing style. The coach is expected to reshape his defense with the uptick in rangy, fast outside linebacker types, players said during camp. Aranda hinted at that earlier this August in a news conference, and Orgeron mentioned it during his radio call-in show last week.
"You could see him do a multiple of things that he didn't do last year, just because we've got different personnel," the coach said.
It's all about pressuring the passer. That goes for the man in the middle, too.
"Coach Dave is going to put me in position to get up the field more instead of just being on the line of scrimmage on pass plays," Gilmore said.
That's where the 6-foot-4, 305-pounder has grown the most: the pass rush. He spent the offseason honing that skill. It's a facet of his game that Orgeron and defensive line coach Pete Jenkins told him in a postseason meeting in January that he needed to improve to, he said, "take that leap."
What leap? The leap to the NFL. He's considering this fifth year at LSU as his rookie year in the league, leading the young guys and "building them my way," he said with a smile. He's acting like a pro, he said.
Others are seeing this, too.
"He's in shape. Lost a lot of body fat," Orgeron said. "He's a senior. It's his year. He's hungry and in shape."
In shape, you say? Pushing cars will do that.
The idea originated from the 76-year-old Jenkins. It's an offseason tactic that the coach's players have used for decades to improve their "body lean," Gilmore said.
Gilmore and defensive end Frank Herron rolled Gilmore's car up and down that paved alley adjacent to LSU's football practice fields off Skip Bertman Drive. They took turns, one manning the steering wheel while the other gave it the gas, so to speak.
"I've got to work on my body lean, instead of being too high all of the time," Gilmore said. "You can't push a car (standing) straight up — got to lean into these cars. Start with a good lean. All about that lean. It's all about pushing and driving those feet."
It's part of improving what he calls his "toolbox," adding skills to his game that will get him into the backfield more. In 29 career games, Gilmore has just 2.5 sacks.
Gilmore's backup is more of a traditional heavyset nose tackle. Alexander is 6-3 and 340 pounds. That leads to lots of nicknames: Rougarou (for short, Roo), Bulldozer and Brick Wall. Herron has some ideas for how Aranda might use both of his nose tackles, once Alexander shapes up.
"I'd put Greg in on more pass-rushing downs," Herron said. "I'd say Ed Alexander is a better run stopper."
Why?
"Ed Alexander is a brick wall," Herron said. "He will not be moved."
Gilmore admitted their contrasting styles of play.
"Roo can do things I can't do," he said. "He can hold double teams. He's a wall, man."
Alexander's health and conditioning is concerning, especially for a position that sees a lot of rotation. But still, the Tigers are deep at defensive end. Senior Christian LaCouture, for instance, has played nose tackle in the past. Herron could play nose, too, Gilmore said.
Coaches have yet to approach LaCouture about switching back to nose tackle, he said. He has kept his weight around 290 pounds, about 20 pounds lower than during his days as a nose tackle in the spring of 2016.
"Especially in a 3-4, the nose, got to be a big body," he said.
Again, the arrows point to Gilmore. He's the guy, and he'll be rushing the passer more than ever — with the help of that truck-pushing, right?
"We ain't push no trucks," Gilmore said, correcting a reporter. "I said cars. I said cars!"