THIBODAUX — Danny Etling didn't bring cleats.
He didn't bring shorts either. In fact, he didn't plan on participating in the Manning Passing Academy at all last year. He was there as a chauffeur, having driven LSU's group of receivers from Baton Rouge to Thibodaux for the yearly event at Nicholls State.
But when Archie Manning gives an order, you follow Archie Manning's order.
"He's sitting by me," Manning said Friday recalling the tale, "and I said, 'Get out there!' "
"Archie said, 'Go throw!' I went out and threw in sweat pants and tennis shoes," Etling said. "That was awesome. It was really cool."
A year later, Etling left the chauffeuring to someone else.
He's an official invitee to this prestigious camp, serving as a counselor this weekend for hundreds of football-playing youths spread across the Nicholls State campus.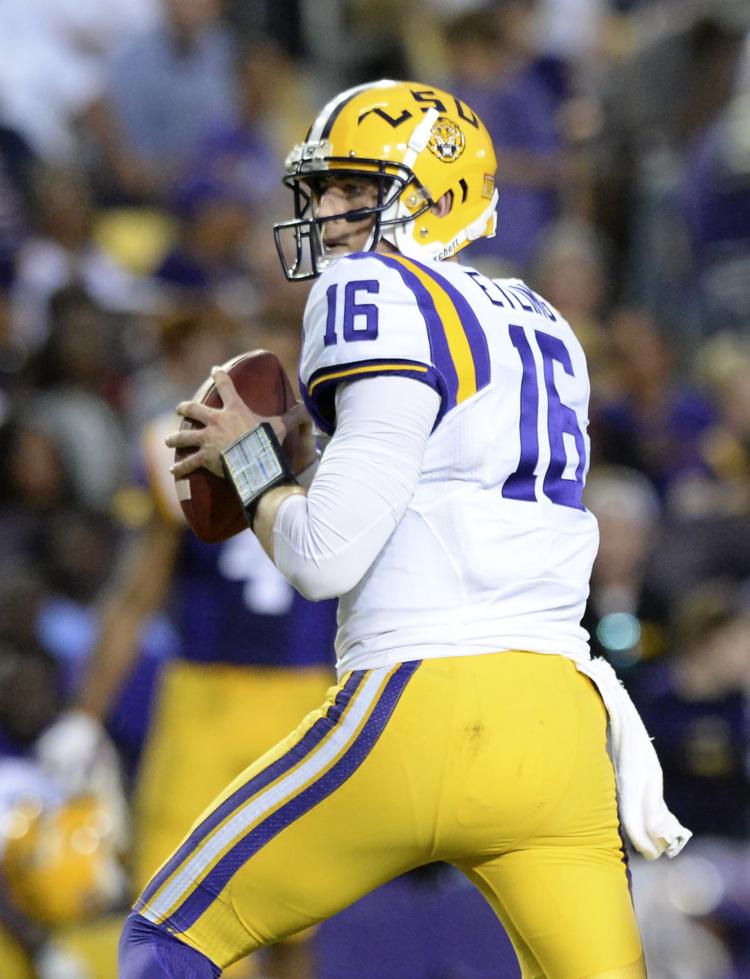 "I wanted to make sure," Archie said, "he was part of the group this year."
This is more special to Etling than most. For one, he took a backseat last year here to Brandon Harris, the LSU starter who Etling replaced in Game 2.
Secondly, Etling camped here as a high school quarterback, tutored by Southern Cal's Matt Barkley.
Most of all, there's this: As an Indiana native, he grew up in a bedroom blanketed in regalia from his favorite team, the Indianapolis Colts, and his favorite player, quarterback Peyton Manning.
And now here he is, rubbing elbows, as Etling puts it, with his childhood hero. He's throwing, too — music to the ears of LSU fans, oh-so curious about their presumed starting quarterback's health.
Etling is not 100 percent from back surgery that he underwent on April 24, he admits, but he did return to throwing a football about two weeks ago. He threw more Thursday during the camp's opening day than he has "in while," he said.
"It felt good," Etling said Friday during a 30-minute interview session with a gaggle of reporters. "No pain. Slung it around. A little rusty here and there."
He'll be ready for preseason camp. In fact, he's ready now, cleared by doctors earlier this month despite not yet reaching that 100 percent mark. He's still in rehabilitation, primarily to strengthen his left leg. It took the brunt of the tingling nerve pain from a lower back injury to which he declined Friday to reveal specifics.
What we do know? Etling injured the back just before last season, and he put off surgery in order to play in 2016. He delayed surgery another four months in order to participate in spring practice.
He started 10 games, threw 11 touchdowns to five interceptions, and completed 59.5 percent of his passes last season while nursing an injury that, literally, kept him up at night. The pain was bad enough that he threw with improper technique last year as to avoid pain, developing what he calls "bad habits."
THIBODAUX — Everyone knew.
"I'd throw different ways that I shouldn't, with bad footwork and with bad fundamentals," he said. "It's been a process of having those bad fundamentals and replacing those with what I want to do. That's been a long process that I'm still undergoing."
At least the pain has subsided. It stopped almost immediately after his surgical procedure, two days after the spring game.
"I felt pretty great afterward," he said. "Slept like a baby."
Etling steps around some questions regarding specifics of the injury. Like, when exactly it happened and how, only offering, "I still remember when it first happened. It was very painful."
He won't talk deeply about the pain either, aside from calling it "discomfort" and him having "rough mornings after games."
Thing is, everyone knew Etling was hurt. Well, everyone who knows him on a personal level. Only a handful of people knew how badly he was hurt, though.
"I tried to hide it pretty well," Etling said. "I think the trainers always knew. My parents knew it hurt. Everyone kind of knew it hurt, just not how much. Even the coaches didn't know how much. I think the trainers were the only ones that knew what exactly I was dealing with and how much it was bothering me and stuff like that."
Willie Allen won't miss another year of football after all.
There's no bother now. He's done with the pain, reviving that left leg and fixing those askew fundamentals. Oh, and learning coordinator Matt Canada's new offense.
The Tigers are still searching for their identity on offense, Etling says. What's that mean?
"It means what you're going to major in," he said, offering an academic analogy. "What are the plays you're going to run? What are we good at? What do we do that we think we're going to be better than everyone else at?"
It's a work in progress, but the scheming for the season opener has already started.
Etling has started watching film of BYU's defense. The Tigers and Cougars meet on Sept. 2 in Houston in an ESPN-televised showdown.
Several quarterback counselors here in Thibodaux have played against BYU. Etling picked their brains Thursday night — while in between discussions his childhood hero.
Etling wasn't just a Peyton Manning fan years ago while growing up in Terre Haute, Indiana. He attended nearly every training camp practice that the Colts held at Rose-Hulman, a Division III school located in Etling's hometown.
"I had so much signed stuff," he said. "I had Peyton Manning helmets, Peyton Manning posters, Peyton Manning cards. I had a plaque with Peyton Manning and the RCA Dome."
Peyton and Danny spent Thursday chatting about Terre Haute, among other things. They traded memories about the city and those training camp days.
As expected, Peyton doesn't remember little Danny. He was one of many screaming 9-year-olds racing up to the gates for an autograph.
Danny, though, hasn't forgotten. 
"I remember one time I went to a training camp, was really young and I got a helmet signed by Peyton Manning," Etling said. "I was like, 'I'm good.' And then the backup (quarterback) grabs it and signs it! My dad was like, 'What the heck are you doing!?'"
Etling laughs before finishing the story.
"We erased the backup's name."