Welcome to Film Room, our weekly analysis of LSU's last football game.
Have a seat. No talking. No tweeting. No texting. Pay attention.
(Editor's note: Click the images to enlarge)
How They Happened (big-play analysis)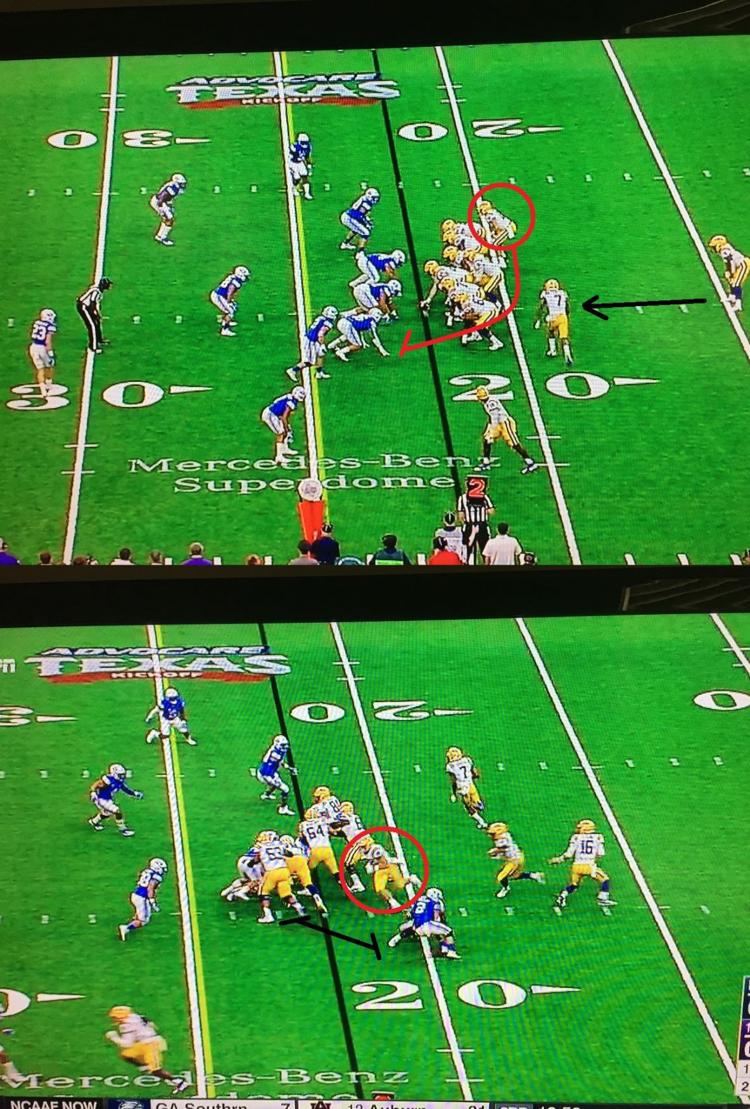 A different kind of fullback: This is the second play from scrimmage for LSU. RB Derrius Guice carries for an 11-yard gain.
Remember all that talk about LSU not employing a fullback in Matt Canada's new offense? It's only the half truth. The Tigers have themselves a fullback, and it's the same guy who always served in that role, John David Moore (red circle). Moore, though, does not align in the traditional fullback position. He aligns in a wing spot (shown before the snap in the top photo), as do most H-backs, LSU's new blocking back position that Canada calls the F-back.
The location might have changed, but, for the most part, the position's role is fairly similar. The H-back can get handoffs and catch passes, sure, but its primarily role is to be a lead blocker on rushing plays. You can see it in this play. A second into the snap (bottom photo), Moore is seen leading Guice (black circle) into a massive hole created by pulling guard Saahdiq Charles (bottom of screen) and KJ Malone and Garrett Brumfield's double team.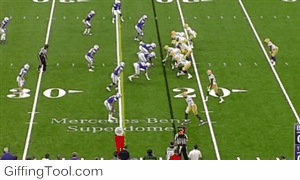 The H-back on Saturday did not only line up in that wing spot. In fact, Canada split out Moore as a receiver on 18 of LSU's first 65 plays, and he actually lined up in the traditional fullback spot at least three times. "Any time we run a play, we've got someone leading us and pulling," Guice said. "That's my new fullback."
Before the first snap, Matt Canada had the crowd gasping.
---
The speedy nickel: This is a third-down play late in the first half in which BYU does not convert because of a deceptive blitz that DC Dave Aranda brings.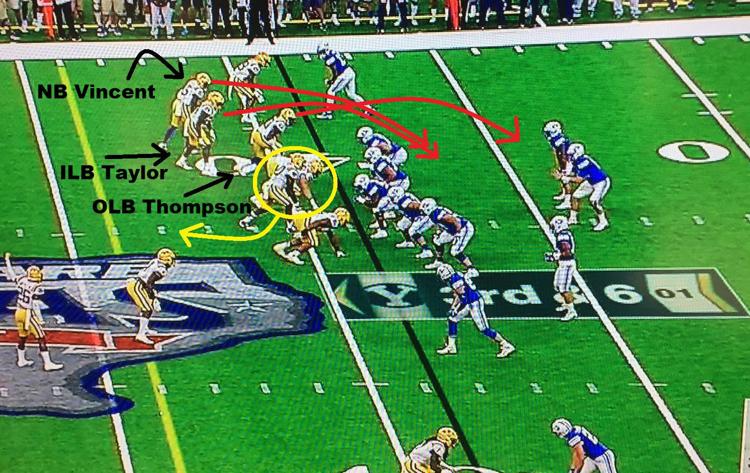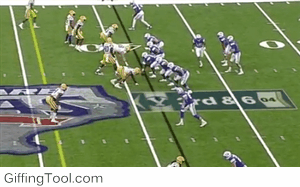 Some of the buzz during the offseason centered around changes Aranda planned for his defense, gearing his unit to a more speedy and pass-rushing style of play, reshaping it with the uptick in rangy, fast outside linebacker types. That showed Saturday in LSU's pass-rushing package. We'll call it the "speedy nickel," because the Tigers do have five defensive backs in the game (nickel) with a very fast front (speedy).
There are only two defensive linemen in this package (normally Christian LaCouture and Rashard Lawrence), and there are four outside linebackers. Aranda removes NT Greg Gilmore and inserts nickel corner Kary Vincent. Last year, he often left three linemen on the field, removing the F-outside linebacker. This year, it appears, he'll leave on the field F-OLB Corey Thompson.
On this specific play in the "speedy nickel," Aranda overloads the left side with three blitzers (red lines). Devin White (yellow circle) fakes a blitz. It works well because the defense is expecting White to blitz. He had done it all game. In fact, White racked up 5-6 QB pressures on a total of about a dozen blitzes or delayed blitzes in the game.
Here's a breakdown of LSU's defensive packages used in the first three and a half quarters (personnel specifics):
Base 3-4 (3 DL, 4 OLBs, 4 DBs): 15 plays
Speedy Nickel (2 DL, 4 OLBs, 5 DBs): 12 plays
Regular Nickel (3 DL, 3 OLB, 5 DBs): 3 plays
LSU's defenders noticed it as early as the second quarter.
---
Two-sided tackle: On this second-down play in the first half, LSU right tackle Toby Weathersby is, er, lined up at left tackle.
Weathersby (red circle) is LSU's starting right tackle, but Matt Canada has no problem with moving his offensive linemen around, specifically his tackles. During Saturday's game, LSU ran at least 10 plays with two tackles on one side of center. That's the case on this play. Next to Weathersby is true starting left tackle KJ Malone. 
These unbalanced lines are a good example of "window dressing" to Canada's scheme, says Brock Huard, the former NFL QB and ESPN analyst who called the BYU-LSU game. Canada's pre-snap shifts and motion are in that category, too, all of them ploys to dress up an offense that is, at its foundation, about zone and power running plays. An LSU player shifted or motioned at least 75 times on Saturday in LSU's first 65 plays.
So, is Weathersby an eligible receiver in this play? Yes, if he reports to the referee. This is part of a basic football rule: You must have seven players on the line of scrimmage, and the last player on the line one each side of center is an eligible receiver - unless he's wearing Nos. 50-79. Those donning a number in that range must report to the head official. 
---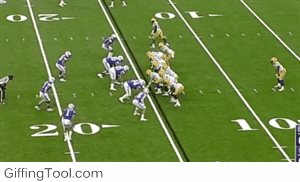 Early movement: On the very first play of the game, Matt Canada, in a planned maneuver, shifted eight players.
Canada didn't wait long to show off his patented pre-snap motions and shifts. It's not coincidence that his most shifting on one play came on the very first snap. The crowd at the Superdome gave a gasp as LSU's two guards, two tackles, H-back, tight end and two running backs motioned.
As we mentioned above, an LSU player shifted 75 times in the first 65 plays on Saturday. A player shifted twice on the same play at least seven times, too. The shifting was not relegated to one positions group. They all did it. 
---
Jumbo: On back-to-back plays late in the first quarter, Matt Canada debuted a package that we're calling "jumbo."
Every offense, even a spread scheme like Canada's, has a goal-line package normally referred to as "jumbo" or "heavy." This is Canada's jumbo package. It includes five offensive linemen, two tight ends, a quarterback, an H-back and two running backs. 
Here's the thing about Canada: He doesn't only use this package inside the 5-yard line or on short-yardage. In fact, the package made its debut on the 20-yard line on second-and-8. The reserve in this package was normally TE Jacory Washington, a junior who's played sparingly in his first three years in Baton Rouge. LSU ran the jumbo - each time with Washington - about 10 times.
So much has changed for LSU football in the past few months.
Options abound: Early in the game, Matt Canada shows one of many "option" type plays, with two running backs on the field at the same time.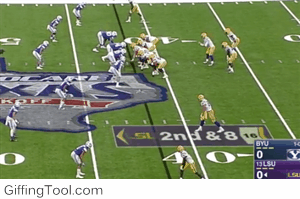 Remember last month when we wrote about Canada's triple option? Well, this kind of what we were talking about. We spent most of that story discussing the shovel option. LSU did run the shovel option at least once (but never threw the shovel).
This particulate play is a triple option, too, in a way. You see that QB Danny Etling has three options. He can keep it (1) on a zone-read type play and run, hand it to Darrel Williams (2) or throw a swing screen pass to in-motion Derrius Guice (3). You'll notice that Guice and Williams are in the backfield at the same time. This happened a lot Saturday. 
We also wrote last month about Canada's tempo. Is he no huddle or huddle? He moves between those two things. In LSU's first 65 plays Saturday, Canada went no huddle on about 13 of them.
---
PERSONNEL NOTES
Position battle rotations
Remember what Ed Orgeron said earlier this week: At least four starting positions were unsettled as players competed for a starting spot.
They included free safety (Ed Paris vs. Grant Delpit),  B-outside linebacker (K'Lavon Chaisson vs. Ray Thornton), inside linebacker (Tyler Taylor vs. Jacob Phillips) and right guard (Saahdiq Charles vs. Ed Ingram). The guys in bold started the game, but we charted their rotation by drives. Please keep in mind that we did not count the last defensive drive of the game, when the score was 27-0.
Free safety
Ed Paris: 6 drives
Grant Delpit: 6 drives
These two were in the game at the same time during three drives late, as LSU rested starter John Battle. This appears to be a very close competition. I'd wager both will rotate for much of the season. 
Right guard
Saahdiq Charles: 6 drives
Ed Ingram: 4 drives
Ingram replaced Charles in the middle of one drive. This battle seems to be very much still hotly competitive. Will the Tigers continue this rotation deep into September?
Inside linebacker
Tyler Taylor: 6 drives
Jacob Phillips: 3 drives
Former walk-on turned scholarship player Jonathan Rucker saw one drive, by the way. He and Phillips got in together in the fourth quarter. Taylor appears to be ahead of both by a decent margin, but the coaches are the only ones who know that for sure.
Buck OLB
K'Lavon Chaisson: 6 drives
Ray Thornton: 3 drives
A hearty battle still rages here at Arden Key's position. Neither of these players made a rousing sack or anything like that Friday, but each had at least one QB pressure.
Won't go down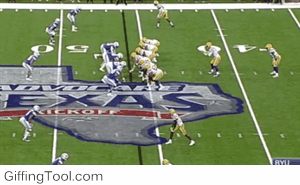 You remember how we charted Leonard Fournette's broken tackles and yards-after-contact each game over the last two years? Well, we're beginning to do that with new starting RB Derrius Guice. He seems to being putting up similar numbers.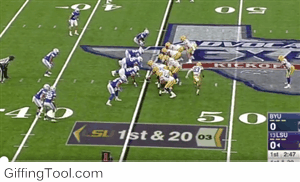 Guice's yards after contact on Saturday: 54.
That's about 45 percent of his total yards (120). Guice picked up at least 1 yard after contact on 17 of his 27 carries. According to ESPN Stats & Info, LSU gained a total of 111 yards after contact on Saturday. 
Youthful special teams
Lots of freshmen and redshirt freshmen on these teams. Here's the list of rookies and where they're playing on special teams (please keep in mind that this is not an exact list and LSU sometimes changes personnel mid-game on special teams).
S Todd Harris (3 teams): Punt cover, kick cover, kick return
CB Greedy Williams (3): Punt cover, punt return, kick cover
CB Jontre Kirklin (2): Punt cover, punt return
OT Jakori Savage (1): Field goal/extra point
CB Kary Vincent (1): Punt return
LB Patrick Queen (1): Kick return
WR Racey McMath (1): Kick return
OT Austin Deculus (1): Field goal/extra point
TE Jamal Pettigrew (1): Field goal/extra point
Special teams aren't relegated to scholarship guys. In fact, walk-on LB Layton Garnett played on three coverage and return units. Devin Voorhies, a little-used LB, and H-back David Ducre were the only players who we noticed on every single coverage and return team. There could be others. 
All photos courtesy of ESPN.
The derisive cheer for when LSU crossed the Mercedes-Benz Superdome's 50-yard line never mat…