Justin Rogers, the highly ranked quarterback at Parkway High in Bossier City, is still in the phase of his recruitment where he hasn't really said "no" to any school.
"North Carolina is flying over here to watch a basketball game," said David Feaster, Rogers' coach at Parkway. "I told him, 'Do we need to tell them not to come?' That's a long way. Is he really serious about going there?
"We're going to start trimming the list soon," Feaster added.
National signing day on Wednesday closed the door on one class of future college football players, the 2017 group, and opens the door to another, the 2018 players.
Highly ranked prospects in the 2018 class, like Rogers, begin whittling their list of scholarship offers to a group of finalists during this stretch from now through the summer months. Many even offer non-binding commitments to schools.
In fact, by the end of summer, LSU's number of 2018 commitments, now five, will grow significantly. Last year, the Tigers went from one 2017 commitment on signing day to 20 by the season opener.
Coaches often spend the spring and summer developing relationships with these rising seniors, carving down their own list — referred to as a "big board."
Prospects attend on-campus camps, like LSU's Boys from the Boot event Feb. 18 and the program's junior day function March 18. Starting in mid-April, coaches can visit high schools during a six-week evaluate period. They check on their academic standing, watch them during spring practice and speak to coaches and administrators.
Recruiting never really ends. It only shifts.
All eyes now move to 2018, a year in which the state is expected to produce its usual share of top-flight talent, especially at one specific position.
"One thing that jumps off is receivers," said Shea Dixon, recruiting reporter for Geaux247, a site covering LSU. "They've got a commit from (receiver) Kenan Jones. He was one of the best at the Army All-American combine (in January) and right now he's just the fourth-best in the state."
A day after national signing day, LSU coach Ed Orgeron is shuffling his staff.
The state is loaded at its typical skill position spots — receivers and defensive backs.
Six of the top nine players in the state for 2018 play at one of those positions, including the top three prospects, according to 247Sports' composite rankings. That includes Rogers' teammate, receiver Terrace Marshal, the top-ranked player in the state, per 247Sports' rankings. Scotlandville cornerback Kelvin Joseph, an LSU commitment, is ranked second.
Both are the state's current composite five-star players.
"Marshall and Joseph are the big-time guys," said Steve Wiltfong, director of recruiting for 247Sports.
But they are not running backs. And suddenly, running back replaces inside linebacker as LSU's new position of need.
Coach Ed Orgeron and staff will have to venture out of state to solve the issue, as they did in 2017 at inside linebacker with additions of Georgia's Tyler Taylor and Tennessee's Jacob Phillips.
There isn't a running back among 247Sports' top 25 Louisiana prospects. Scotlandville running back Trenton Charles is the No. 12 prospect in the state, according to Rivals.com. He does not hold an LSU offer.
"You're missing that national running back," said Mike Scarborough, publisher of TigerBait.com, the Rivals.com site covering LSU. "Where's the next great Louisiana national running back? We're looking at a stretch here that I haven't seen before.
"You look at the running back spot," Scarborough continued. "Who's the high-caliber running back for 2018 in Louisiana? By now, he should be a household name."
LSU is on a recent run of Louisiana running backs: Alfred Blue, Kenny Hilliard, Jeremy Hill, Leonard Fournette and now Derrius Guice. The Tigers will be thin at the position after this year, though.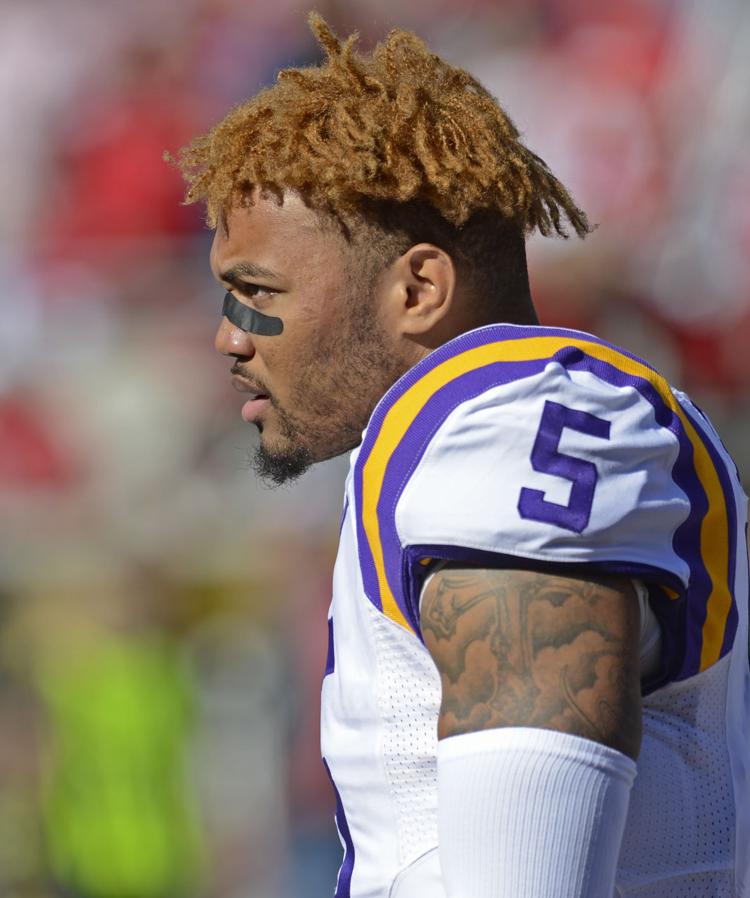 Guice plans to leave early for the NFL draft, something he admitted in a story published on BleacherReport.com in December, and Darrel Williams is a senior. Nick Brossette and Lanard Fournette have been used in reserve roles.
LSU signed just one running back in 2017, Catholic's Clyde Edwards-Helaire, failing to get Mississippi back Cam Akers (signed with Florida State) or Jennings' Travis Etienne (signed with Clemson).
"They're going to have to take two (running backs) this cycle," Dixon said. "They need to take two to contribute right away and help with competition after Guice and Darrel leave. I'd expect them to go national."
That's nothing new for this program, and Orgeron took it to another level during this signing class.
The Tigers signed 15 out-of-state players, tied for the most in the past 25 years. They signed just eight Louisiana players, the lowest amount since 2005, also a transition year, when Les Miles replaced Nick Saban. 
LSU has six offers out to 2018 running backs. None of them is from Louisiana.
Five of the six are in the top 10 at the running back position among those in the 2018 class, including the top-ranked back in Zamir White, a North Carolina native.
Hattiesburg back Fabian Franklin might be the most logical running back for LSU to land, said Scarborough. The Tigers haven't offered Franklin, but they've shown interest.
"It's easier for LSU to pull a kid out of Hattiesburg than Clinton," he said, a reference to Akers' hometown, Clinton, Mississippi, "but it's never an easy situation for LSU in that state at all."
Asked Wednesday about LSU's running back situation, Orgeron said: "Obviously, next year, we're going to have to go out and get the best running back in the country, maybe one or two. I think our staff has done a tremendous job. We're always going to evaluate what's best for LSU and make those decisions when we feel like we need to."
BAY ST. LOUIS, Miss. — Myles Brennan passes it nearly every day on the way to school.
LSU is expected to have the ability to take nearly 30 signees next year, carrying over the slots left empty in this class to 2018. The Tigers signed just 23 on Wednesday, about three to four under their space availability.
Wiltfong said LSU is the "best bet" to end Alabama's seven-year streak of hauling in the nation's No. 1 signing class.
"If you have a bigger class, you have a better class. The points add up," he said. "They're not loading up on three-stars either. They've got more room to take the four-stars away from others. LSU is in position. Ed Orgeron puts so much great emphasis on it. They get after it. You know LSU is going to sign a really good class. Will it be No. 1? I don't know, but when you're signing 29-30 guys, you're in the hunt. In the hunt, for sure."
The race to 2018 national signing day began well before this one was over. It now hits overdrive.
The Tigers were doling out scholarship offers for next year on this year's national signing day, in fact. The staff offered 2018 linebacker Jacquez Jones of Tuscaloosa, Alabama, on Wednesday night, and on Thursday, they checked in with high school coaches, including Feaster.
Orgeron and staff called Feaster on FaceTime, checking in with the coach on his two highly rated prospects, Rogers and Marshall. They both have LSU offers.
Their recruitment is different than most, though. LSU senior-to-be Brandon Harris played at Parkway under Feaster. The coach hasn't hid his feelings on Harris from the staff.
"They all know we've been watching closely for three years about how Brandon (Harris) has been treated. They know it's an issue," Feaster said. "It's something they'd like to resolve or work around because we're going to continue to have players LSU wants. ... The way Brandon has been treated at LSU is going to have a huge effect on the recruitment of Parkway players and players around here."
---
18 for 18
The top 18 players in the state for 2018, according to 247Sports' composite rankings.
 State

 Rank

 Player

 Pos.

 Hometown

 (high school)

 Nat.

 Rank*

 Commitment

 1

 Terrace Marshall

 WR

 Bossier City  (Parkway)

 2

 Uncommitted

 2

 Kelvin Joseph

 CB

 Baton Rouge

 (Scotlandville)

 4

 LSU

 3

 Devonta Jason

 WR

 New Orleans

 (Landry-Walker)

 14

 Uncommitted

 4

 Dare Rosenthal

 DT

 Ferriday

 (Ferriday)

 9

 Uncommitted

 5

 Corione Harris

 CB

 New Orleans

 (Landry-Walker)

 22

 Uncommitted

 6

 David Cotton

 DT

 Shreveport

 (Evangel Christian)

 17

 Uncommitted

 7

 Lawrence Keys III

 WR

 New Orleans

 (McDonogh 35)

 40

 Uncommitted

 8

 Justin Rogers

 QB

 Bossier City

 (Parkway)

 11

 Uncommitted

 9

 JaMarr Chase

 WR

 Metairie

 (Rummel)

 41

 Uncommitted

 10

 Lamiran James

 DT

 New Orleans

 (De La Salle)

 23

 Uncommitted

 11

 ArDarius Washington

 CB

 Shreveport

 (Evangel Christian)

 27

 Uncommitted

 12

 Troy Hurst

 ATH

 Greensburg

 (St. Helena Central)

 21

 Uncommitted

 13

 Kenan Jones

 WR

 Berwick

 (Berwick)

 46

 LSU

 14

 Damon Clark

 ILB

 Baton Rouge

 (Southern Lab)

 8

 LSU

 15

 Anthony Williams

 APB`

 Boutte

 (Hahnville)

 6

 Uncommitted

 16

 Jaray Jenkins

 WR

 Jena

 (Jena)

 59

 Uncommitted

 17

 Micah Baskerville

 ILB

 Evangel Christian

 (Shreveport)

 12

 Uncommitted

 18

 Joseph Foucha

 S

 New Orleans

 (McDonogh 35)

 32

 Uncommitted
*National rank at their position
^Ranked among "dual threat" QBs
`All purpose back