LSU's game at Florida was postponed Thursday after Hurricane Matthew wiped out any chance at playing in Gainesville, Florida. 
Joe Alleva met with reporters Thursday. Here's what he said. 
---
First, my thoughts and prayers go out to all of the people in Florida. Here in Louisiana we know what it's like to go through hurricanes and floods and natural disasters. Our prayers go out to all of the people in Florida. We hope they're safe and make it through this hurricane well.
I just want our fans to know and everyone to know that LSU made every attempt to try to play this game. We offered to go to Gainesville on Sunday, offered to fly in there Sunday morning, play the game and fly back Sunday night.
We offered the opportunity for them to come here Saturday or Sunday to play the game.
Ultimately the decision was made by the league office and we respect that. You have to respect safety and travel. At the end of the day, we're very disappointed. Our players wanted to play the game. I personally wanted to play the game. That's where we are right now.
I've been asked by people if I've been questioned about re-scheduling the game. I've had no contact with anybody – the conference office, Florida or anybody else – about re-scheduling this game yet.
Going into the future, I have full confidence in Coach (Ed) Orgeron and what he's doing with this team. The spirit is terrific. The kids are excited even though they're very disappointed about not playing this game. I'm looking forward to the next games.
Did you feel like Florida steered the conversation on this?
I can tell you this: My first conversation with Jeremy (Foley) was on Tuesday. He was confident they were going to be able to play the game. WE had a conference call on Wednesday. They were very confident that they could play the game. They thought, maybe, they would have to move the time to later.
Then, today, it all felt apart. From the very beginning, it just all fell apart.
At the end of the day, they were concerned about safety. Their school was closed. Safety is the main issue. They were not going to be able to have any public safety people there. All of the police have other duties. It was their home game, but, at the end of the day, the commissioner's office had the final say on what happens.
The decision to "postpone" Saturday's LSU-Florida game was all right in itself. A killer hur…
Moving forward do you think there will need to be some kind of mandate moving forward?
I think there should be some plans in place prior to … like today. There could have been plans put in place that this game could have been handled differently.
Is it fair to the players?
It's sad. I feel bad for the student-athletes. They work real hard. They were really looking forward to the game, and I'm sure the Florida players were looking forward to the game too.
But, also, we've got to remember those Florida players have a lot of families, just like our families here in Louisiana, that are affected by this storm. School is closed. They wanted to go help their families and be with their families. We have to be sensitive to that.
Is there any incentive to make up this game from an LSU perspective?
I don't know yet. There's really not a lot of opportunities to make it up. We have … It would be very difficult to give up a home game to make up this game.
Was the SEC there the whole way? They were OK with Florida saying on Wednesday that it wasn't going to play the game outside of Gainesville?
The commissioner was on the conference calls when we had those conference calls. Those words were uttered, and there was no argument about it.
They didn't even consider neutral sites?
I don't believe so. Jeremy said that in his press conference that they didn't even look at other sites.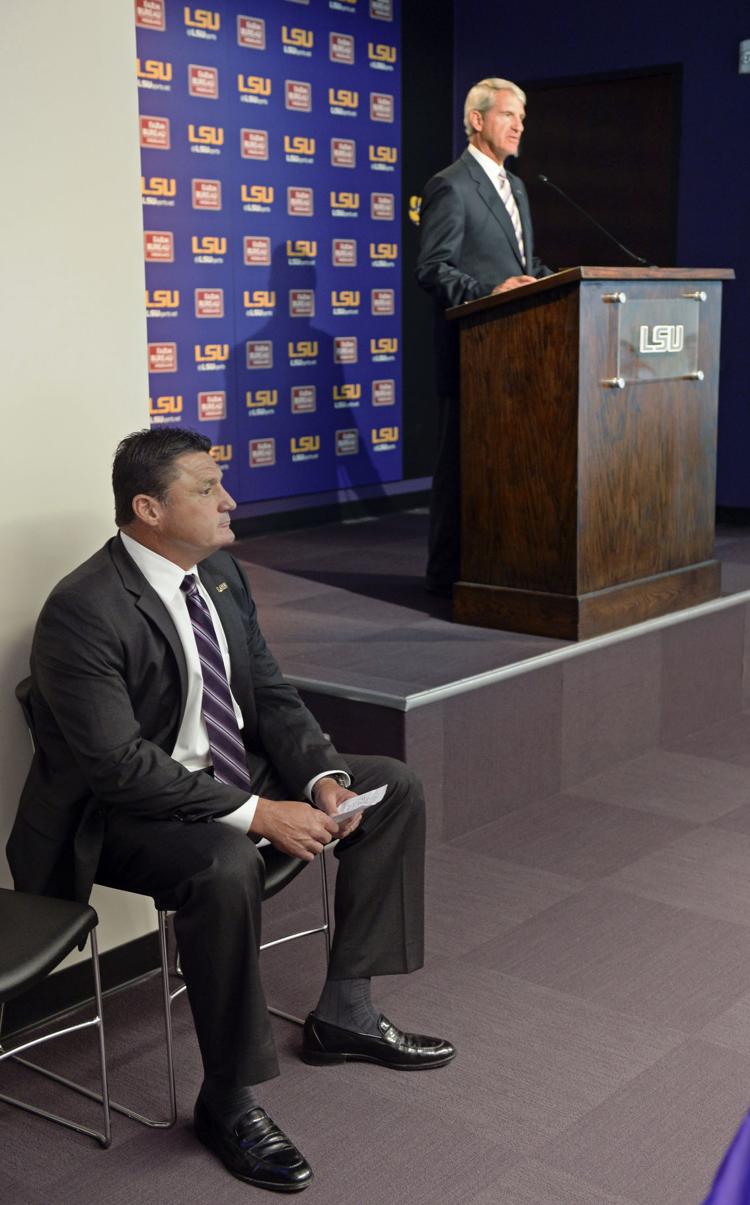 Would you have been OK with playing in an empty stadium?
I suggested we play the game on Sunday in front of nobody if there was no police available.
From the outside looking in, it seems Florida was unrealistically stubborn to the game being played there right?
Their whole concern was safety. You've got to bring the equipment truck. There's a lot of safety issues. There was no police. I don't know if y'all listened to Jeremy's press conference. I'm sympathetic to what (Jeremy) said. I understand what he said.
They were asking the same thing of your team, though, right?
And we were willing to do it. We were willing to go there. We had a plane. We had busses. We were willing to go. That's my point I want to make here: We were willing to play the game. We would have done anything to play the game.
Did Florida offer to play on Nov. 19? Was that talked about it at all?
No. I addressed that initially. There has been no conversion at all with anybody about rescheduling the game yet.
Moving the game from South Carolina to Baton Rouge last year … why didn't that occur this time?
I asked that question. The biggest difference was we knew about South Carolina on Sunday. We kind of had a whole week to prepare and South Carolina had a whole week to prepare, though they did the same thing. They used our plane to come down here, just like we offered them our plane to come here.
This was a little … the decision was made to day, Thursday.
Was playing on Monday discussed?
It really wasn't discussed. Although, to be quite frank, we would have made it happen in Tiger Stadium if we had that opportunity to play on Monday.
What kind of demands can you make in these kinds of situations?
All I could do is offer opportunities. That's all I could do – plead and beg and try to make it happen.
What is your official stance on the Nov. 19 date?
I haven't come to a decision on that yet, but it would be pretty damn tough to play on the 19th and then play A&M on Thursday. Got to do what's in the best interest of the team.
How much do you make in revenue on a home game?
A lot.
In 2005, Mike Slive made a decision on a Thursday for LSU to play Tennessee on the upcoming Monday, two days after Hurricane Rita hit, right?
Yeah. That was the commissioner's decision to do that back then.
Did you think this commissioner would decide to do that this time?
It was his power to do that.