Following LSU's season-opening loss to Wisconsin on Sept. 3, ESPN college football and NFL draft analyst Todd McShay offered frank remarks about the Tigers' receiving corps.
"Those guys aren't great, physical (receivers)," McShay said on the ESPN Radio's "Russillo and Kanell" four days after the loss. "They don't go and fight for balls the way you necessarily want them to, and they don't come down with the 50-50 balls as much."
Specifically, McShay was referring to Travin Dural and Malachi Dupre.
Though Dural caught all five of his targets for 50 yards and a touchdown against Wisconsin, Dupre hauled in only three passes for 24 yards on 10 targets. Quarterback Brandon Harris threw at least five errant passes in the season opener, but a few of those incompletions hit Dupre in the hands.
Then came the Jacksonville State game, when Dupre dropped two more passes, bringing his total to four drops on the season on 15 total targets.
"Malachi's always been a guy whose been really happy, smiles a lot, talks a lot," Dural said. "That kind of bothered me, being that one of my guys — someone I look at as a brother — is struggling. Because I remember at a time when I went through, when I couldn't catch a ball and I was dropping balls, and I know how that felt."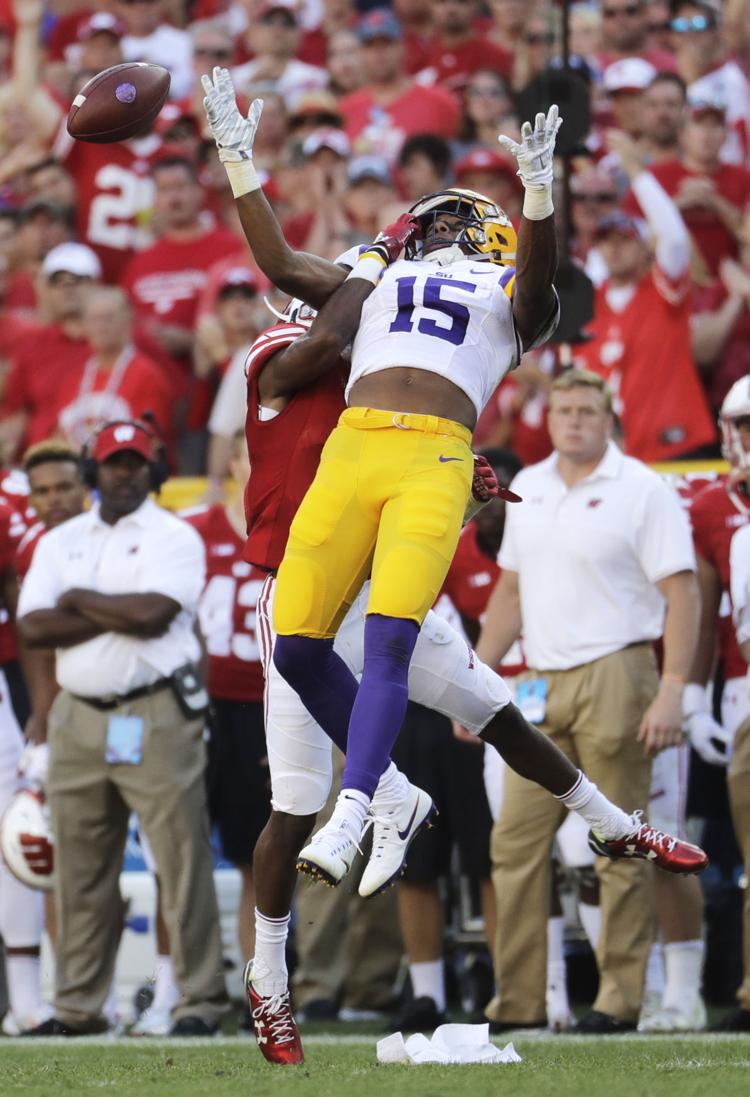 As Dural explained, Dupre's slump came at inopportune time. The LSU offense was standing on fragile footing through its first five quarters of the season. Even with Danny Etling replacing Harris in the second quarter against JSU, Dupre wasn't making plays split out wide.
A change needed to be made, reverting back to something Dupre did last season when he led the team in catches, receiving yards and receiving touchdowns: lining up in the slot.
The result? Four catches on five targets for 54 yards against in the Southeastern Conference opener Mississippi State. Most important: no drops.
Dupre did not speak to reporters this week for the third straight week, but he's in a much better mood as No. 17 LSU (2-1, 1-0 SEC) travels to Auburn (1-2, 0-1) on Saturday night. 
"After the first catch, I would say he got his confidence back," Dural said. "He came to the sideline, and he was a completely different person. … So, after a whole game of catching four or five balls, he was back to his normal self. He was in practice, real playful, running around, joking, kind of like how he was last season."
As the football came toward him through Tiger Stadium air thickened by a pregame downpour an…
D.J. Chark, who had three catches for 52 yards and a touchdown against the Bulldogs, appears to have overtaken Dupe's role as the wide receiver opposite of Dural. But that may not be a bad thing for Dupre, as his strength might be at a position he excelled in at John Curtis High School and as a sophomore.
"Last year, he played slot and he dominated, and today he dominated again in the slot," Chark said after the MSU game. "It also shows that he's versatile. He knows the outside. He knows the inside."
Naturally, a wide receiver playing the slot doesn't see as much press coverage, creating free releases off the line of scrimmage. But for a slot receiver with the speed of Dupre, it also creates mismatches for defenses, even against those with athletic linebackers.
"They're great athletes and run well, but they're linebackers," said John Curtis assistant coach Kyle Gilbert for a story in The Advocate last year. "That gives him a tremendous advantage."
Even with the position change, Dupre needed to snatch that first pass to break the slump against Mississippi State — a 15-yard reception in the first quarter. It only took him one, though, Dural said.
"You drop a ball, it haunts you until you catch that next one," Dural said. "But with Malachi, he's a little bit different. He could've dropped 10 more balls. All it takes is one with him."
As Mississippi State slowly — and then very quickly — overcame a 20-point second-half defici…