Welcome to Film Room, our weekly analysis of LSU's last football game.
Have a seat. No talking. No tweeting. No texting. Pay attention.
How They Happened (big-play analysis)
Out-manned: Leonard Fournette runs for 9 yards on LSU's second play from scrimmage Saturday, making very clear what the Tigers' plan is against the Razorbacks.
LSU ran for 390 yards on Arkansas, and the Tigers did it by mostly "overloading" one side of the ball, running to the "boundary" side of the ball (short side of the field) and moving around tight ends. UA coach Bret Bielema said exactly that after the game, and we see that here early in the game. 
Before the snap, the Tigers move tight ends Foster Moreau and Colin Jeter (red circles) from one side of the ball to the other, putting in motion the pair of blockers and, subsequently, out-numbering Arkansas on the short side of the field.
There are four Arkansas players (numbered in black) to the short side of the field, separated by a yellow line. There are four LSU players, too, but LG Will Clapp (black circle) pulls to the short side to give the Tigers a fifth player. "They came out with a plan. Obviously, they were running into the boundary, trading tight ends, getting into a certain look," Bielema said. Fournette's first six carries came toward the short side of the field.
Swing to Fournette: On third-and-4 from the Arkansas 47, QB Danny Etling and Leonard Fournette hook up for a 38-yard swing pass in the first quarter. 
Interim coach Ed Orgeron credits offensive coordinator Steve Ensminger for this call specifically. The Tigers take advantage of the tight man-to-man coverage on LSU receivers D.J. Chark and Malachi Dupre and tight end DeSean Smith (black circles), and there's something even more important that makes this play work so well.
Arkansas defensive end Tevin Beanum (red circle) is responsible for the coverage of Fournette, says Greg McElroy, ESPN's color analyst for the game. But Beanum is coming on a blitz, another example of why this call is so well timed. 
The three receivers take their men out of the play, and Fournette takes it from there. Meanwhile, Etling places the pass on the money with Beanum in his face. "That was a nice call in man coverage. It was a check by coach Ensminger," Orgeron said after the game. "It's something we identified during the week. That was a check into man coverage, and he did a tremendous job of game planning it."
The Duke: On Arkansas' first third down (third-and-13), LB Duke Riley pressures QB Austin Allen into an incompletion, a sign of things to come.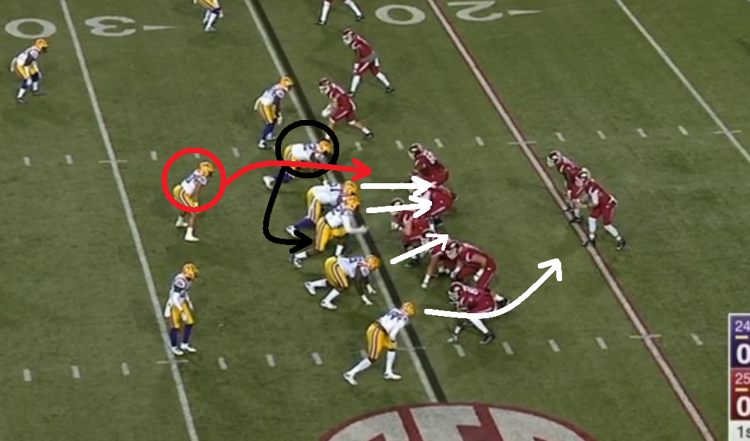 This is representative of so many other plays in this game. Aranda is blitzing his linebackers more and more as the season progresses. He's specifically using the speedy and smart Riley to get pressure. He does it here.
You can see Riley (red circle) shoot the left side, replacing the rushing lane that DE Lewis Neal (black circle) leaves. Neal swings around Davon Godchaux executing a twist move. All other players rush, including Kendell Beckwith, who lines up over the center. 
Riley rushed four times in the first half and got pressure on Allen on three of those. The senior from Buras sacked Allen on one of those blitzes. Aranda has started to use Riley as a QB spy-type defender. He watches the QB and, if he has no pass coverage assignment, he rushes into the backfield when he recognizes pass.
Record run: On second-and-11 in the fourth quarter, RB Derrius Guice races 96 yards for a touchdown, the longest play from scrimmage in LSU history.
It's a cliche, but this really is the ole "team effort." It can't happen without everybody chipping in - from offensive linemen, to tight ends, to running backs. Also, this play is representative of something larger: Arkansas getting worn down late in the game.
Let's start with the offensive line. Do you see the red circle? That's center Ethan Pocic, pancaking a defender and providing the initial springing block for Guice. Will Clapp (black circle) has his man locked in a one-on-one battle, and Maea Teuhema (No. 75) is walling off the edge. The key downfield block comes from TE Foster Moreau (yellow circle). 
Guice illustrates solid vision here, something he showed all game. He sees the seam open and realizes, before hitting it, that he must get past Pocic's pancake block. What does Guice do? He leaps over his big center and sprints untouched for the 96 yards.
POSITION ANALYSIS 
Big Ugly Blips And Booms (OL analysis) 
To understand the difference in the offensive line's play against Arkansas as compared to last week against Alabama, we turn to a trusty statistic: running back yards before contact.
Bama's first contact on Fournette:
Behind the line: 3 times
At the line: 7
1 yard: 3
2 yards: 3
3 or more: 1 
Arkansas' first contact on Fournette
Behind the line: 3
At the line: 1
1 yard: 2
2 yards: 1
3 yards or more: 10
Arkansas' first contact on Guice
Behind the line: 5
At the line: 2
1 yard: 3
2 yards: 2
3 yards or more: 9
If you're keeping score at home, that's 19 of 38 carries against Arkansas in which Guice and Fournette were first-contacted after 2 yards beyond the line of scrimmage.
Not everything was perfect, of course. The group got great push, yes, but the Hogs pressured QB Danny Etling on four of his 16 dropbacks. We do not know O-line assignments or exact offensive play calls, but we can tell which offensive lineman was closest to the pressure: Will Clapp (twice), Ethan Pocic, Toby Weathersby.
Line coach Jeff Grimes continues to rotate his guys at tackle. It's odd, given how late in the season it is. The tackle positions rotated by series. Here's a chart through the first three quarters: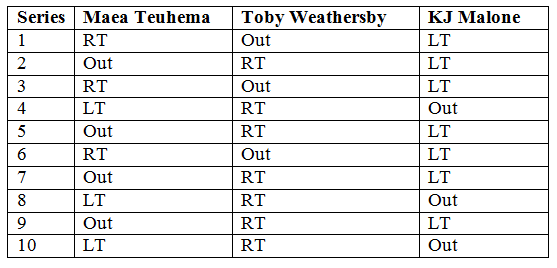 Monday Morning Quarterback (QB analysis)
Danny Etling's role in the game was minimal as the Tigers leaned heavily on the run game, but he managed to make the easy throws, specifically on second downs, to keep the Razorbacks honest. His throw on a 48-yard completion to Malachi Dupre was one of the better tosses of his season. 
Third downs, though, are still a struggle for the QB. LSU put the ball in Etling's hands on four third downs. He was sacked once, threw complete twice (both to Fournette and one of those for a first down) and, finally, he tossed incomplete to Dee Anderson. The Tigers continue to try to work in Anderson in the passing game. For whatever reason, it's not working out. 
Remember when Ed Orgeron twice this past week said LSU had installed new plays this week? We think we've found one of them.
Tight ends Foster Moreau and Colin Jeter both align in the backfield with Etling (white circle) and Darrel Williams. Etling keeps the ball on this play and gains about 2 yards in a rush up the middle. The two tight ends block left, and Etling follows them after faking a handoff to Williams (black line) to the right. 
Back It Up (RB analysis)
We've spent enough time already on running backs on big-play breakdowns and in the O-line analysis, but here's two numbers that should interest you: Derrius Guice broke five tackles in the game, and Leonard Fournette took two direct snaps. Below is a diagram of one of the direct snaps (both of them are similar). LG Will Clapp is the lead blocker around the edge, and FB J.D. Moore follows him.
Let's talk Fournette's injury. He limped off the field twice, first re-injuring that left ankle in the second quarter on the play diagrammed below. Arkansas defensive lineman Bijhon Jackson rushed, untouched, into the backfield, falling onto Fournette's left ankle. Jackson is 335 pounds. Why was Jackson untouched? We're not sure, because we don't know the assignments or the playcall exactly. (also, check out the bandage/tape on Fournette RIGHT left - not the leg that's hurt)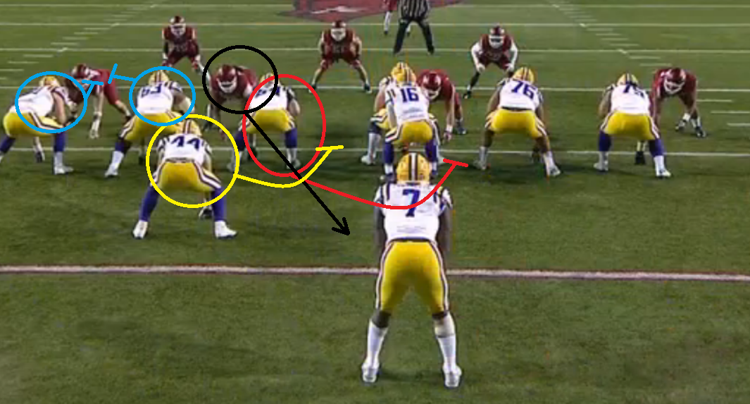 The red circle is Will Clapp. He pulls around center Ethan Pocic, and FB J.D. Moore (yellow circle) is supposed to fill the hole, it appears. Jackson runs by Moore while LT K.J. Malone and TE Colin Jeter (blue circles) take care of the outside man.
Up Front (DL analysis)
This group got pressure and won most of its one-on-one run defense battles, but those are obvious things one could acquire from looking at the stats. What you might not know is that Frank Herron played as many snaps as he's ever played, and it's because of an absence from DE Lewis Neal. Neal played the first two series of the game, and we're not sure he ever played again. His status is uncertain. 
Backer Bites (LB analysis)
Defensive coordinator Dave Aranda continues the installation process of his new defense. You can tell he's trusting his guys more, bringing them on blitzes more than ever. Through the first three quarters, Aranda brought more than four men eight times, including, as we wrote about above, many from LB Duke Riley. We are counting "blitzes" from Tashawn Bower (or any other time the Tigers brought more than four).
LSU played its base defense more than it has since the game against another pro-style-based program, Wisconsin. Through three quarters, the Tigers played the base 3-4 defense on about 30 of 43 defensive snaps. Bower served as LSU's fourth linebacker in the F-OLB role. Michael Divnity played a couple of series in that role in the fourth quarter. 
Break It Up (DB analysis) 
We'll spend just a bit on the secondary, specifically one play: Dominique Reed's 44-yard touchdown reception in man coverage against Tre'Davious White.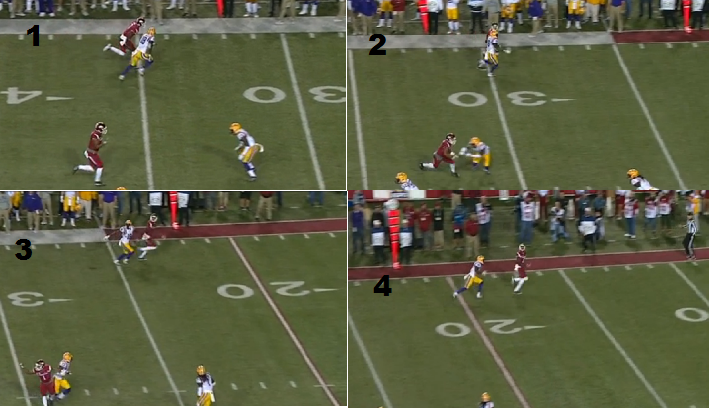 White is playing tight coverage against Reed at the 35
At the 30, Reed turns around and slows down, a savvy move that makes this play work
At the 25, White turns around, too, and he slows down while Reed speeds up
Reed gets separation and becomes the first receiver this season to catch a pass of more than 10 yards against White
Photos courtesy of ESPN.