Despite their previous relationship, Nick Brossette doesn't necessarily find it ironic that Tommie Robinson ended up being LSU's new running backs coach.
After all, the Tigers junior running back knew that Ed Orgeron worked with Robinson at Southern California, making Robinson a reasonable replacement for Jabbar Juluke.
But when Robinson was hired, Brossette said he was pleasantly surprised. The burly coach recruited the University High product when Robinson was at Texas and maintained contact with Brossette when he was at USC.
And Brossette is just fine with his new position coach being tough on him, knowing the third-string running back is battling for playing time in a brand new offense.
"I don't take it personally. He just trying to make me better," Brossette said with a laugh. "He told me he was going to be on me hard. Every little thing I do, he's on me about it. I just know he's trying to get me better."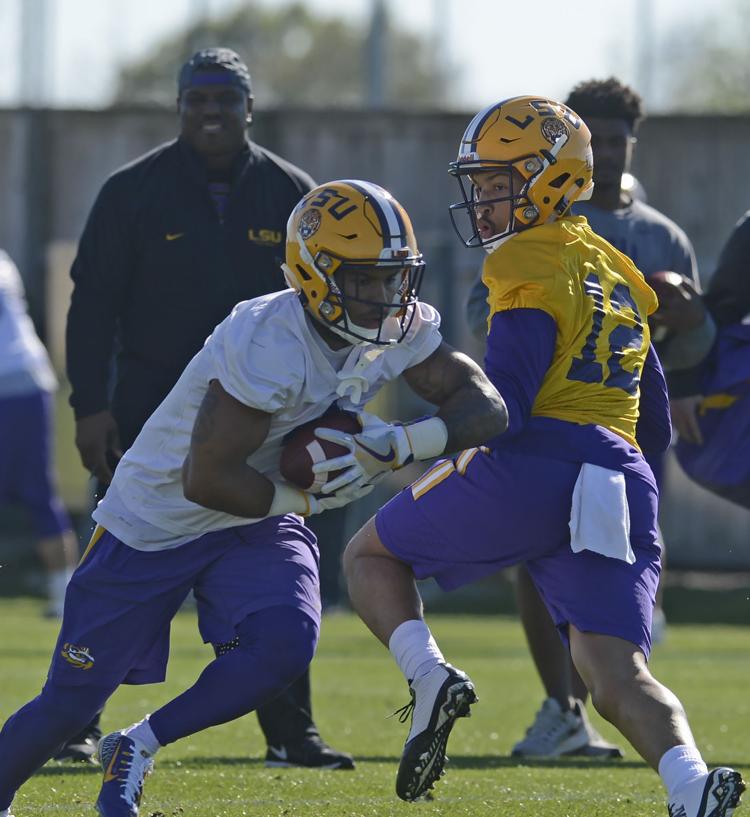 With Leonard Fournette headed to the NFL Draft, quality depth behind Derrius Guice is even more valuable. Only one freshman, Clyde Edwards-Helaire, is entering the position group this year, and Brossette has played sparingly through his first two years.
His freshman season was cut short due a season-ending ACL surgery, and he has just 27 career carries for 210 yards.
"Early on in my career, it was difficult," Brossette said. "I just had to be humble and just be patient. I know my time would come. God does things for a certain reason. I just have to wait."
Robinson wasn't afraid to display the tough love he gives Brossette in front of reporters at the Tigers' first spring practice last weekend, and he did it again Thursday during LSU's third day of drills.
While going through a gauntlet drill — where running backs are tasked with pushing through a series of weighted bags — Brossette received an earful from Robinson on two different occasions.
Robinson emphasizes pad level as much as anything else, Brossette said, especially in this drill. On one of his attempts in the drill, trying to adhere to the coach's instructions, Brossette lost his balance while pushing through the bags and fell face first.
"Stay up!" Robinson screamed.
"I just slipped on that one," Brossette chuckled to reporters.
The next time through, Brossette didn't fall, but he didn't get low enough.
"Too high, Nicholas! Bend your friggin' knees!" Robinson yelled, seemingly trying to clean up his language in front of cameras.
It's that kind of coaching that Brossette calls "old school," which is different from his previous position coaches but something he appreciates.
The 6-foot, 209-pound running back realizes Robinson coached LaDainian Tomlinson and Emmitt Smith while he was an assistant with TCU and the Dallas Cowboys, respectively, so he must know what he's talking about, Brossette suggested.
"It's just different from coach Juluke and (former LSU running backs coach Frank Wilson) and stuff like that because he's just always on you," Brossette said. "It's a good thing. We're just taking all of his knowledge that he taught to LaDainian Tomlinson and all those great backs — Emmitt Smith — and just putting it in our game."
Kevin Toliver's father sums up his son's sophomore season with one word: "Dang," he said, le…
Even if Robinson is the third position coach Brossette has had in three years, a shift in offensive philosophy under new offensive coordinator Matt Canada is the biggest adjustment for the running backs.
No longer are the tailback mainly used to run in between the tackles, as was the case under Les Miles and Cam Cameron. Canada is using the running backs in a myriad of ways and in different places, including as receivers in the slot or split out wide.
Running backs are sent in motion frequently and could be handed the ball on a jet sweep, Brossette said, which should remove safeties from the box when LSU does want to run it up the middle.
Though Brossette is still sitting behind Guice and Darrel Williams, his playing time may increase with these changes. Canada is known for using multiple running backs on the field at the same time, as well as rotating them frequently.
"I remember I was watching a couple of clips when he was at Wisconsin (in 2012) and he had Montee Ball and Melvin Gordon, and I think he had another running back (James White) playing, all at the same time," Brossette said. "You got to know how to catch the ball and run the ball, which we already know how to do."
LSU practiced in full pads Thursday for the first time this spring.