COLLEGE STATION, Texas — Ed Orgeron paraded around Kyle Field like a champion gladiator having bludgeoned his competitor in the Coliseum.
This was a victory lap on an opponent's field, a celebratory march across Texas A&M's turf after LSU's 54-39 rout of the Aggies. It was, possibly, a final hurrah for Orgeron as LSU's interim coach, his last march, potentially, with such a title.
Players drenched him with Gatorade. They hugged him, and he embraced them.
"Love you," tight end Colin Jeter whispered in his ear.
Some school administrators bear-hugged the big Cajun, and the small contingent of LSU fans remaining in the stands chanted, "Coach O! Coach O! Coach O!"
In the locker room, they were chanting something different.
"Keep Coach O!" LSU players boomed. "Keep Coach O! Keep Coach O!"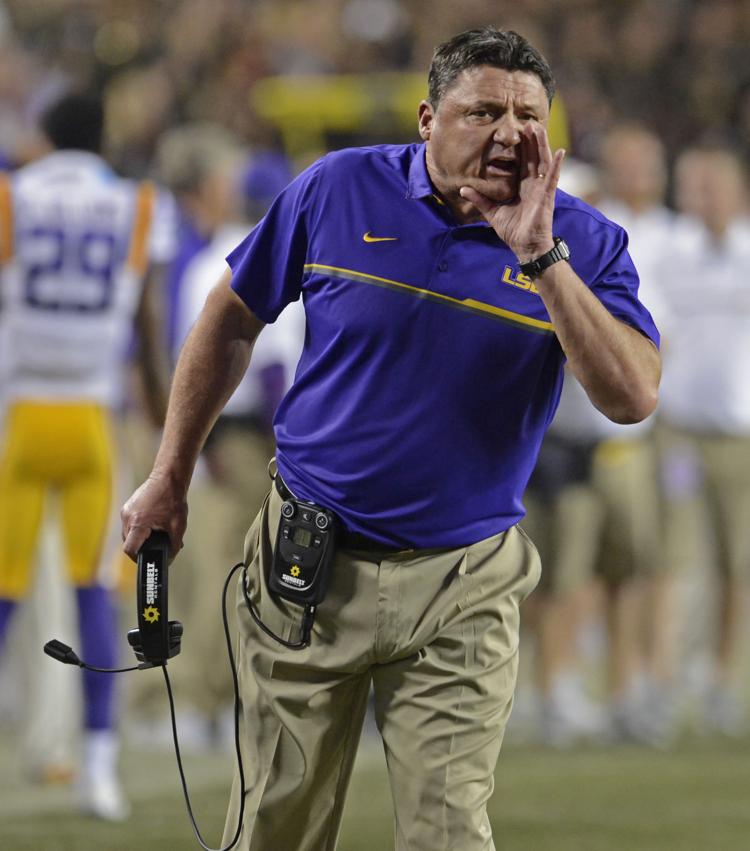 Orgeron's fate was uncertain in the wee hours of Friday morning. He was set to meet with LSU athletic director Joe Alleva later Friday, presenting to his current boss a long-term plan and vision for the program. That's expected to include the hiring of an offensive coordinator with a proven and successful track record.
Asked about the meeting twice afterward, Orgeron declined to speak about it or even confirm it. The 55-year-old was in no mood to discuss his uncertain future during this postgame celebration.
"We're going to celebrate the win tonight, I know that," Orgeron said. "I might have some oyster dressing when I get home."
His team put up 622 yards, at one point led 41-17 and cruised to a sixth straight win over the SEC West rival Aggies (8-4, 4-4 Southeastern) — all of it with four starters missing. The rousing victory — and the 5-2 finish with Orgeron as interim coach — does little to quell the disappointment of this year, though.
A team that started in the preseason top five finished the regular season 7-4 and 5-3 in the SEC, and it's likely bound for a lower-tier bowl, like the Liberty, Music City or Belk.
The Tigers came up 1 yard and an extra-point shy of a likely Sugar Bowl berth, falling last week in their home finale against Florida. Multiple sources told The Advocate that Orgeron was the favorite to land the full-time job if the Tigers had beaten Florida and A&M, which would have sent them to the Sugar Bowl.
Orgeron spoke Thursday night like a coach who knew he missed an opportunity.
"I just wish we would have beaten Florida," he said. "Came up short there. That's the only thing I'd like to take back."
COLLEGE STATION, Texas — The LSU football team was short four injured starters Thursday nigh…
They battled back, though, crushing an A&M team despite the absence of running back Leonard Fournette (ankle injury), linebacker Kendell Beckwith (knee injury), receiver Travin Dural (undisclosed injury) and outside linebacker Arden Key (shoulder injury).
They did it all while reports surfaced from HornsDigest.com and ESPN.com strongly linking Houston coach Tom Herman to LSU's opening. The school released two statements during the game, shooting down claims that LSU had hired a coach.
What seems certain: LSU is heavily courting Herman.
The reports — interestingly timed — sparked Texas officials to meet with Herman's agent, Trace Armstrong, late Thursday night, FootballScoop.com reported. The first report broke at 6:17 p.m., just 15 minutes before the Tigers kicked off against the Aggies. It seems to have put Texas and LSU into a high-stakes game for Herman.
COLLEGE STATION, Texas — On the field, LSU battled Texas A&M on Thursday night in its re…
In the week leading up to the game, reports surfaced about LSU's hunt to replace Les Miles, and a picture, although fuzzy, is beginning to emerge. As many expected, officials first reached out to Florida State coach Jimbo Fisher, and he spurned the Tigers earlier this week, ESPN.com reported. The school then shifted its focus to Herman, the 41-year-old, offensive-minded coach.
Asked about swirling reports, Orgeron said he hasn't "read one newspaper article or one Twitter or whatever you call that" this week, using his phone only to call his wife.
He sidestepped questions about his future during a nine-minute postgame news conference in the bowels of Kyle Field.
"Joe (Alleva) asked me to do my best on a daily basis. That's all been discussed. That's all I've done. I'm sure things are coming up. I'll take it one game at a time," Orgeron said. "I've been treated like the head coach here on a daily basis. I've not been treated like an interim coach. I couldn't be more appreciative of him and the president. It was a great opportunity for me."
Asked about his plans now, Orgeron said, "Go to work tomorrow."
Alleva embraced Orgeron with a hug and handshake in the tunnel outside of LSU's locker room. In a brief one-on-one with The Advocate, Orgeron was asked what he plans to say to Alleva during Friday's meeting.
"I don't want to comment on that," Orgeron said. "I really don't."
The difference between him and the man (Les Miles) that LSU fired on Sept. 26 is clear, he said. Just look in the locker room.
"We got some happy guys in there," he said. "When we took over, they weren't happy."
Players posted messages on social media backing their interim leader. Orgeron has won more games (11) in 15 games as an interim coach than he did in 35 games as head coach at Ole Miss (10). He went 6-2 in the interim at Southern Cal in 2013 after taking over for the fired Lane Kiffin.
"We want Coach O," center Ethan Pocic said Thursday night. "At the end of the day, we can't go burn LSU down if that doesn't happen, but we want Coach O. We were playing tonight for Coach O."
"These guys are close," Orgeron said. "They're my family now. We're family."
His squad unleashed a scoring frenzy on A&M defensive coordinator John Chavis, the former Tigers coordinator who left LSU for A&M after the 2014 season. Chavis and the school are still embroiled in a lawsuit over his buyout.
Orgeron, during his victory parade, spotted interim offensive coordinator Steve Ensminger on the field.
"Steve!" he yelled loudly, embracing his fellow Louisiana native. "Hung 50 on 'em, baby! You did it!"