ORLANDO, Fla. — Pete Jenkins is coming back.
LSU's 75-year-old interim defensive line coach will remain on staff in his position through next season and possibly beyond, he said during an interview after LSU's 29-9 win over Louisville in the Citrus Bowl on Saturday.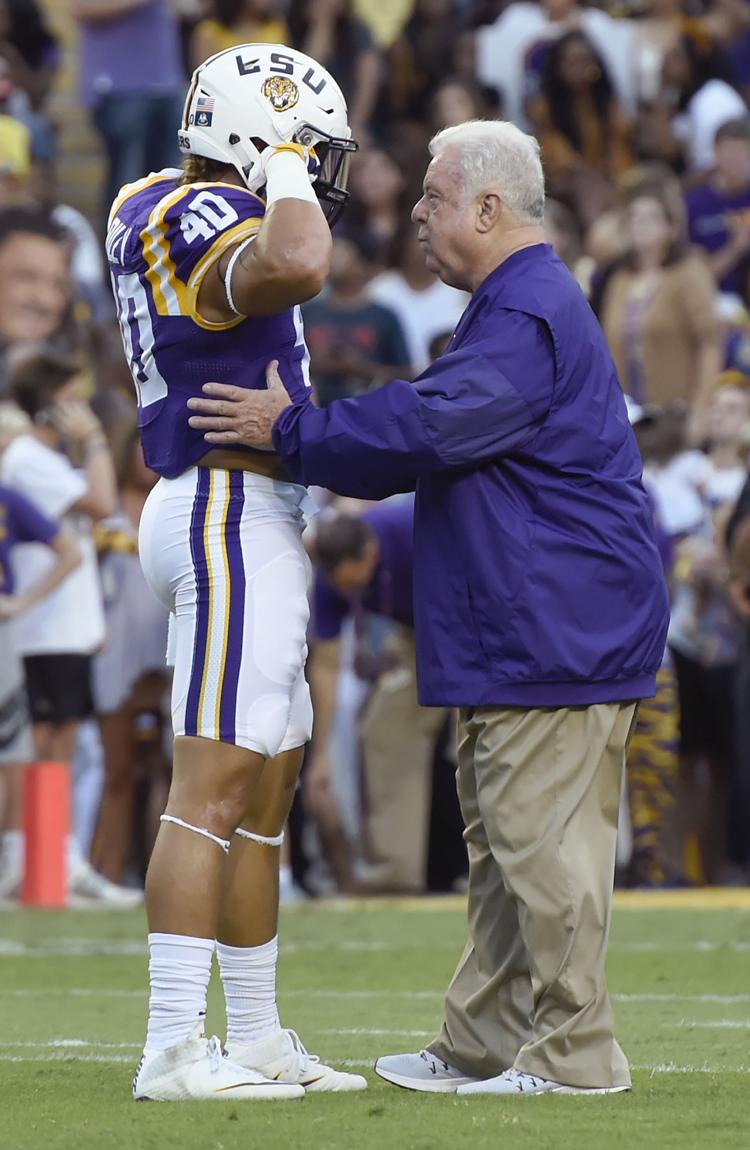 "Ed (Orgeron) and I have talked about it. I'm coming back next year," Jenkins said. "I've told him after that we just play it by ear, year by year, see how I feel this time next year. Just kind of see how I'm rolling."
Orgeron pulled Jenkins out of retirement when he became the interim head coach on Sept. 25 after the firings of coach Les Miles and offensive coordinator Cam Cameron. Orgeron said last month that he expected Jenkins to return to the staff next season.
Jenkins has been a hit with the Tigers defensive linemen. They've raved about his instruction and teaching, things Jenkins has used for the last 10 years as a consultant and a personal coach for college players preparing for the NFL combine.
"He's been doing it for years and years," defensive end Lewis Neal said. "He's taught me technique, made me better. He's got me all of the tools I need for now and for the next level too."
"I thank God each and everyday for bringing a great coach like Pete Jenkins into my life," end Davon Godchaux tweeted a few days ago.
Jenkins, a longtime college D-line coach with two other previous stops at LSU, is a close personal friend and mentor to Orgeron. The two have worked together for years, and Jenkins has served as a D-line consultant for the Tigers even before his addition to the staff.
Some in the coaching profession refer to Jenkins as the father of the 3-4 defense, the same scheme defensive coordinator Dave Aranda employed at times this season. Aranda expects to expand the 3-4 scheme moving forward, using a variety of hybrid athletes LSU has recruited to fit the system.
ORLANDO, Fla. — LSU receiver Malachi Dupre showcased his talent Saturday in the Citrus Bowl.…
Jenkins' unit accounted for seven of the eight sacks on Louisville's Heisman Trophy-winning quarterback, Lamar Jackson, during Saturday's rout in Orlando. Tashawn Bower (3 sacks), Arden Key (2), Davon Godchaux (1) and Rashard Lawrence (1) all sacked Jackson.
Jenkins emphasized pass-rushing during bowl practices more than he had earlier in the year, he said.
"It's a lot of effort. We've been coming in the pass rush area. It came a little slower than the run (defense). You've got to stop something. My saying is, 'Stop the run then have some fun,'" Jenkins said.
"I probably haven't spent the time on (pass-rushing) until just the last couple of weeks, but I can see it coming," he continued. "I knew they were really making progress in that area. They wanted to win this ball game. It was a challenge for them to play against a guy that quality of athlete (of Lamar Jackson). Proud for them."