The water felt awesome, Zach Watson said.
What water? The cup full of liquid that Kramer Robertson throws into Watson's face during a peculiar post-home run celebration outside of LSU's dugout.
"I was trying to cool him off," Robertson joked. "He's on fire right now."
Robertson continued what's becoming a daily tradition Saturday night in LSU's 11-6 win over Southeastern Louisiana, dousing the freshman outfielder with 8 ounces of water from those cheap paper cups that sit beside the water cooler.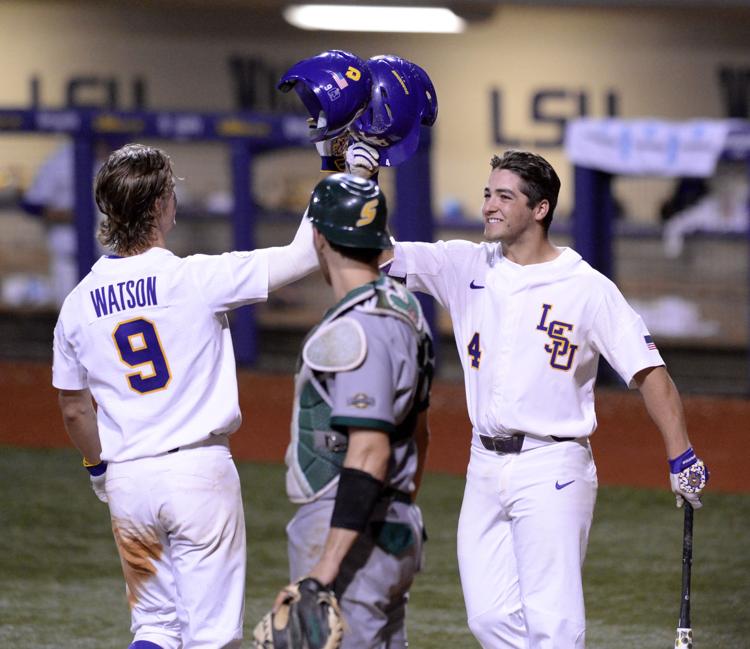 He did it twice – again.
Watson homered two times for a second straight night, sending a pair of rockets over the left-center field wall and helping the national No. 4 seed Tigers (45-17) win the most critical game of the Baton Rouge regional in a rocking Alex Box Stadium.
LSU is just one win away from advancing to a home super regional. The Tigers play the Southeastern-Rice winner at 8 p.m. Sunday.
Robertson began giving Watson a post-home run face bath Friday night during the first of Watson's homers in LSU's 15-7 regional-opening win over Texas Southern.
"Usually you do it in the dugout," second baseman Cole Freeman said. "We did it one time after he hit the home run (Friday). Superstition. Got to keep doing it after that. When something is working, keep doing it."
On Saturday, Watson launched a solo shot to start the fifth inning before slamming a two-run missile in the sixth, extending LSU's lead to 10-5 and all but securing the victory. The sixth-inning bomb was the farthest of any of the four in this regional tournament. It flew 443 feet, bouncing off the videoboard beyond the left-field bleachers and sending a thunderous roar through a standing-room-only crowd.
How rare is it for a ball to hit the scoreboard? Freeman said that's just the second one he has seen.
Fans showed their appreciation for the home run-hitting effort from the 6-foot, 160-pound Ruston native. After a groundout in the eighth, Watson jogged back to the dugout to loud cheers from those who stuck around.  
He deserved it.
Watson finished 3 for 5 on Saturday while batting fifth, not his normal No. 9 spot. First baseman Nick Coomes, the usual No. 5 hitter, missed Saturday's game while nursing a thumb injury he suffered Friday.
"Looked pretty comfortable in the 5 hole," coach Paul Mainieri said of Watson. "Don't know whether he's going to find his way to that 9 hole."
Kramer Robertson has seen enough baseball in his four years at LSU to know a thing or two about momentum, about its refusal to be tamed and it…
Watson added a third-inning leadoff single to those two long balls. His numbers during this six-game stretch are quite stunning: 8 for 21, 10 runs, 10 RBIs and, of course, those four homers.
"It's unbelievable," LSU slugger Greg Deichmann said.
He became the first LSU player to hit four home runs in an NCAA regional since Zeph Zinsman in the 2001 Baton Rouge regional. And, still, there's at least one more game left for LSU in this regional. His four homers in that 36-hour span doubled the amount he had over the first 60 games. 
This is something from Watson that Mainieri saw coming, the coach and other player said. It even dates back to fall practice, when a wide-eyed Watson was trying to hit off ace Alex Lange while learning how to play the outfield. (He played shortstop in high school.)
"I remember Coach Mainieri telling us, 'I just see something. I see something in him,' " Freeman said. "When you've been around the game as long as Coach Mainieri, I guess you've just got a knack for that. I would have honestly never would have expected what he's doing as a freshman."
Watson attributes this hot streak to an adjustment in his swing he made during batting practice before LSU's win Friday over Texas Southern. He began following through with two hands, instead of the traditional one-handed follow-through he has used all season.
Both of his shots Saturday soared high into the muggy Louisiana night. One hit a height of 90 feet and the other 145. They took more than 5 seconds each to leave the park, aided to a degree by a slight southerly wind.
What followed? That cup of water, naturally.
"Hopefully," Robertson said, "we can keep those up."