GREEN BAY, Wis. — Bea Froelich recoiled at the answer.
"What are LSU's colors?" she had asked.
"Purple and …" the 76-year old Green Bay Packers fan interrupted.
"Eh!" she said. "Purple!?"
She hates purple, let alone the combination of purple and gold. It reminds her of her team's fiercest rival, the Minnesota Vikings. Purple is frowned upon in this Wisconsin town, a distasteful shade that's met with the same reaction as crimson in Baton Rouge.
This is an NFL city, blanketed in Packers green and gold, full of Brett Favre monuments and Vince Lombardi shrines. College football is an afterthought, a giant step below the Packers and the NFL.
But on this Thursday afternoon, this town is changing, turning from pro to college, from the NFL to the NCAA, from the Super Bowl to the CFP.
There is a new purple in town.
"GOOOO!" a man yelled inside the Lambeau Field atrium.
"TIGAHS!" a group replied.
LSU purple is here.
The Tigers began invading Green Bay as early as Sunday night, one bar owner claimed, and they arrived in droves Thursday.
They filled hotel rooms — they're all booked within an hour's drive of the city. They swarmed bars — one Lambeau Field-area dive is stocked with 3,000 cases of beer, triple the number it sells for a Packers home game weekend.
"This will be the biggest setup ever here," said Jerry Watson, the 70-year-old owner of Stadium View Bar & Grille, one of the biggest and more popular bars in the Lambeau area. "That includes (Super Bowl parties) we've hosted."
LSU fans toured the Packers' home field and the franchise's hall of fame. They rented RV lots the size of football fields — one 30-person group, many of them Baton Rouge police officers, spent six days on the road traveling from Baton Rouge and parked 15 RVs a block from Lambeau.
They hung out of the windows of buses, screaming at Michael Sejbl, who was tending an outdoor bar two blocks from Lambeau on Thursday.
It was 10 a.m.
"We opened early," he said. "There were four Coach buses that drove by from the airport, filled with LSU fans."
They've all traveled 1,100 miles north, of course, for Saturday's big game: LSU vs. Wisconsin, the first college football game at Lambeau Field since 1983 and the first meeting between major college teams in the Packers' historic stadium.
Lambeau Field, a red brick and green steel structure, rises from the Wisconsin turf — some, of course, call this "frozen tundra" when the temperatures plummet. It sits among a Midwestern neighborhood, along Lombardi Avenue and near Holmgren Way. It's a cathedral of pro football, and you can see it from Froelich's kitchen window.
She gestures out the window to the towering namesake of Curly Lambeau, the Packers founder, former player and long-time coach. The only obstruction to the view of the structure is in her yard: a 7-foot-high remnant of an old oak tree.
Carved from the partial trunk, the Lombardi Trophy.
Welcome to Green Bay.
More than the Vikings
Ed Reeves slowly draws from his pocket a keepsake he smuggled out of Lambeau Field.
It's a white napkin. He opens it to reveal three pinches of deep green grass.
"From Lambeau," he said. "They had just cut the field."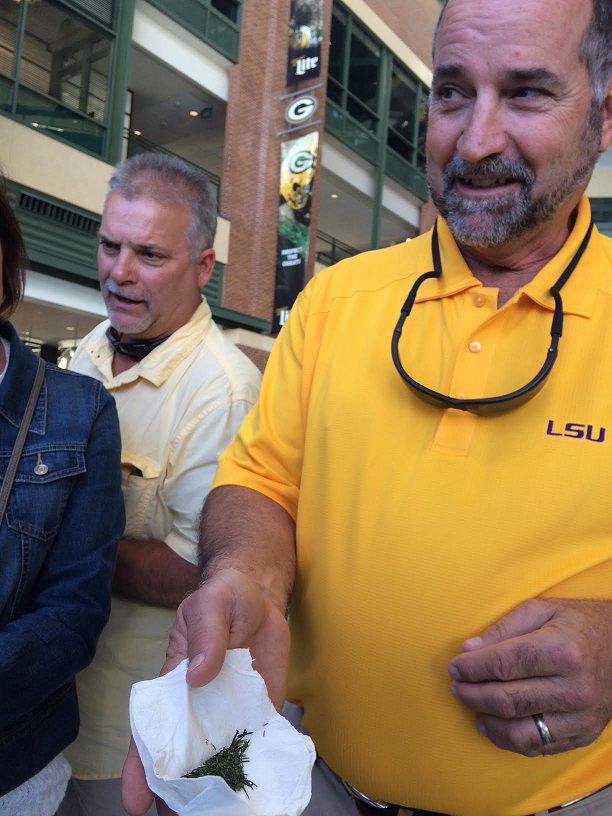 Reeves, of Plaquemine, is part of the Krewe of Buck-a-Lou, one of 31 members of a traveling LSU fan group who landed in Green Bay on Wednesday night and toured Lambeau on Thursday afternoon. They were the ones cranking up the "Go Tigers" chant.
The group chooses to travel to one LSU away game each season. They've gone to Seattle and Blacksburg, Virginia, but this stop has the makings of one of the better trips. They rented two seven-bedroom homes on a lake an hour north of Green Bay. The pantry was well-stocked with groceries — beer and liquor included — when they arrived, too.
"They sent me a five-page list of stuff," said Janet Perret, of Bring It! Errands & Delivery, a Green Bay-based food delivery service.
During the Krewe of Buck-a-Lou's six-hour travel here — commercial jets from New Orleans to Chicago to Green Bay — Perret did the group's shopping.
"We arrived, and the beer was cold!" said Reeves, delivering a pat on the back to Perret.
Many LSU fans are doing the same. The university sold 23,000 tickets to the game and expects 30,000 purple and gold-clad fans in the 80,000-seat stadium. The city is expecting 20,000 to 30,000 more fans, without tickets, in the tailgating area, said Brad Toll, president and CEO of Greater Green Bay Convention and Visitors Bureau. A large viewing and tailgating area is set up outside the stadium.
Toll spent much of his Thursday at Austin Straubel International Airport, located just outside Green Bay, welcoming gaggles of LSU fans to the city.
Seven charter flights landed at the airport Thursday, many of them 737 jets carrying a combined 800 people, Toll said.
A local high school band played LSU's fight song, and the city mayor and county executives were there, too, handing out purple-and-gold beads.
"It's unusual," Toll said. "Typically, when we're dealing with NFL teams, they're coming in commercial. We don't have packs of fans."
The new purple's in town.
"There's more purple than I've ever seen at Lambeau Field," said Katie Hermsen, one of the Packers' public affairs coordinators, glancing around the stadium at the hundreds of LSU fans touring the facility.
"Even more than the Vikings bring?" she's asked.
"Yep."
'We've never done this before'
On a normal Packers home game weekend, Watson, the owner of Stadium View Bar and Grille, orders 1,000 cases of beer.
"If I sell 800, we did good," he said.
He ordered 3,000 for this weekend. And that's not the half of it.
The weekend inventory at Stadium View is mind-boggling: 400 hot dogs, 10,000 brats, 3,000 burgers, 1,000 bags of ice and 100,000 plastic cups. He expects to have 300 staff members available over the weekend. That's nearly quadruple the norm for a Packers home weekend.
This is bigger than any Super Bowl, NFC championship game or playoff contest. Well, at least, in terms of fandom and hospitality.
"They anticipate 130,000 people being there," Wisconsin athletic director Barry Alvarez said.
The economic impact of a normal Packers home game on Green Bay is about $13.5 million, Toll said. He expects this week's game to bring in much more. Just look at the minimum nights for stays at local hotels. It's normally two nights for Packers home games.
"In this case," he said, "it's three and four nights, and some of the restaurants have gotten complete buyouts for events. That's unusual."
Hotel prices are as high as $700 per night. There are 4,300 hotel rooms in Green Bay and another 12,000 in the soldout area within an hour's drive — south to Oshkosh and north to Wausaukee.
"I'd say the vast majority are filled by LSU fans," Toll said. "I don't know if they told (LSU fans) about this game (before Wisconsin fans), but we took a lot of reservations from folks from the South."
Watson is ready, prepared for a pair of fan bases that like to party. But he's not exactly sure what to expect. His beer vendors have promised to be on standby Friday and Saturday, exclusively providing him supplies if he runs low.
"It's an unknown," said Watson, a Green Bay native with a thick Midwestern accent. "Nobody knows. We've never done this before."
The last time college teams played at Lambeau Field, St. Norbert College beat Fordham 18-9 in 1983. The year before, the Green Knights beat Fordham 14-10 at Lambeau in the Vince Lombardi Memorial Game. St. Norbert, located seven miles south of Green Bay, beat Mankato State College at Lambeau in 1960.
Back then, Walton drove trucks. For the past 25 years, he has been running Stadium View, expanding and adding to what's now a sprawling hangout on Holmgren Way, two blocks from the stadium.
He gestured out toward his parking lot, where two 18-wheelers, both full of beer, and four trailers, also full of beer, reside.
"We've never had that many trailers in the lot, he said. "I would tell you the amount we'd make Saturday, but it's more than most people make in a year."
Some of it, at least, will go to Baton Rouge flood relief. With each brat sold, a dollar will be donated to support the flood, he said.
"That'll bring in some cash," he said.
Ice Bowl
The ticket is in a clear sleeve inside a white binder, like all the others, but it's specially marked: "Dec. 31, 1967 Ice Bowl."
Froelich has had Packers season tickets since 1957. She has missed one game during that stretch of 59 seasons. She has lived a block from Lambeau Field since her and her late husband Bill bought their two-story, three-bedroom home in 1966.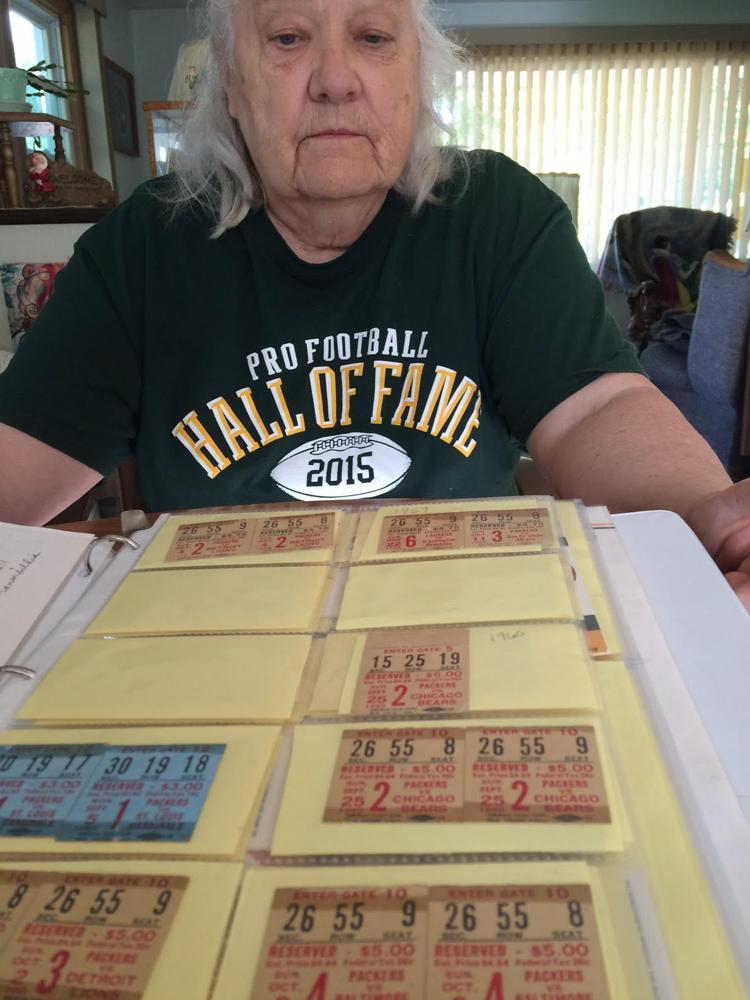 She's a survivor of two heart attacks, a grandmother to six and mother to three. All of them are Packers fans, and a handful of them, including Froelich, are attending Saturday's college game.
Froelich doesn't have every single game ticket since 1957, but she does have enough to fill two white binders, including one from the Ice Bowl — the '67 NFL title game between the Dallas Cowboys and Packers. The wind chill that day was negative-50 degrees.
Froelich was there.
The oldest ticket in her possession is a 1959 matchup between the Packers and Detroit Lions. The price on the ticket: $4.75.
"The price goes up as you keep flipping," she said, turning pages of tickets, each in their own clear plastic sleeve.
Froelich's street will be lined with cars, she said, by 7 a.m. Saturday. Many of them won't be the cars of homeowners, chimed in Barb, her daughter.
"People park their (own) cars on the street so they can charge for parking in their driveway," Barb said.
"She," Barb says, pointing at a neighbor's home, "will charge as much as $50 a car."
Froelich's seven-car parking lot is reserved strictly for family, but you must call ahead to reserve your spot. She doesn't charge to take photos of the unique version of the Lombardi Trophy, cut into that old oak tree.
The sculpture (of sorts) is an example of this pro city's love for its Packers. The chiseled oak is surrounded by a 4-foot-high black gate
"We didn't want drunks climbing on it," Froelich said.
College comes to town Saturday. Good luck with that.
"We've had Oakland Raiders fans here," she said. "We handled them."