Garrett Brumfield is from Baton Rouge.
He went to high school in the capital city, grew up here and, because of his ties to this place, decided to attend LSU. He has dozens of friends, acquaintances and family members around town.
And a few of them, he said with a smile, don't know his real name. They only know him by his nickname, and he's just fine with that.
After all, during his introduction to the LSU offensive line two years ago, Brumfield stood in front of his new teammates and made sure they knew what to call him.
"I'm Garrett, aka 'Bruiser,' " he said.
"AKA 'BRUIS-ER,' " he re-emphasized to the room.
The guy they call "Bruiser" could be the beneficiary of a banged-up bunch of blockers. He might get his first career start Saturday when LSU (3-2, 2-1 Southeastern) visits Florida (4-1, 2-1), replacing left guard Will Clapp.
Clapp injured his right arm in the second quarter of Saturday's win over Missouri and is "out for a little bit," coach Ed Orgeron said Monday. Clapp isn't the only one, of course. Toby Weathersby, injured in the season's third game, has missed the past two games with an ankle injury and seems doubtful to play against the Gators; he sported a walking boot Monday and, like Clapp, missed practice.
This is nothing new for a group that has been dinged up through the first five weeks. Each of the five starters to begin the year has missed some playing time or has changed positions midgame because of the injury bug.
Against Mississippi State on Sept. 17, four of the five linemen suffered an injury that sidelined him for at least a play. Against Missouri, two linemen missed at least a series because of an injury.
This Saturday, if "Bruiser" replaces Clapp, offensive line coach Jeff Grimes would start his fourth different group in six games.
"This season hasn't been the best for us, as far as guys getting hurt," right guard Josh Boutte said. "We've been facing a lot of adversity. We really came together in summer camp. It shows up when one guy goes down and the other guy is ready to go."
Leonard Fournette continues to remain absence from LSU football practice, a sign that the Ti…
Brumfield was ready Saturday. The third-year sophomore played the most snaps of his career in the 42-7 win, replacing Clapp for the final series of the second quarter and the entire second half. All LSU did in that game was rush for 418 yards, its most in an SEC game since 1976.
In fact, the former University High star made enough of an impact to draw praise from ESPN color analyst Jesse Palmer, who was calling the game for the SEC Network. Coaches didn't back down from pulling Brumfield on running plays, something they do often with Clapp, one of the top run-blockers on the team.
On one play, Brumfield pulled from his left guard spot to the right end, making a block that sprung fellow U-High alum Nick Brossette for a 6-yard gain and a first down. Earlier in the game, he shoved his man downfield more than 5 yards on a 20-yard burst from Darrel Williams.
"I feel comfortable with him in there," left tackle K.J. Malone said. "When Clapp went down, he stepped in there and did tremendous."
Center Ethan Pocic is the only starter not to have missed significant time with an injury this season — and he's battling what appears to be a left knee injury. Pocic missed practice last Monday and Tuesday but played against Missouri.
On Monday during the portion of practice open to reporters, he only watched during full-team drills, his left knee wrapped and braced.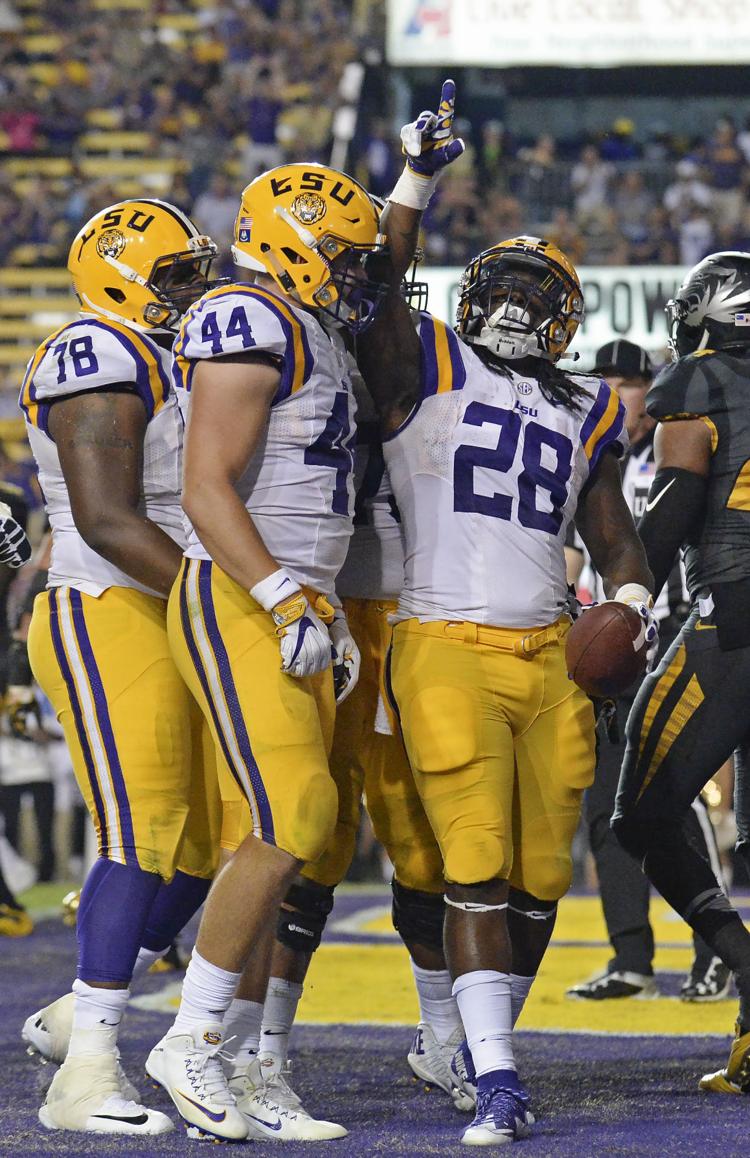 Everyone is banged up, and it's not just the Tigers. All four of Florida's starting defensive linemen are battling injuries. Defensive end Jordan Sherit and nose tackle Joey Ivie are not expected to play Saturday, Florida coach Jim McElwain said Monday, and tackle Caleb Brantley and end Bryan Cox are questionable.
LSU's offensive line can relate to the Gators' plight.
"Sometimes in the game, you look to your left and say, 'Oh, when did you get in?' " Boutte said with a laugh.
Grimes has his guys prepared for these types of situations. That was obvious during Monday's 30-minute practice, when LSU shuffled the line. At one point, Pocic played right tackle, backup Andy Dodd played center and Maea Teuhema moved to left guard.
Grimes does this each week, Malone said, rotating in backups "just in case," the junior said. Redshirt freshman Chidi Okeke swaps with Malone at left tackle, and Brumfield fills in for Clapp. Clapp, at times last week in practice, played center, and freshman Donavaughn Campbell rotates with Boutte at right guard. Okeke and Adrian Magee rotate at right tackle for Tuehema, Malone said.
"I practice so much with each guy," said Pocic, the line's seasoned communicator. "Communication is really the same."
Things appeared to run smoothly with Brumfield, who signed with LSU in 2014 as the No. 1 guard in the country, as ranked by ESPN. He redshirted and then suffered two ankle injuries in a seventh-month span, slowing him in preseason camp last season and in spring practice this year.
He's healthy now, bruising people like he did at age 8, when a youth football coach branded him with that nickname.
"It kind of stuck," he said.
The players also refer to him by a second nickname: "Broudini." It's a combination of Brumfield and Harry Houdini, the famous magician. Brumfield has practiced magic since he was 12.
At one point, Brumfield said, Florida (then coached by Will Muschamp) was his No. 1 school.
"Bruiser" had a change of heart.
"I want to travel the world and see all kinds of things, but I love Baton Rouge," he said. "I feel like I can do a lot for my city."