LSU defensive lineman Christian LaCouture might return for another season after all.
LaCouture, the victim of a season-ending knee injury in preseason camp, is "50-50" on returning next season, he said Friday on ESPN 104.5 FM's "After Further Review." LaCouture had planned to turn professional, he admitted, and he even participated in LSU's senior day.
Orgeron's hire as the full-time head coach changed things, he told the radio station. Also, his injury has likely dropped his NFL draft value, and a healthy year next season could thrust him higher in draft projections.
LaCouture plans to make a final decision by next Sunday, he said.
"I talked to Coach O and the staff quite a bit. They told me a lot of positives about coming back," said LaCouture, a starter as a sophomore and junior. "I think it's 50-50 right now. About a month ago, I would have told you it's 95-5 leaving."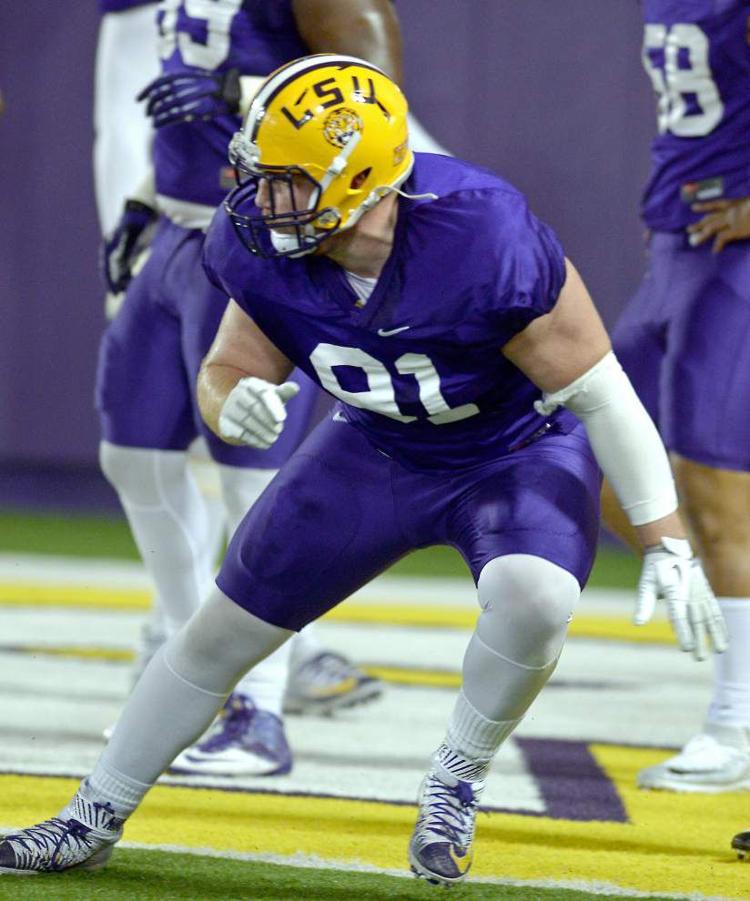 LaCouture is three months ahead in what was supposed to be a seven-month rehabilitation schedule, and he's expected to rejoin the team for bowl practice, he said. He torn the ACL in his knee during the first week of preseason camp in August. He also damaged the lateral meniscus in the knee.
LaCouture estimates that he's "90 to 100 percent."
"My knee is fine. I've been running and cutting," he said. "I was told during the year I could have played toward the latter part (of the season). I was going to end up practicing in some of these bowl game practices. That's the plan."
LaCouture entered preseason camp as a projected starter at defensive end in defensive coordinator Dave Aranda's new 3-4 scheme. The 6-foot-5, 300-pounder has started 23 games at LSU. 
He has not signed with an agent, retaining his eligibility. LaCouture has not used a redshirt; he played his freshman season. He could use the 2016 season as a redshirt year. Players have five years to play four seasons.
LaCouture was invited to the NFLPA Collegiate Bowl, a senior all-star game played yearly in Carson, California. He will not play in the game if he decides to return for another year of college.
LaCouture's return could be a boon for a program that might lose as many as 11 starters, including six on defense. Safety Jamal Adams, projected as a first-round draft pick, is expected to leave early for the NFL. Linebackers Kendell Beckwith and Duke Riley, defensive lineman Lewis Neal and cornerback Tre'Davious White are seniors. Defensive lineman Davon Godchaux is a draft-eligible junior. 
LaCouture ruptured his ACL during a drill in practice pitting the first-string offense against the first-string defense. 
"I blew up the guard and Leonard (Fournette) took off to the other side," he said. "I went to peek, and when I saw Leonard going that way, I planted on that right leg and I hit a little divot and it made my leg buckle and hyper-extend. My knee caved in. I felt this pop. I went down. I actually walked off on my own power."
The top target in LSU's search for an offensive coordinator remains available, but Alabama's…
LaCouture "broke down" when doctors delivered his MRI results the next day. Three days later, the worst flood in decades hit the Baton Rouge area, sending LaCouture and his family evacuating to a hotel for a couple of days. 
He lay on his bed while his parents carried out flood-damaged furniture from their home. The family lost two cars in the flood.
"It was really rough," he said. "We're good now. House is up. All we need is our sink.
Dave Aranda's LSU defense finished the regular season having allowed the second-fewest touch…