It started with a 44-yard wheel route to, of all people, a 260-pound fullback split out as a wide receiver.
It ended with a 15-yard touchdown on a forward pitch to an H-back.
In between, a tight end caught a shovel pass for 8 yards, and a running back went 8 more on an off-tackle zone play.
Four different players at four different positions got touches on Pittsburgh's game-opening five-play touchdown drive against Clemson last season. Despite three passes, no receiver even caught a ball.
Welcome to the offense of Matt Canada.
"We want them to be a little uncomfortable," LSU's new offensive coordinator said in the spring while speaking at a coaching clinic. "We are on offense. It's offense. Be offensive! We don't want them lining up saying, 'Here we come!' "
Canada's offense is known for so many attributes: the pre-snap shifting and motions, the jet sweeps and shovel passes, the fluctuating tempo and the array of formations.
Quarterback Danny Etling says there's another aspect, this one more overshadowed: distribution.
Two weeks into LSU's preseason camp, players paint a picture of a new offense that's not so reliant, as the old one was, on one rusher or one or two receivers.
"I don't know if our offense has a No. 1 guy," Etling said. "We're going to spread the ball around and give everybody a chance."
No No. 1 guy? Not the record-breaking Heisman Trophy hopeful, Guice, or the only returning starting receiver, D.J. Chark?
Guice is asked how this offense will suit his strengths, and he responds flatly, with a one-sentence answer, chuckling as it leaves his mouth: "It will make me a better team player."
In other words, this isn't LSU's offense of old. The numbers don't lie.
A comparison of Canada's last three offenses (2016 at Pitt and 2014-15 at N.C. State) and LSU's past three offenses (2014-16) reveal the difference in ball distribution between the two systems.
The number of players with 20 or more rushes over those three years is 14 at LSU and 18 in Canada's offense. The number with 10 or more catches is 17 at LSU and 23 under Canada.
The most striking difference: players who scored touchdowns, running and receiving. Canada has had 49 players score in his past three offenses. LSU had 36.
"I think our players enjoy the chance that (the offense) is going to be more than just, 'We're going to line up one way and it's going to be these three plays,' " Canada said in an interview earlier this month published on the school's website. "Hopefully the creativity we try to have gives them something to be excited about."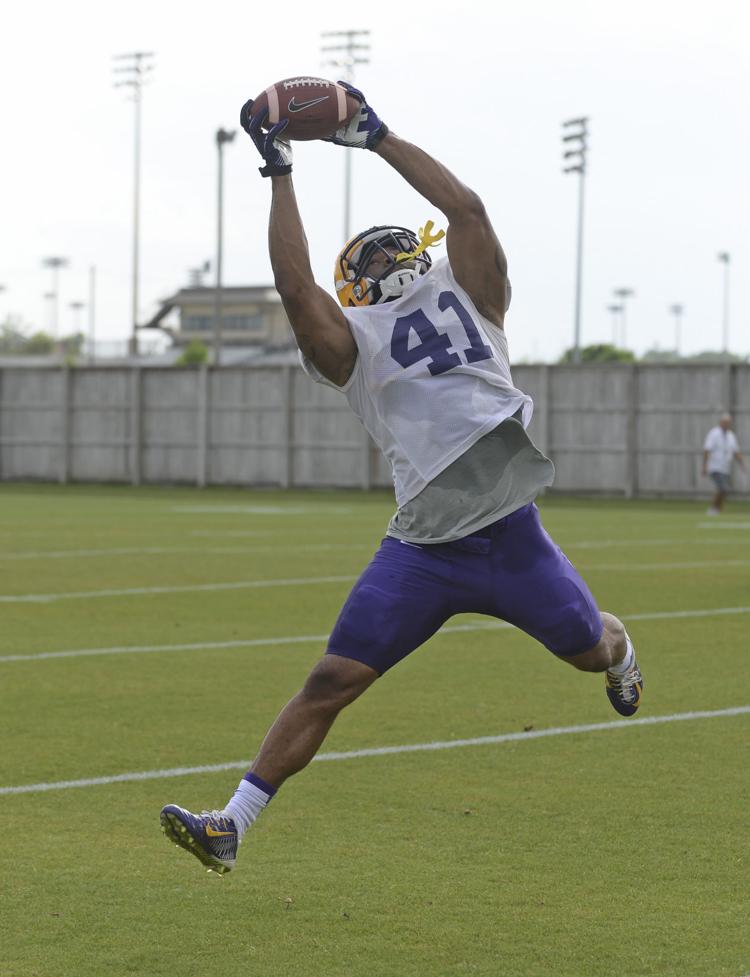 It might not mean a running back, like Guice, gets 300 carries in a season or a receiver, like Chark, get 50 grabs. It does mean a fullback-turned-H-back, like David Ducre, or a little-used wideout, like Derrick Dillon, will get more touches.
Receivers are expected to get more rushes and running backs should get more receptions. Guice said in the spring that he was motioning out at receiver "a lot," and Chark told reporters this month that a host of receivers are working as Canada's ball carriers for jet sweep runs.
There is a method to Canada's madness. He spreads around the ball with purpose and planning. Sometimes, the distribution is the result of a Sunday night film session with players that the coach refers to as "Where's Waldo?"
The Waldo is the opposing defense's weakest player. Each Sunday night during game weeks, a film session takes place identifying the Waldo and mapping out ways to exploit him.
"The key to that matchup for us was getting our best player or players on the Waldo," Canada said at a clinic in March, referring to the game against Clemson.
The Panthers that day beat the eventual national champions 43-42. They did it by having six players rush the ball and seven receivers catch it.
Welcome to the offense of Matt Canada.
"We have a lot of personnel groupings," Etling said, "getting a lot of guys involved. The morale is good because all of the involvement we get across the ball."
They are nameless. You used to call them tight ends. You used to call them fullbacks. Now, you don't know what to call them. Don't fret. They don't know even what to call themselves...
---
---
SPREADING IT AROUND
Matt Canada's last three offenses spread the ball around much more than the Tigers' last three offenses.
| | | | | |
| --- | --- | --- | --- | --- |
|  Team |  Year |  Players with 20+  rushes |  Players with 10+  catches |  Players to score  TDs |
|  LSU |  2016 |  4 |  7 |  14 |
|  LSU |  2015 |  4 |  5 |  12 |
|  LSU |  2014 |  6 |  5 |  10 |
|  Totals |  --- |  14 |  17 |  36 |
|  Pitt |  2016 |  7 |  7 |  15 |
|  N.C.State |  2015 |  7 |  8 |  15 |
|  N.C.State |  2014 |  4 |  8 |  19 |
|  Totals |  --- |  18 |  23 |  49 |