Of all the plays Jamal Adams could have chosen as his best in three years at LSU, he chose a block, of course.
Not a game-saving tackle or a highlight-reel interception.
Not a thunderous sack or a third-down pass deflection.
A block.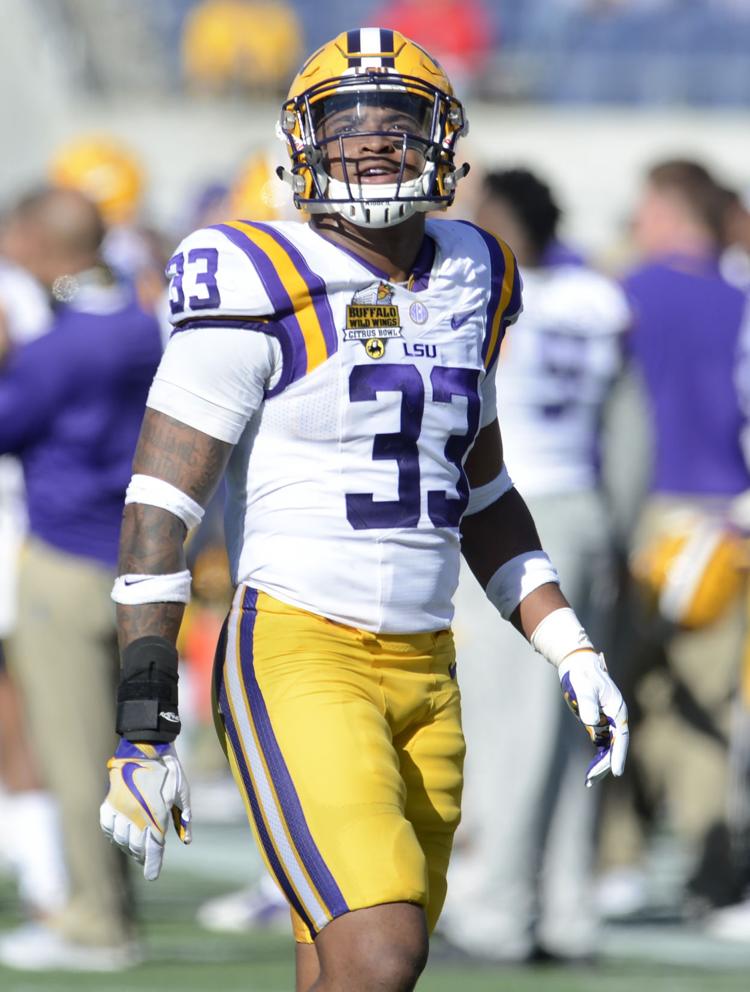 "It was a play that really, I think, sparked and set the tone for my career at LSU," he said of his crushing block during Tre'Davious White's punt return for a touchdown against Kentucky in 2014. "I think that play just set the tone. I finished the game strong. I was kind of MVP of that game. From then on out, I never looked back. The rest is history."
Adams made what many feel is a wise decision. He's going pro.
LSU's All-America safety announced Friday morning at a news conference that he's bypassing his senior year and entering the NFL draft, becoming the third LSU player from this past season's team to make that announcement.
Adams is projected by some as a top-15 pick, and he has the potential to significantly improve his already lofty ranking with solid outings at the NFL combine, LSU's pro day and other workouts.
He'll begin training Wednesday at the EXOS performance center in Phoenix, arriving at the facility to prepare for something his father knows a lot about. George Adams, a former Kentucky running back, was the 19th pick of the 1985 NFL draft, and he played six years in the league with the Giants and Patriots.
"Today just brought back old memories," George Adams said. "I'm really enjoying more him leading up to the draft than me. It's something special when you see your kid do the same thing you have done — follow in your footsteps."
Many believe the son will get selected earlier than the father.
WalterFootball.com named Adams the second-best safety in the 2017 draft class. Matt Miller, a draft analyst for Bleacher Report, called Adams a "lock for the top 15."
The announcement Friday was all but a foregone conclusion to some, but Adams said he hadn't decided until just before LSU's Citrus Bowl win over Louisville on New Year's Eve.
"I kind of made the decision before the Louisville game but, at the same time, I was kind of iffy," he said. "I sat down after the Louisville game with my parents and family. I definitely told the team. I told most of the guys that I loved them and that I was moving on. But a lot of them joked with me and said, 'One more year.' But I made a decision, and I'm moving on."
Adams spent much of the past month shooting down reports linking him to turning pro. Adams fueled a 2017 Heisman Trophy campaign on Twitter, retweeting LSU fans who posted messages about it.
"There's been people saying, 'Why were you saying Heisman? Why were you saying this and that about returning?' " Adams said. "It wasn't to try to trick anybody. It was to just stay focused and be where I am. I didn't want to be anywhere else. I wanted to focus on the team. I wanted to win. I wanted to go out and beat Lamar Jackson and the Louisville Cardinals."
Adams joins running back Leonard Fournette and defensive lineman Davon Godchaux as underclassmen announcing their early departure. Godchaux and Fournette have signed with agencies, and Adams plans to do the same, he said. Coach Ed Orgeron continues to recruit junior receivers Malachi Dupre and D.J. Chark to return for their senior seasons. The deadline for underclassmen to declare is Jan. 16.
Adams steadily climbed the ladder with the Tigers, arriving as a five-star prospect out of Texas in 2014 and finishing this year on some All-America teams. He evolved into a starter halfway through his freshman season, not so surprising for a player billed as the top-ranked safety prospect in 2014 by Scout.com.
You don't have to remind former LSU coach Les Miles about that.
"He was constantly chattering in the backfield there," Miles said. "It made a difference to our secondary. When he was in the game, there were less busts. His view of the secondary and his (communication) were exactly right. He had so much energy. He brought every practice up several notches."
Les Miles isn't giving up yet. 
Adams invited Miles to the news conference in LSU's administration building and thanked him in a prewritten address. During Adams' address, Miles stood near the man who replaced him and the guy he hired in 2015 to coach his defensive line, Ed Orgeron.
"I told my father to invite Coach Miles," Adams said. "I definitely wanted him here. Family guy. I love Coach Miles to death. I love Coach O to death. Two great guys, two great head coaches."
Adams was the passionate, loud leader of a defense that ranked 10th nationally, playing so well that LSU quarterbacks developed the "Jamal Adams Rule" to account for him during spring and training-camp scrimmages. The 6-foot-1, 210-pounder reminds some of former LSU safety and current Arizona Cardinals standout Tyrann Matheiu, and one analyst called Adams a "freak."
He showed his skills early on — especially with the block he threw on White's punt return, lowering the boom against his father's alma mater.
"It was a great block," Miles said. "We used it as an example of what to do in those situations."