Arden Key is entering LSU's game against Florida with a number in mind: three.
"I want to (tie) the school record, get it on Florida game and send them (seniors) out with a bang," the Tigers' sophomore outside linebacker/end said Monday.
Key is three sacks away from tying LSU's single-season record. The rangy, 6-foot-6, Georgia native faces a banged-up offensive line when the 16th-ranked Tigers (6-3, 4-2 Southeastern) host the 21st-ranked Gators (7-2, 5-2) on Saturday in Tiger Stadium.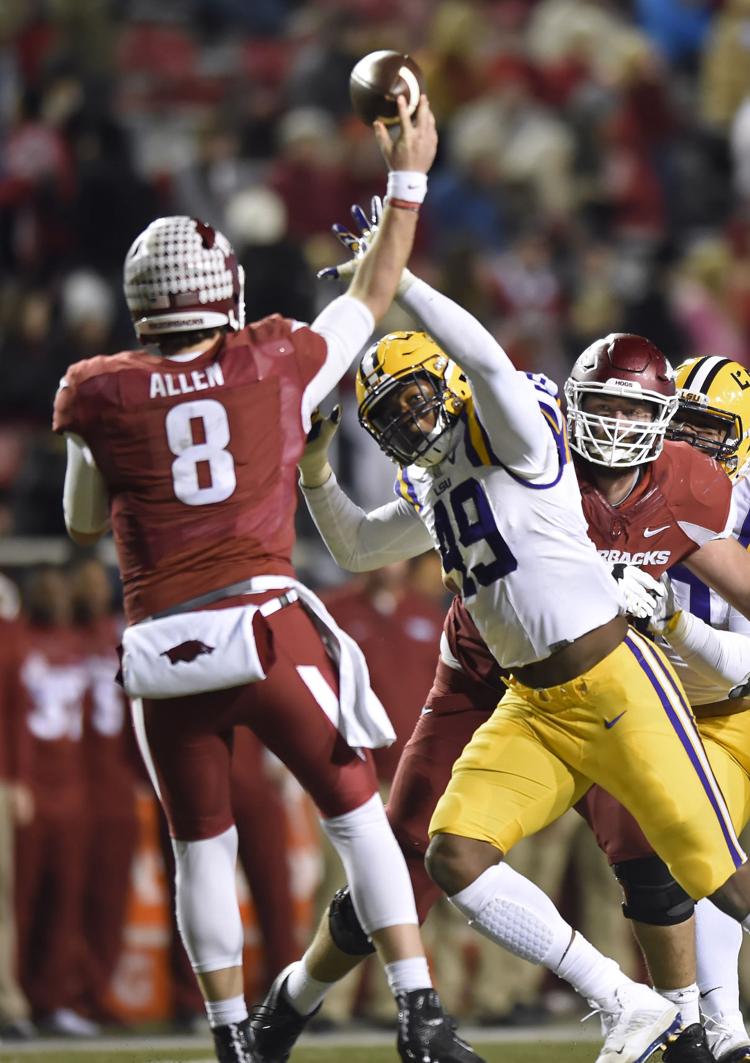 Florida will be without two starting offensive linemen and a third, Tyler Jordan, is questionable to play. UF's injury situation is dire enough that coach Jim McElwain needed to play his third-string center in a 20-7 win over South Carolina last game.
In all, seven starters will miss this week's game at LSU. McElwain joked about the situation Wednesday on the SEC teleconference.
"Well, I have been toying with the idea...you know, back in Montana, they got a little eight-man league. I've been thinking about calling in, seeing if we can just maybe play eight-man football and go at it that way," he said. "But, no, there will be some guys in there. We'll put 11 out there, and they'll go do what they can do."
Key's sights are set on that sack mark of 12, set in 1989 by Oliver Lawrence. Key's nine sacks are tied for fourth all-time with five other players. Most recently, Sam Montgomery finished the season with nine sacks in 2011.
Getting three sacks in one game isn't impossible. He's had a pair of two-sack games during a rousing start to this season. Key flew through the first five games with seven sacks. He's rolled up just two in the last four games.
His preseason goal of 20 is out of reach, he admits, but that record is there for the taking with at least three games left in the year.
"I've got to pull something amazing to get the 20," he smiled.
Saturday won't be Leonard Fournette's final game in Tiger Stadium -- at least he's not admit…
His sack record, though, isn't the top priority. The big deal this week is proving who's the real "DBU," Key said. For years, Florida and LSU defensive backs have fought with each other – sometimes, even, over social media – over the title, both claiming to be the nation's best program for defensive backs.
"I know they call their self DBU. We call ourselves DBU," Key said. "We're just going to see who the best DBU. That's the main topic."
There's more to this meeting, of course. The two teams were scheduled to play six weeks ago before Hurricane Matthew's projected path postponed and, eventually, relocated the game to Baton Rouge.
"Either way it goes – they play here or there – it's going to be hard for them to get the W," Key said. "I don't feel like they were going to get the win when we first was supposed to play them and now."
SIGHTS ON SACKS
Arden Key is three sacks away from tying LSU's single-season school record.
 Player

 Sacks

 Year

 Oliver Lawrence

 12

 1989

 Gabe Northern

 11

 1994

 Rydell Malancon

 10

 1981

 Six at 9