Everyone has a Greg Deichmann moment seared into their brain.
The things the LSU junior outfielder does with his — what shall we call it, neon? — bat often defy explanation, leaving that scorched image in place of words. There are few, if any, in college baseball who can match the sheer majesty of a ball launched off Deichmann's 33.5-inch, 30.5-ounce, green DeMarini.
"He's head and shoulders above everyone else with how far he can hit a baseball," LSU senior shortstop Kramer Robertson said.
It doesn't matter if you are too far away to see the uniform. When Greg Deichmann steps up w…
Quantifying his feats of strength is easy — at 19 homers and counting, Deichmann is among the national leaders in home runs. Qualifying them is another matter entirely because of their stupendous nature. Words to answer the question on the tip of everyone's tongue — How the hell? — escape those witnesses.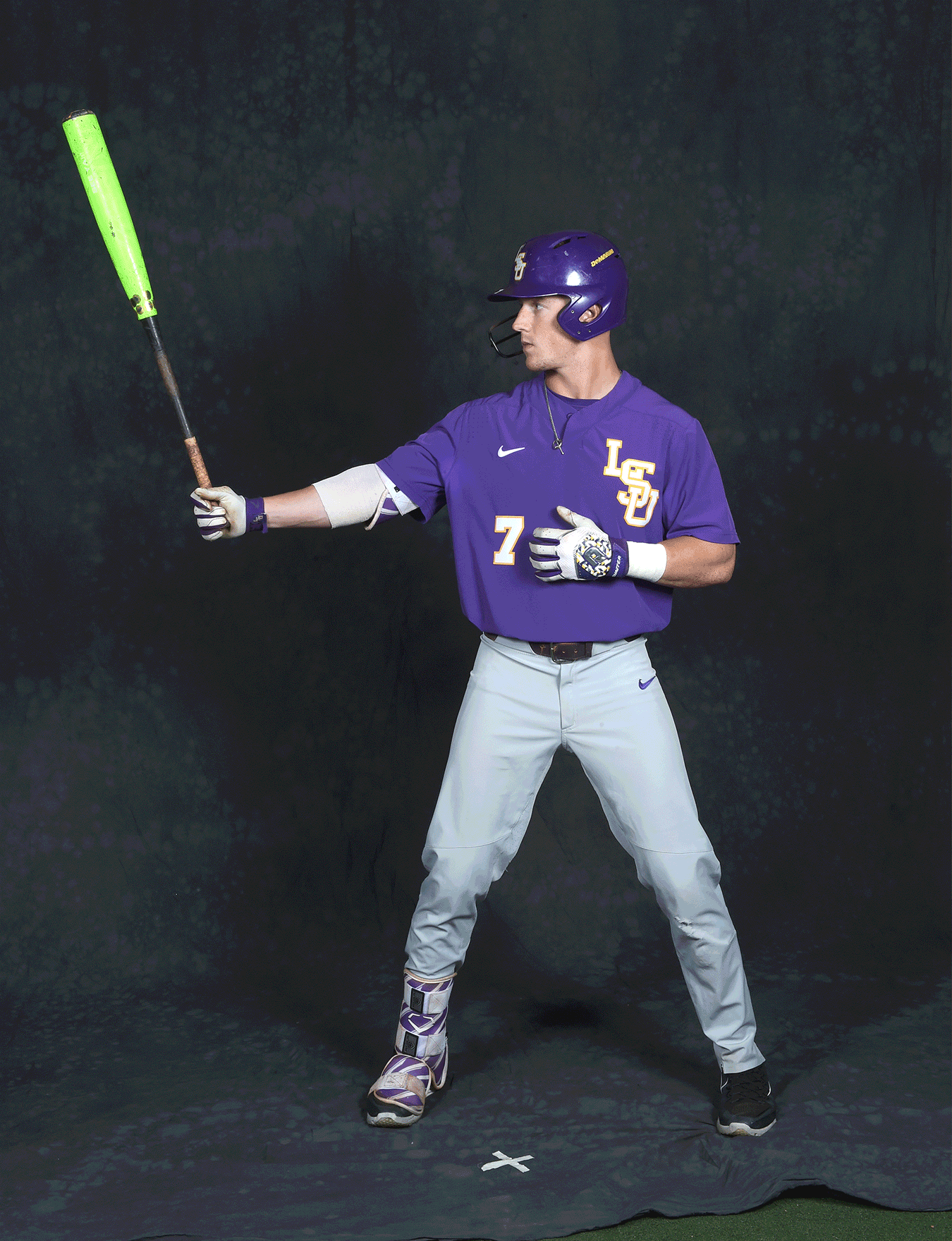 This is pure, unfiltered power. His regular homers eclipse the upper limit of most of his teammates. The casual way he hits them leaves heads shaking.
"He'll hit balls over the bleachers all the time," hitting coach Micah Gibbs said. "He hit a ball at Mississippi State off the base of the scoreboard during practice. You just don't see that kind of power."
His athletic frame coils as the pitch makes its way to the plate. He takes a slight step to load his weight on his back foot, then — WHOOSH! — he unleashes rage in a furious fraction of a second.
His neon green bat zooms through the strike zone to punish a ball that had the audacity to try and sneak its way past. The ball soars to some new height, some previously unreachable part of the park in some way that doesn't make sense.
Necks crane. Jaws drop. Deichmann trots.
His tool of destruction is as eye-catching as his home runs. It is a custom-made DeMarini bat. Its blazing green color attracts the eye like a moth to flame.
Before he was Greg Deichmann, Destroyer of Fastballs, he was an unknown commodity. His freshman season was lost to injury and time spent on the bench. Much of that year, he was using a plain bat he described as neutral in color.
Late in the season, though, the team was given the option to customize. Deichmann's eyes were drawn to the flashy green offered by DeMarini. He figured he would never use it in a game, that it would be a sort of trophy bat.
His opinion changed when he finally got a chance to put it to the test in fall practices before his sophomore year.
The great duos always sound like their names should go together:
Did you hear it, during some of the rare quiet moments at Alex Box Stadium this season?
"I started having a great fall and coach (Paul Mainieri) goes, 'If you use that, you're going to have to be a presence in the (batter's) box. That's something that can be really intimidating if you use it right,' " Deichmann said.
The words have rung true. Deichmann and his bat have made plenty of lasting memories since.
THE CAMERA SHOT
The Bunyanesque legends really started about this time last year. This one is memorable for both its high degree of difficulty and its perfect timing.
LSU trailed by one run in the seventh inning of its regional championship game against Rice when Deichmann came to the plate with a runner on. Willy Amador grooved an 0-1 fastball out over the plate, and Deichmann walloped it.
The ball sailed into the wind and crossed the wall just to the left of the 405-foot marker in center field, striking the camera positioned behind the fence for a two-run, go-ahead smash.
This shot tops Deichmann's personal list, "just because it was such a big moment. It was an impressive shot, too. That's probably my all-time favorite so far at LSU."
He hit a ball out of the deepest part of the park — fading it toward the opposite field, no less — in the biggest situation. The confluence made that home run especially memorable.
"He's a big, strong guy, if he gets the ball up to his pull side, it doesn't surprise me when he hits one that far," Robertson said. "But to do it in a game, how he did it last year in that situation, the Rice home run is the one I'll always remember, just because I thought there was no chance.
"With how the wind was — the ball doesn't carry well at this field — and he went left-center off the TV camera. I remember thinking, 'How? How did you do that?' "
THE UNBROKEN
Deichmann was poised for a breakout 2017 season. He closed 2016 on a tear, clubbing five home runs in 10 postseason games. The lifelong infielder also spent his summer and fall learning how to play the outfield, guaranteeing himself everyday playing time.
All that was nearly lost a week before opening day, when a pitch from freshman left-hander Blair Frederick struck him in the face.
Deichmann went down in a heap. The pitch struck his cheek, leaving a dent where it impacted. Alarm bells rang in Baton Rouge.
But for such an unfortunate occurrence, Deichmann was actually lucky.
He fractured his right cheekbone in three places, but the damage was purely cosmetic. The bone struck by the pitch was not a functional bone, but a structural one. If the pitch had been a half inch left, right, up or down — well, Deichmann tries not to think about that.
"I might've been blinded," Deichmann said. "It was just a little structural thing, a little cosmetic surgery got it all fixed. I was fortunate it didn't hit an inch to the right or to the left, that I met the great doctor that got me back in 48 hours."
A week after the incident, Deichmann found himself in the opening-day lineup, batting cleanup and playing right field. He wore a customized helmet that included a face mask. It did not hamper his vision.
In his first at-bat of the season, Deichmann demolished a two-strike changeup, sending it an estimated 414 feet to right-center field for a two-run home run.
This will be the LSU coach's sixth trip to Omaha for the College World Series, five with LSU…
His legacy was on the line.
Mainieri is still in disbelief.
"He'd just gotten hit by a pitch in his face and broke his cheekbone seven days earlier," Mainieri said. "He stepped right back into the batter's box without any hesitation to hit a home run in his first at-bat.
"At that point I knew this kid had a lot of courage and nothing was going to derail him from having a great year."
THE BENDER
Gibbs can't recall exactly where Deichmann left him at a loss for words, but he won't forget the flight of the ball.
He remembered chatting with Deichmann last season about balls Barry Bonds used to hit, the ones that didn't obey convention. They were the pitches he'd turn on and send toward foul territory in right field, only to see them curve back into fair territory and leave the yard.
Balls hit to the pull side don't generally behave that way.
"That's just the ultimate in keeping your hands inside the ball but also having that power and extension — it's like the perfect swing on an inside pitch," Gibbs said.
Usually, that type of flight path is reserved for balls hit the other way. Gibbs has seen only a few hitters capable of doing it to pitches they turn on.
Sure enough, Deichmann is one of them. Gibbs described it like watching a golfer shape a shot around a tree, only that, to make the analogy work properly, you'd have to have the golf ball moving in excess of 90 mph before it was smashed.
"He hit it going straight down the line almost foul and started working its way back and went 10 or 15 feet fair," Gibbs said. "I was like, 'Hey, there we go.'
"He perfectly faded it for a home run. You don't see people that can make a ball do that in the first place, let alone for a home run to the pull side."
THE INTIMIDATOR
When Deichmann's coaches and teammates were picking that one moment, it was almost uniformly followed with the addendum, "and, obviously, the Hofstra home run."
Because, really, who could forget the Hofstra home run? This wasn't a situational gem or a niche homer that makes a hitting coach geek out. This was something every single person could appreciate for its brazen disregard for gravity's constraints.
This was the day in March when Deichmann hit a baseball over the Intimidator billboard that stands beyond the right-field bleachers.
Off its facade would have been impressive enough — many LSU players say the only player they've ever even seen reach it is Deichmann.
But over it? Deichmann stands alone.
The final verdict, according to LSU's TrackMan data system: the ball left his bat at 108 mph, stayed in the air for 6.5 seconds and carried an estimated 486 feet.
That night, Deichmann said the thing that felt best about the blast was that he didn't feel it at all.
"When you hit a ball like that, you really don't feel it," Deichmann said. "It's kind of one of those things that nobody knows how to describe. It's the best feeling in the world, but there's no feeling when it comes off the bat."
THE AS-YET-UNNAMED
If there is a downside to these moments in time when Deichmann left those around him in awe, it's that the grandeur tends to overshadow the more low-key strides Deichmann has made as a player.
Yes, he is a feared power hitter. Going into the College World Series, only 15 players have more home runs than Deichmann this season. But LSU may not have made it to Omaha, Nebraska, if it wasn't for the fact Deichmann was not just a power hitter this season.
His batting average, at .320, is 32 points higher than it was last season, giving LSU more consistent production when he is not leaving the yard. His on base percentage of .429 spiked by 83 points as he's shown more willingness to work deep into counts. He developed into a solid right fielder with one of the best outfield arms Mainieri has ever had.
This was part of the reason Deichmann came back to LSU in 2017, turning down an opportunity to sign professionally with the Minnesota Twins.
"He was ready for pro ball if he wanted to do it," Mainieri said.
He stayed a year to refine his game. He said the improvement started with his mind, developing an understanding of how pitchers would try to attack someone so capable of changing a game with one swing.
He recognized how much of the plate he could truly cover and started utilizing the entire field. He forced himself to be patient, working into advantageous counts in order to get one of those pitches he could crush, or if it didn't work out that way, to take a free base.
It made him a much more attractive prospect, leading to his selection with the 43rd pick in this year's draft to the Oakland Athletics.
But he's not off to pro ball yet. He will be batting in the cleanup spot in the order when LSU takes on Florida State in its first CWS game. He'll have a few more chances to put all those other memorable moments to shame in college baseball's promised land.
"It's been a hell of a season so far, but it's not done yet," Deichmann said.
There's still time for a flash of nuclear green to permanently burn one more image into those memory banks, leaving those who saw it questioning how it just happened.