His postgame interview session complete, Danny Etling slowly rose from the metal chair in which he sat, grimacing as he stood tall before slowly walking toward the exit — a look of pain on his face with every step.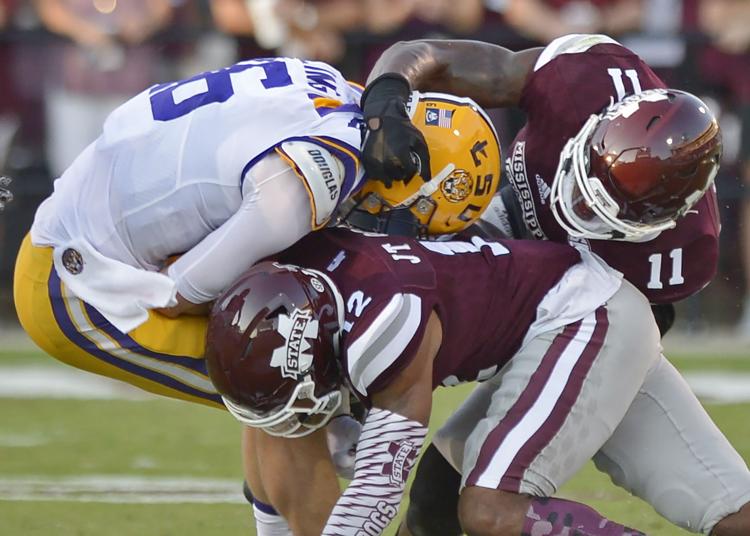 Like his team, he was beaten and battered.
This was a rough night.
"They beat us down," center Will Clapp said.
There were plenty reasons LSU lost 37-7 Saturday to Mississippi State.
The Tigers' usually lock-down defensive backfield gave up two long touchdown passes on busted coverages, a defender nowhere near the receivers. Massive running lanes opened for State quarterback Nick Fitzgerald, resulting in a 6.3-yard average per carry.
LSU's two senior receivers dropped critical passes that would have been long first-down gains, and the Tigers rolled up 112 yards in penalties.
There's another: LSU's offensive line, one that starts four upperclassmen, couldn't consistently create big running lanes and failed to protect Etling.
After the game, Orgeron admitted that his top concern entering the Southeastern Conference opener was his line's pass-protection, a bugaboo during camp for the Tigers. The issues emerged again, this time on the national stage. Orgeron described it as his line being "handled."
"My whole concern all week was whether or not we could block," he said. "Obviously we didn't block."
"It wasn't our strongest night. The line has to get better this week," Clapp said. "Got to take Tuesday and Wednesday as much as you can as a game. Be physical."
LSU players repeat the mantra: Next man up.
From players, there was no finger pointing afterward, no calling names.
Everyone's attention wasn't on the mistakes Saturday as much as avoiding those same miscues in the future — like this week at home against Syracuse (2-1). Team leaders say they understand how such a devastating loss can multiply into two or three.
These kinds of defeats are rare for a program that's lived in the top 25 for the past 15 plus years. It was just the second time in the past nine seasons the Tigers (2-1, 0-1 SEC) were beaten by at least 30 points.
"I feel like a lot of eyes are on us now," senior receiver DJ Chark said. "You got guys going to pat you on the back and say it's OK and people who are going to throw stones at you. We know that as a team it's coming. We're really close as a family. Got to block out the noise and play harder. Show that we really want it."
It's already begun, defensive end Christian LaCouture said. Defensive players gathered around LaCouture and veteran leaders following the defeat, discussing in the postgame locker room something that might usually be reserved for Monday's meetings.
"We've got to step up. Talked a little bit in there. Not going to get into what we said," he said. "I really feel like we have to make sure this doesn't happen again. This is something that's a bad taste in your mouth."
Inside linebacker Devin White is planning to gather the inside linebackers for a player-led film session Sunday.
Etling is taking a more personal and vocal approach. The fifth-year senior admits to having less of a vocal leadership role this fall. That will change soon, he said.
"It's going to start with me. I'm going to bring a level of intensity and energy in practice that I feel like I haven't been bringing," Etling said. "Maybe I thought that wasn't my role on this team, was to sit back and let things kind of happen. It's time to go, time for me to step up and be a leader."
Can't see video below? Click here. 
Everyone seems confident it can happen, that LSU can avoid a repeat of Saturday's performance — one of the worst in the last two decades of the program.
The Tigers, which dropped from 12th to No. 25 in the AP poll, get a reprieve — home games against the Orange and Troy — before they return to SEC play for what is one of the toughest stretches of games in the nation. LSU's final seven games are against SEC foes, and four of them are on the road.
It all starts with Florida on Oct. 7.
"I'm confident in our coaches, confident in our leaders that we'll bounce back," Orgeron said. "I do believe that."
STARKVILLE, Miss. — Greg Gilmore is prepared to say it, ready to step into the LSU team room…