THIBODAUX — After being promoted to interim head coach on Sept. 25, Ed Orgeron was driven by athletic administrator Verge Ausberry from the LSU athletics administration building to the football operations center.
Orgeron walked up the stairs, burst into a staff meeting and informed Steve Ensminger of something.
"You're the offensive coordinator," Orgeron told Ensminger.
A stunned Ensminger looked at the coach: "Bullsh*t."
Ensminger drew a roar from the crowd retelling that story Thursday night during the latest Tiger Tour stop at the Thibodaux Wellness Center. Ensminger filled in for Orgeron as the keynote speaker of the event, wooing the crowd with his country twang and behind-the-scenes stories. 
Orgeron, originally scheduled to be at the event, is with his wife in California. Kelly Orgeron underwent surgeries recently, athletic director Joe Alleva told the crowd, but is "OK." Kelly suffers from scoliosis, she said in an interview with The Advocate last fall.
Ensminger left the road recruiting to entertain donors and fans Thursday at the sixth of a seven-stop tiger Athletic Foundation Tiger Tour.
The Baton Rouge native and former LSU quarterback discussed Matt Canada's new offense, something he's not fully learned yet and a scheme that the Tigers installed "50-60" percent of over spring. He touched on his new role of coaching the fullbacks and tight ends and how the Tigers now have what's called an F-back position (similar to an H-back). 
He talked about incoming signee Tory Carter, Foster Moreau's high expectations and Caleb Roddy's role. In the injury department, Ensminger said tight end Jamal Pettigrew is expected to recover from the ankle injury he suffered during spring practice (stress fracture-type injury, he said) to return in time for preseason camp. 
---
How was the offensive installation during spring? You had to learn it too, right?
I'm still learning, not that it's a difficult offense, but just new terminology. I told our players I had to study it just like they did. Literally after meetings and everything else, I sat in my office and studied just like they did.
We probably have 50-60 percent of it in. Once you learn the terminology it's kind of like every other offense. Once you learn the terminology and what pertains to you then you start clicking. I'm amazed at what our kids did.
When did it start clicking for you?
Probably the first week (of spring practice). You can sit there and study all you want, but you've got to hear it, hear the call and understand what your players should be listening to and everything else. Once we got the (practice) scripts done, once we went over the scripts and we'd go through it and they'd call it out, it reinforced everything.
What was the most difficult part of learning it?
There's a lot of movement to it. From coaching the tight ends to coaching the Fs now. There's a lot of movement with them, a lot of jet (sweeps) coming back and everything else, which changed your responsibility. Is the jet to you, jet away from you, run to you or is the run away from you? Assignment wise it changes. There are key words in every call that you can't miss because it determines what your blocking assignment is, what your route is and everything else.
THIBODAUX — Ed Orgeron delivered one goal for Steve Ensminger ahead of LSU's game last Novem…
What is the F?
The Y is the regular tight end. The F is the old fullback position. We don't line up in the I, per se. (The F) is more of a moving tight end, which J.D. (Moore), I think, will be outstanding in. And Foster (Moreau) has done it. It's more of a two-tight end set, including the F.
So it's not an H-back?
It's kind of an old H-back (the F). Matt (Canada) calls it an F because of terminology.
What are you expecting from Foster Moreau this year? Seems like he's been handed a lot of leadership responsibilities this spring.
I expect him to have a great year. He's been the leader in our room, set the standard for our room. I've challenged him in every aspect of it. I challenged the guys behind him to compete with him to take his darned job. Get in the weight room and compete with him. Get on the field and compete with him. He embraces that kind of stuff. I look for a great year from him.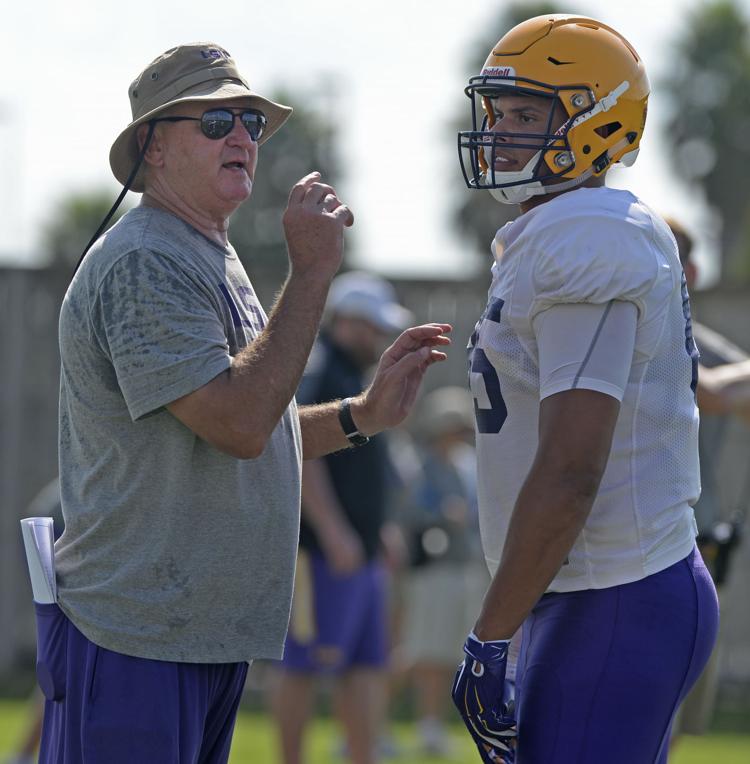 Caleb Roddy is that guy behind him competing. What did you see from him?
He had a great spring. He really did. Roddy, I'm only playing (him) at the Y position and I move the rest around. I want him to learn that position. I know Foster can play the F. I know Jacory (Washington) can play the F. I know Jamal (Pettigrew) can play the F, along with John David and Bry'Kiethon (Mouton). I'm double teaching some of them. Some of them just one.
Caleb is just learning the Y, but is there anyone who is only an F?
Bry'Kiethon would just be an F. John David can play both. John David, really, when we recruited him and didn't have a scholarship, he walked on and we recruited him as a Y. But John David is so darn intelligent that he knows everything. Besides Foster being out there, him being out there at practice, calling the plays. They literally can sit back there and tell everybody what they're doing. Just a pleasure to be around.
Tory Carter, fullback signee from Georgia, will arrive this summer. Where will he play?
I'm going to start him out as the F, but I'm only going to teach him one position. I've done this through the years. Even when we were a two-tight end set and one was the Y and one the X, when they came in, they learned the Y position. And then we'd expand it to everything else.
I'm going to do that with Tory. He's going to learn the F position and probably next spring, I'll expand to the other position.
THIBODAUX — Steve Ensminger spent the spring like LSU's players, learning coordinator Matt C…
What can you expect from him as a freshman?
I expect big things out of Tory. Tory is a big physical guy who can run and loves contact. I expect him to compete for a lot of playing time, I really do. I think he fits what we're asking that position to do. Actually handing jet sweeps to him, throwing shovel passes to him, but he runs very well. At the point of attack, away form the tight end or to a tight end, he's very physical.
Foster Moreau says the F-back can line up anywhere. Tell me more about that.
They can line up next to the Y (TE), away from it, line up at wide receiver. When we go no huddle and everything else, there's so many positions that they can line up at. They can be 1 receiver away from a three-man side, first, second or third receiver to a three-man side.
How's the transition been for you, going from interim offensive coordinator and back to tight ends coach?
I'm excited about it. I'm excited about it. I have a great room. I've got good guys in my room. Doing what Coach O asked me to (last year as the interim), I did it out of necessity and it was a grind. It really was, but I can't say I enjoyed it, but I enjoyed what our players did and the success we had. It's good to be back (as tight ends coach).
I'm so excited about our new offense, so excited about Coach Canada. As you watch film, it kind of keeps the defense's cleats out of the ground. Someone is always moving and the defense has to move and everything else. It takes one mistake, someone got the wrong call on defense and didn't fill the right gap and it's a big play.
I love what we're doing. I can't tell you I know all of it yet, because I don't, but I enjoy studying it.
How excited is your position room for the new offense?
The room is smiling. We got to combine both groups, Fs (fullbacks) and the Ys (tight ends). Some of the Fs learn the Ys and some Ys learning the Fs. You kind of notice which ones want to do it all and you notice which ones are struggling to learn that new position, and you kind of fit the offense to it, but our guys are excited.
Will preseason camp allow for enough time to have the offense fully installed for the season?
It will be plenty of time. With the new rules in the summer, two hours a week (meeting with players) … we've got all summer. Kids have all summer to rep it. We'll be able to script our first 20 practices going into (camp).They'll have a chance to run every play in the course of the summer and repeat it during (camp).
How has the new offense changed your position?
It's changed it somewhat, as for the running game is concerned and passing game. The routes are the same, zone blocking is the same, gap blocking is the same, but we moved them around a lot more.
Our shifts and motions has a lot to do with the tight ends and the F position, (includes) our fullbacks and tight ends. There's a lot more movement, a lot more learning, a lot more shifts and motions, a lot more studying. I'm excited about it. Puts us in a position to be better. I'm excited about this new offense, excited about what Coach Canada has done for us. I'm looking forward to a great fall.
What have you seen from the players in spring to have you so excited?
I did not understand this offense. I learned it just like our players did. But through all of the movement and motion and everything else, it keeps the defense off balance a little bit, keeps the defense's cleats out of the ground a little bit. But our rules, as tight ends and offensive line, our rules don't change. It gives us an opportunity to get off the ball quicker and faster, gives a deception on whether we're going to give the jet sweep or not give the jet sweep. There's some deception to it.
I thought it was a great spring, scrimmaged really good. I'm amazed how much we got in. Got 60 or 50 percent of it in. What we got in, our kids really executed well.