The exchange unfolded in July from the main ballroom at Southeastern Conference media days.
National and regional reporters surrounded LSU running back Derrius Guice, seated on a raised platform, bright camera lights splashed across his face and digital recorders — more than three dozen — picking up his every word.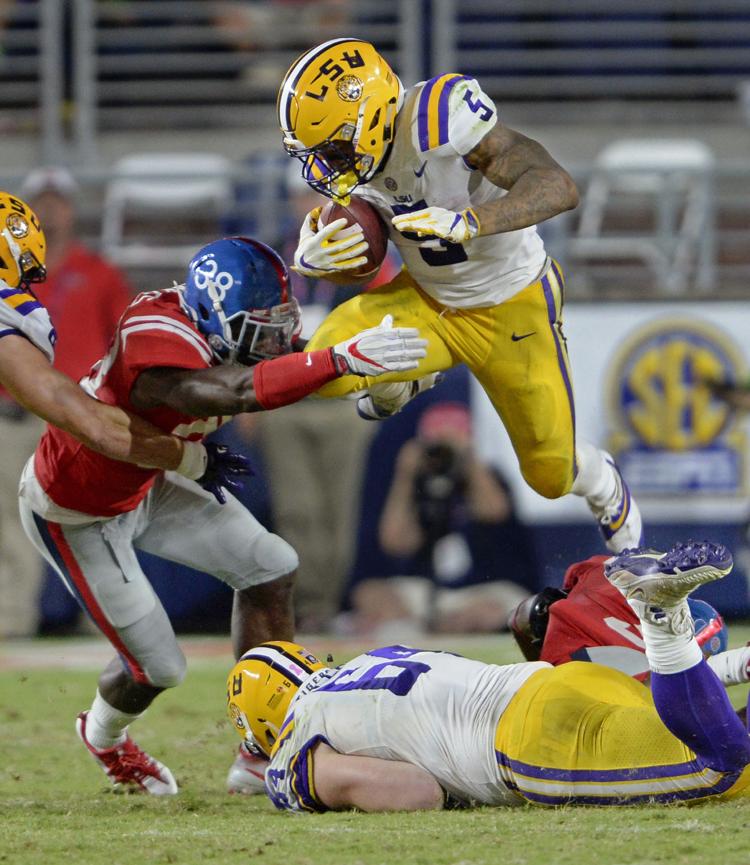 About halfway through this question-and-answer segment, the topic in which LSU officials prepared Guice for arose: Alabama. After LSU's win at Arkansas last year and a week following the Tigers' 10-0 loss to the Crimson Tide, Guice called Alabama's defense "scared."
Does he still feel that way?
"Yeah," he shot back at a reporter in July. "That's what I said."
Why?
"Like I said last year," he answered, "every time we were about to run they have the whole box loaded."
That's the last time Guice spoke publicly about the Tide and it will be the last before the showdown Saturday between No. 19 LSU (6-2, 3-1 SEC) and top-ranked Alabama (8-0, 5-0). He did not appear at the two local media availabilities this week in Baton Rouge, something coach Ed Orgeron suggested Wednesday was devised.
"We blocked out the noise. We're focused in. We locked the gates, tunnel vision," he said in a response to a question about Guice's availability this week. "We understand the challenge we have. We're going to be up for it. In order to be up for it, we need to be tunnel vision every day.
"We're staying out of the media," he continued. "Hopefully our guys are staying off the internet because you don't win games that way."
They haven't completely removed themselves from the social media platform. Guice, highly active on Twitter, posted a message Tuesday night: "I respect all my opponents.... we all have 1 goal."
The goal, of course, is to win. Guice's Tigers are a three-touchdown underdog, the biggest in a game in 23 years, and he may have to do something against the Tide that his predecessor never really could.
Leonard Fournette averaged 2.54 yards a carry in three outings against Alabama, running for a total of 145 yards on 57 attempts. Against all other opponents over his career, Fournette averaged 6.59 yards a pop.
Guice, the Baton Rouge native out of Catholic High, now gets his chance against big bad Bama, and it's likely his last one. He announced in December and again in July to The Advocate that he plans to turn pro after this season.
Devin White recalls the blow as if it happened last week.
Guice has run for 8 yards on 2 carries in two games against Bama. You don't have to remind him of the stat line. He brought it up during that session with reporters in July.
"I only got two career carries against Alabama so far. That was good enough for me. I trust the coaches," he said. "They only felt like I should get two carries then that's what it is. Their pay-grade is way higher than mine."
You don't have to remind Alabama players about Guice's "scared" comments from last November.
"It was brought up the other day," Bama safety Minkah Fitzpatrick told reporters in Tuscaloosa this week. "But I have nothing to say about that really."
Guice's quotes came just minutes after LSU's 38-10 win at Arkansas, a game in which he ran for 252 yards.
In a tunnel in the bowels of Razorback Stadium, Guice leaned against a cement wall, reporters again surrounding him and hanging on his every word. He was asked about the criticism his offensive line took that week after the loss to Alabama seven days prior.
"We're tired of hearing that. I know the O-linemen got fed up with that. Alabama always stacks 10 people in the box to stop us. They're scared as well," Guice said. "It's always good to do our bread and butter and run down teams' throats and be physical. They're tired of hearing that they're pooh and that they can't block and we're also tired of hearing that we can't run (after) Alabama and that we can't run after we play them."
Danny Etling is battling the normal ails that come with being quarterback of a football team…
---
GOING AGAINST THE TIDE
Alabama held down Leonard Fournette like no other opponent. Derrius Guice will see his first significant playing time against the Tide on Saturday.
Leonard Fournette, 2014-2016
                                            Attempts

 Yards

 TDs

 Average per carry

 vs Bama

 57

 145

 1

 2.54

 vs all others

                                                     6.59
Derrius Guice vs. Alabama
| | | | |
| --- | --- | --- | --- |
|  Year |  Attempts |  Yards |  TDs |
|  2016 |  2 |  8 |  0 |
|  2015 |  0 |  0 |  0 |