Alex Bregman's mockery of minor league baseball has come to an end.
Bregman, the dynamic former LSU shortstop whose swift ascent through the Houston Astros farm system surprised everyone but the brash 22-year-old infielder, will be called up in time for the Houston Astros' three-game series against the New York Yankees beginning Monday in Minute Maid Park.
"It's a dream come true," Bregman told MLB.com on Sunday. "And I'm ready to go work, keep my mouth shut and hopefully help contribute."
Astros first baseman Marwin Gonzalez sprained his ankle in the fifth inning of the club's 13-3 win against the Los Angeles Angels on Sunday. If his injury is a lasting one, look for versatile third baseman Luis Valbuena to slide to first while Bregman mans third — one of many positions Bregman has learned in the past week.
Speculation of a call-up ran rampant following Bregman's dazzling display in the Futures Game during All-Star weekend in San Diego, where he was a home run shy of the cycle by the end of the fourth inning. Bregman returned to Louisiana for a four-game series against the New Orleans Zephyrs shortly thereafter.
The Houston Astros won the Yulieski Gurriel sweepstakes, signing the 32-year-old Cuban infie…
"I feel like I was just a little kid when I got (to LSU)," Bregman said before the first game of the series. "I thought I was really good out of high school, then I got a reality check when I got here in the fall. It changed my career forever."
With the promotion comes an often-asked inquiry: How will Bregman be used on an Astros club that has Carlos Correa, the reigning American League Rookie of the Year, at shortstop and the American League hits leader, Jose Altuve, at second base?
Valbuena, who entered Sunday hitting .257 in his past 20 games with an .839 on-base plus slugging percentage, likely will move to first. Astros manager A.J. Hinch has given Altuve six starts at designated hitter this season — and has also expressed interest in DHing Correa — opening one spot in the middle infield when that occurs.
Bregman's also a viable designated hitter candidate and said last week in New Orleans that he would move to the outfield if required.
"I've played outfield before; over the summers I'd catch and then go play outfield, catch and go play outfield, switch off every other game right before I came to LSU," said Bregman, a high school catcher who made two Triple-A starts in left field last week. "I don't care where I play; I really don't. I just want to go to the big leagues and win games."
Now, the former LSU star gets a chance against one of the game's most storied franchises.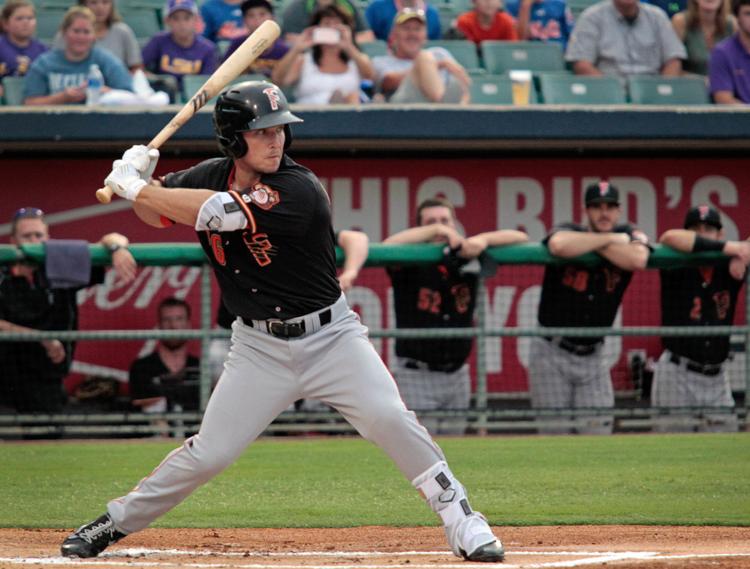 "The bigger the spotlight, the bigger the game, the tougher the opponent, Alex seems to be at his best," LSU coach Paul Mainieri said Sunday. "I would expect there to be a little bit of nerves, but as I told him today, 'You've gotten where you are today by going out and letting it rip, so why would you want to change now?' "
Mainieri said he will drive to Houston on Monday to attend the game.
Bregman, who played his final college game June 18, 2015, exits Triple-A Fresno after just 18 games, after hitting .333 with six home runs and a 1.015 OPS. Bregman played 146 minor league games spanning four teams — a rise many in the Astros system knew was feasible but few believed would occur.
"Let's face it: He's a unique player," Mainieri said. "He doesn't have a weakness in his game. ... Really, the last thing was power, and he's shown that this year. I always felt that he'd be able to hit any caliber of pitching."
"Above everything else, it's a rare occasion that you come across a young man that has the passion, the enthusiasm, the work ethic, the unflappable self-confidence, all those qualities that Alex has. When you put the whole package together, for me he was a can't-miss kid."
Bregman spent no more than 65 games at any minor league level, forcing the Astros front office to accelerate its process with the second overall pick in the 2015 draft.
His offseason work, focused on driving pitches on the inner half of the plate to the opposite field, translated to immediate power. Twenty of his 24 career home runs have come in 80 games this season.
"He's got a certain internal drive that comes from a different kind of place," Astros director of pro scouting Kevin Goldstein told The Advocate two weeks ago. "He wants to prove to everyone that he is one of the best, and he wants to prove that constantly. He did that in the Texas League (with Double-A Corpus Christi), and one of the reasons we moved him up was they flat-out stopped pitching to him. It put us in a difficult situation."
Bregman has suffered perhaps one slump in his professional career, as a non-roster invitee to big league spring training in March. He received 10 at-bats in the Grapefruit League before being assigned to Corpus Christi — an accelerated assignment for a player in his first full year of pro ball.
Tony Kemp recalls the 11-inning marathon, a 5-4 loss, with clarity. It handed LSU the 2013 S…
"A logical development path would have returned him to High-A," Goldstein said. "But he impressed everyone enough where it wasn't even a debate. Just 'We're sending him to Corpus, right? Right.' Everyone nodded their heads."
Added Bregman: "It was eye-opening, but at the same time I learned a lot. Learned I can play at that level."
Bregman will join Astros All-Star closer Will Harris, a former LSU infielder, in Houston. Bregman will become the 13th former LSU player coached by Mainieri to make the big leagues and the 71st in program history. After Monday, Mainieri can say he has coached 24 major leaguers in his career.
"You feel an enormous sense of pride for the program, for me personally, because you like to think their decision to come to LSU and be a part of our program played a big role in the development of the player and helping them get to the major leagues," Mainieri said. "On a personal basis, I feel so attached to these kids that you almost feel like a little piece of you goes with them. It's almost like seeing one of your children succeed in life — you're so proud of them."