Did you think Will Clapp was out for the entirety of spring practice?
So did everyone else.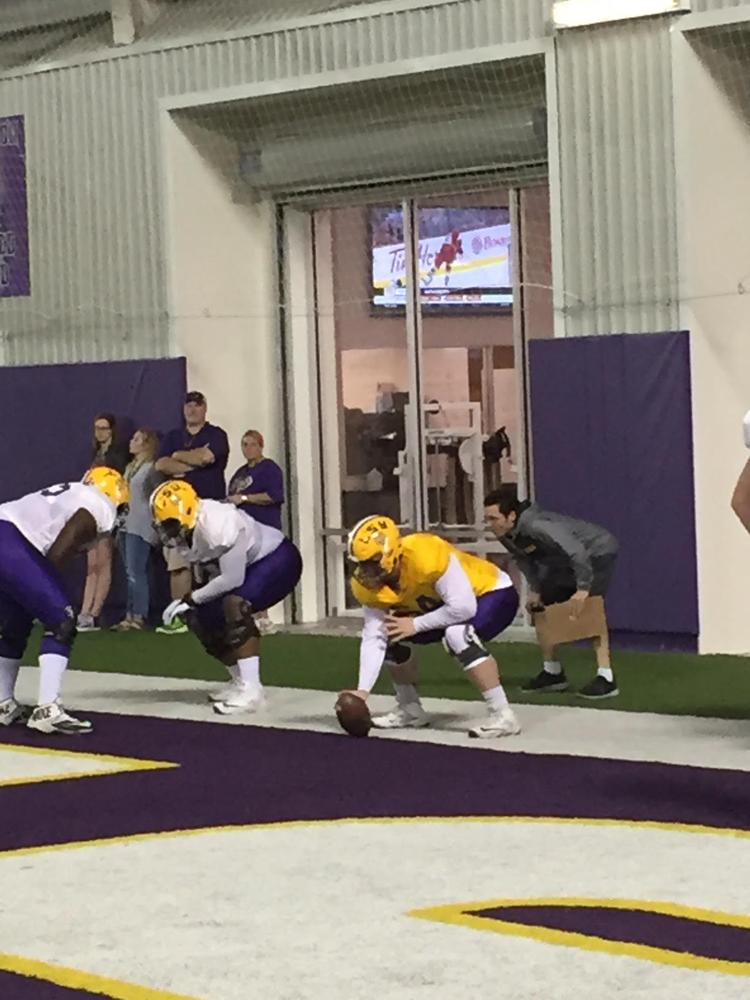 Clapp, recovering from January shoulder surgery, participated in his first spring practice Thursday, dressing out completely and running through non-contact drills with other linemen. Junior Derrius Guice also returned to practice after missing four straight drills while nursing an ankle injury. 
In an interview earlier this week, Clapp said his surgically repaired shoulder is back to equal strength to his other shoulder. He continues to be well ahead of surgery to repair a torn labrum he played with all of last season. 
During that interview Tuesday, he did not reveal that he'd return to practice in a limited role, even saying, "They told me they don't want me going out there because I'm not even three months out (from surgery)." Clapp is clearly not full strength, and he did not participate in contact drills or full team drills. 
Guice sprained his ankle in LSU's first scrimmage at Tiger Stadium this spring on March 18. He told reporters during interviews last week that he's "fine."
Other observations from practice:
New 1s: Sophomore Saivion Smith and redshirt sophomore Adrian Magee were working with the starters during Thursday's drills. Smith filled in for Donte Jackson, who missed practice while at a track meet. Magee replaced Jakori Savage at No. 1 right tackle. Toby Weathersby is expected to be LSU's starting right tackle this season, but he'll miss spring while recovering from a shoulder procedure.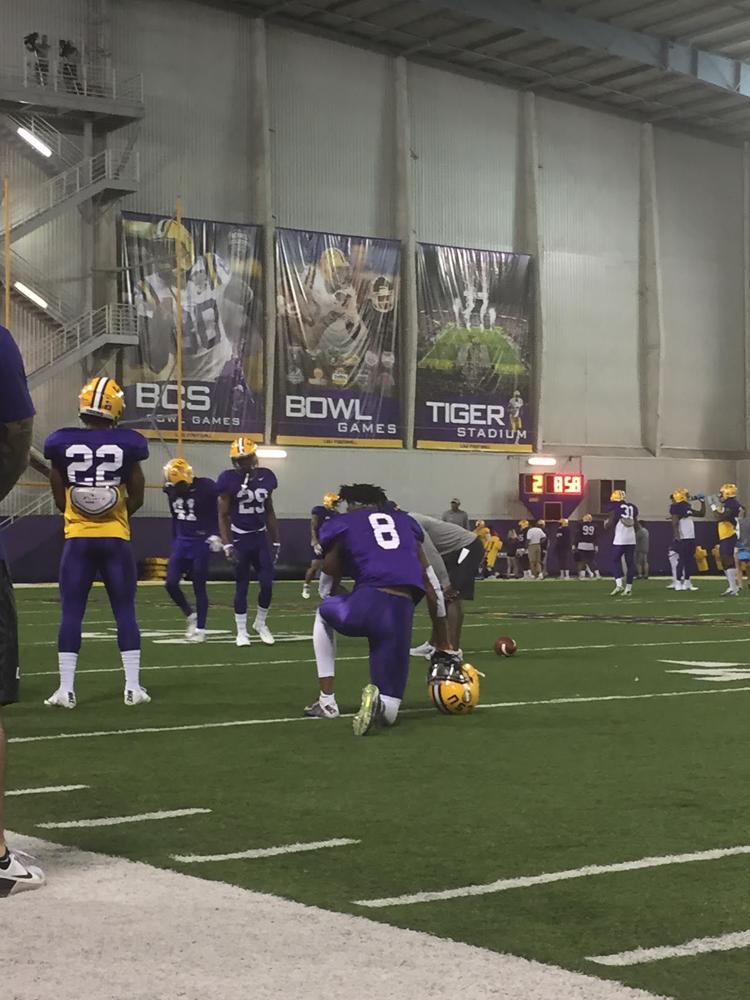 New absentees: ILB Donnie Alexander missed drills, and defensive lineman Frank Herron only watched practice while dressed in a jersey and shorts. Several others players continue to miss practice, including DL Glen Logan (unspecified), WR D.J. Chark (twisted ankle), edge rusher Sci Martin (injury) and TE Jamal Pettigrew (ankle). DL/OLB Isaiah Washington is expected to miss all of spring while academically ineligible. 
Guard battle: One of the most hotly competitive open starting spots is the guard opposite Maea Teuhema. Garrett Brumfield again ran with the starters there. Freshman Austin Deculus, for a second practice, worked with the No. 2s at left guard. Donavaughn Campbell worked with the No. 2s at right guard. 
Injury update: FB J.D. Moore (wrist), DL Christian LaCouture (scar tissue in knee) and Campbell (shoulder) all remained in gold, along with Clapp (shoulder). Gold jerseys signifying limited contact for injury.
No. 1 walk-on: Layton Garrett, a walk on from West Monroe, ran with the starters at inside linebacker with Alexander out. He ran along side other inside linebacker starter Devin White. 
Videos
Dennis Johnson and his OLBs. #LSU pic.twitter.com/KJ08XZfput

— Ross Dellenger (@RossDellenger) March 30, 2017
#LSU pass drills. pic.twitter.com/Pt5UF45VlR

— Ross Dellenger (@RossDellenger) March 30, 2017
#LSU OL Will Clapp making a surprising spring practice debut in a gold jersey pic.twitter.com/osPA1Oa7Rr

— James Bewers (@JamesBewers) March 30, 2017
#LSU QBs and RBs working on shovel passes (Derrius Guice returned to practice) pic.twitter.com/HMlwilYzCA

— James Bewers (@JamesBewers) March 30, 2017
#LSU QBs working on a little sweep play with the halfbacks (TEs & FBs) pic.twitter.com/s75hVovoFq

— James Bewers (@JamesBewers) March 30, 2017
#LSU inside backers working on dropping into coverage (Donnie Alexander was out today) pic.twitter.com/TDS63YZ59q

— James Bewers (@JamesBewers) March 30, 2017