ORLANDO, Fla. — Matt Canada remains LSU's offensive coordinator, for now, and he will call plays in the Citrus Bowl, coach Ed Orgeron confirmed upon the team's arrival at the bowl site Thursday.
"This is about these young men, about us coming to play Notre Dame in the Citrus Bowl, about us winning 10 games. That's what our focus is on," Orgeron said when asked about Canada. "Matt, right now, is our offensive coordinator. He will call plays in the game. Our focus is on beating Notre Dame."
The team arrived Thursday night for its five-night stay at the Renaissance Orlando at Sea World, with a juicy storyline hanging over the beginning of this bowl trip — the future of Canada, the first-year coordinator.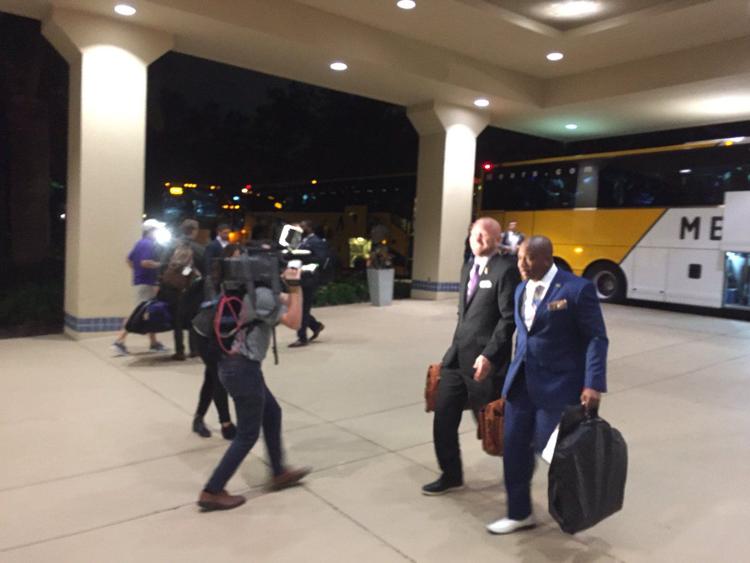 The school plans to split with Canada after the Jan. 1 bowl game against 14th-ranked Notre Dame (9-3), ending his short stay in Baton Rouge, multiple sources have told The Advocate over the past two weeks. Officials at LSU have been in discussion with Canada's representatives on a potential settlement for a split with the coach.
Canada, the 45-year-old offensive whiz who the Tigers plucked from Pittsburgh last December, was with the team as players and coaches departed five buses. They filed into a plush ballroom that will serve as the primary team meeting room.
The divorce between Ed Orgeron and Matt Canada has been like a lot of splits.
ORLANDO, Fla. — Notre Dame's football team will be without some key options in an already-inconsistent passing offense.
Canada was all smiles exiting the bus with receivers coach Mickey Joseph, right around the time Orgeron addressed reporters. He fielded three questions about his offensive coordinator's future, side-stepping each but revealing that the coach will call the bowl against the Irish — expected news.
LSU's future at offensive coordinator is unclear, but Orgeron revealed a potential replacement for Canada after the regular season finale against Texas A&M on Nov. 25: longtime assistant and former LSU quarterback Steve Ensminger, who served last season as the Tigers' interim OC.
Can't see video below? Click here.
After the A&M game, Orgeron was asked if he'd continue using Canada's scheme if he left: "It all depends. I have in mind what we want on offense also. I've been at some pretty good schools, pretty good offenses. If people leave, we have guys like Steve Ensminger who I'd highly consider. Done a great job for us last year. Those things got to happen in the near future."
A split with Canada would be at a heavy cost. He signed a three-year contract last December paying him $1.5 million per year as the highest-paid offensive coordinator in college football. The school would owe him about $3 million to be paid in monthly installments over the life of the contract, through 2020. That amount is offset by any future compensation Canada earns at another job, according to a copy of his contract.
The relationship between Canada and Orgeron is a frayed one and turned icy over the last few months, according to those close to the coaches.
A disconnect grew during the first month of the season, when the head coach admitted to meddling in Canada's offense by removing the presnap movements in the first half of a game against Troy. The 24-21 loss to Troy sparked a meeting involving athletic director Joe Alleva, Orgeron and both coordinators, Canada and defensive coordinator Dave Aranda, a gathering that got them "all on the same page," Orgeron said that week.